Patagonia is famous for its rugged landscapes, with ice fields and granite spires that evoke the most epic fantasy movies you've seen on TV. This area of 1.043 million km2 (402.734 sq. mi) split between Chile and Argentina is incredibly diverse, with dry plains called "pampa" in the east and the world's third freshwater reserve – the southern Patagonian ice fields - in the west.
But Patagonia isn't only a matter of landscapes. Over the last few years, it has gained popularity among wildlife photographers and animal lovers for its incredible fauna. Today, you can even do a Wildlife Safari (the southernmost on Earth!) or a Puma Tracking to search for South America's big cat.
National Geographic, BBC and Netflix helped a little with some spectacular wildlife movies. However, the truth is that with over 500 animal species, Patagonia made its reputation alone. In addition to the famous pumas, whales and penguins, the region is home to some of the world's most endangered deer, the rarest wild cats and the most bizarre rodents. Patagonia is one of the most unique and rich wildlife regions on Earth, and here is everything you need to know to go wildlife spotting at the bottom of the planet.
TABLE OF CONTENTS
1. Why is Patagonia's wildlife so unique?
2. Where can I spot wildlife in Patagonia?
3. When should I go wildlife watching in Patagonia?
4. What animals can I see in Patagonia?
5. What dangerous animals live in Patagonia?
6. What tours are recommended to spot wildlife in Patagonia?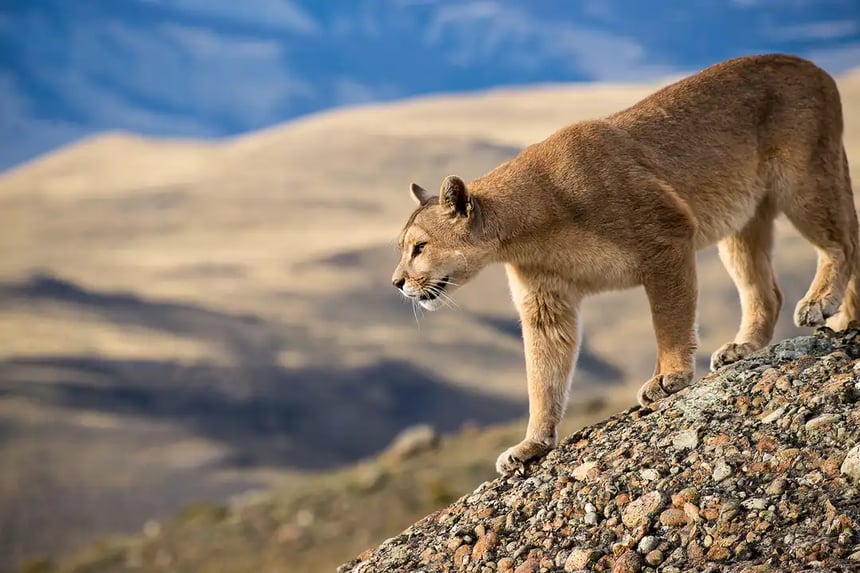 1. Why is Patagonia's wildlife so unique?
Throughout the geological history of Patagonia, the forces of nature have shaped the appearance of the landscape and of the animals that inhabit it. The geological dynamics mixed with both tropical and temperate influences were a powerful engine for all species in the territory. And while the biological diversity (amount of animal species) in Patagonia is relatively low compared to other south American regions, the isolation of the region allowed a high endemism – which means there are lots of animal and plant species you'll only find here.
Also, spotting wildlife in Patagonia is, for the most part, surprisingly easy. In some places like Torres del Paine National Park, you will see more guanacos than human beings. Patagonia has one of the lowest densities of population on Earth, with only 2,2 inhabitants per square kilometer. You've got it: you'll have plenty of space for yourself in this vast wilderness.
Finally, animals adapted themselves to the great diversity of climates within the region. There are several ecoregions in Patagonia, each of them with its unique biodiversity. So if you plan a wildlife vacation in Patagonia, you'd better have time.
2. Where can I spot wildlife in Patagonia?
ATLANTIC PATAGONIA
Argentina's coastline is heaven for travelers looking for marine life. Its landscape is defined by continuous cliffs, interrupted at times by areas of vast dunes. If you go inland, it is basically a desert as there are very few precipitations in the region. However, the water temperature in the south is low, due to the cold streams from the Malvinas Islands that support the life of incredible animal species.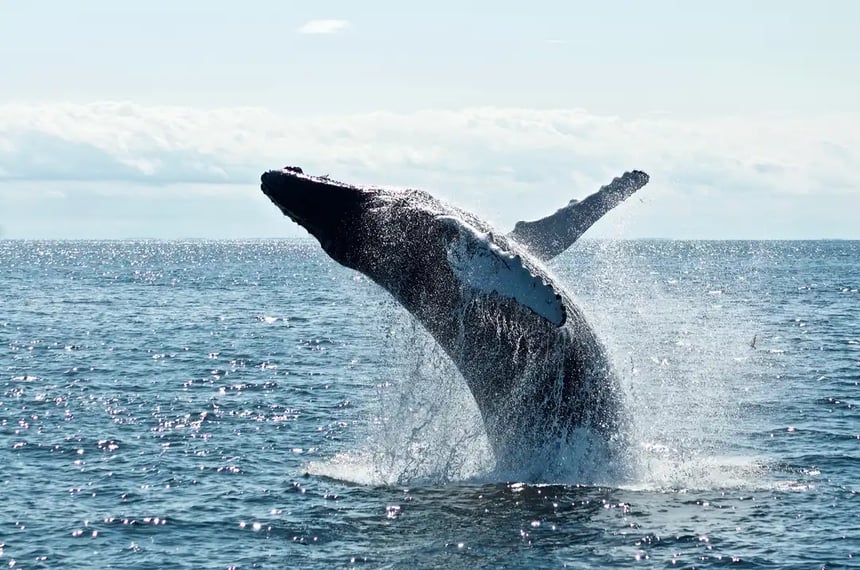 The best place to spot wildlife in Argentina's Atlantic coastline is the Valdes Peninsula, an area of around 3,623km2 (1,400 sq mi) in size. It is an important nature reserve that was listed as a World Heritage Site by UNESCO in 1999. The nearest large town here in Puerto Madryn, but you'll want to spend more time sailing in the sea than wandering in the city.
What can I do in the Valdes Peninsula? Well, plenty of epic things!
The area may be the best place for whale watching in Argentina, with great options of day trips (an experience of up to 12 hours). You may also spot orcas and sea lions on the way! Other popular tours include snorkeling with sea lions in the Punta Loma nature reserve and a day trip to spot the Magellanic penguins of the Punta Tombo Nature Reserve, where penguins come to mate and give birth every year. Here, you can also spot the only colony of continental sea lions, whose length can reach more than 5 meters (yes, that's huge).
TIERRA DEL FUEGO
Tierra del Fuego (translate into "Land of Fire") archipelago is the southernmost part of South America and is sometimes described as the "uttermost ends of the Earth". This vast area of 21,263km2/8,210 sq mi is remote, yet it has been inhabited for more than 12,000 years by tribes of indigenous people, namely the Yámana, Alakaluf, Selk´nam and Manek'enk. There were more than 10,000 indigenous people living in the area when the first Europeans reached the territory in 1520.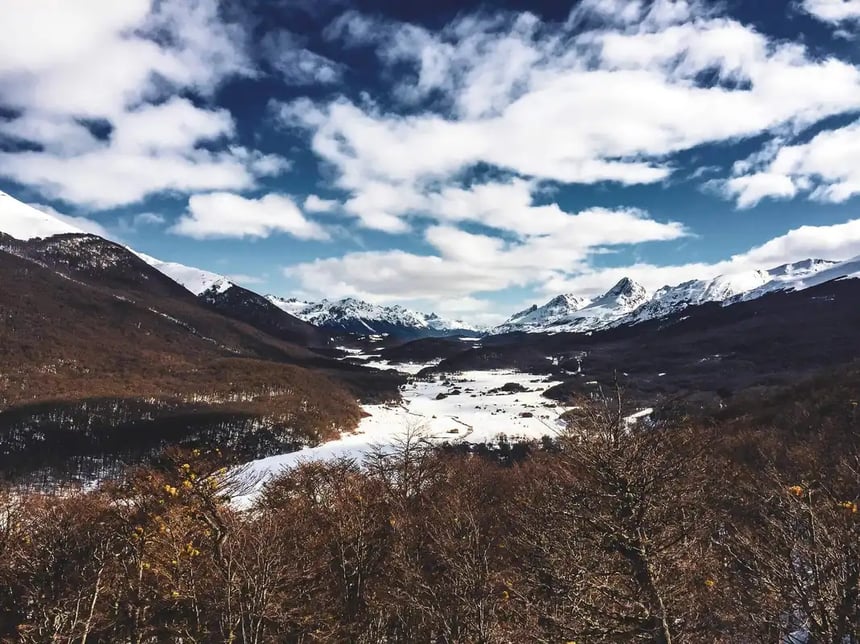 Today, only about 350 native remain, after endemic diseases carried by European settlers killed most of them and a genocide was committed against the Selk'nam. The troubled history of Tierra del Fuego shouldn't be ignored on a trip to this wonderful part of Patagonia, split between Chile and Argentina. Most travelers aim to Ushuaia, Argentina's southernmost city that is surrounded by some beautiful snowcapped mountains and is a great starting point for sailing through the Beagle channel and spot some marine wildlife.
A sailing experience through the Beagle channel is a cool way to meet Patagonia's breeding penguins, such as the huge colony of Magellanic penguins of Martillo island. The area is also renowned for the observation of seabirds and sea lions.
The Chilean side of Tierra del Fuego is famous for Cape Horn, the southernmost headland of the archipelago that marks where the Atlantic and the Pacific oceans meet (with fury!). It is less famous for its colony of King Penguins, the second-largest colony of penguins on Earth! You can see them on a full day, leaving Punta Arenas at early morning. This amazing excursion will make you cross the Magellan strait on a ferry and drive through the grasslands of Tierra del Fuego.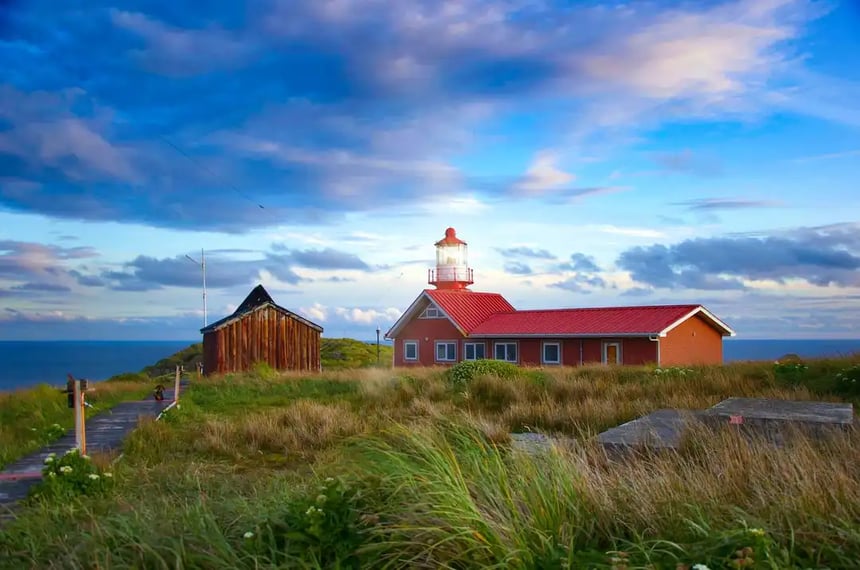 But the landscapes of the archipelago are diverse, and you'll meet another type of wildlife if you travel inland to the mountains and forests of Yendegaia National Park or the Karukinka Nature Park! In these wild areas, you can meet beautiful animals like the Magellanic woodpecker, guanacos and the Culpeo fox.
MAGELLAN STRAIT
If there's a place on Earth where the wind rarely stops blowing, it's the strait of Magellan in Chile! Patagonia's most famous navigable sea route separates mainland South America to the north and Tierra del Fuego to the south. The strait was discovered and traversed by the Spanish expedition led by Ferdinand Magellan in 1520, after whom it is named.
Today, you will still feel like an explorer while sailing through the Magellan Strait, locally called " Estrecho de Magallanes". The area is vast with some unpredictable weather conditions, so getting to the nearby channels or islands to spot wildlife may be an adventure you'll never forget!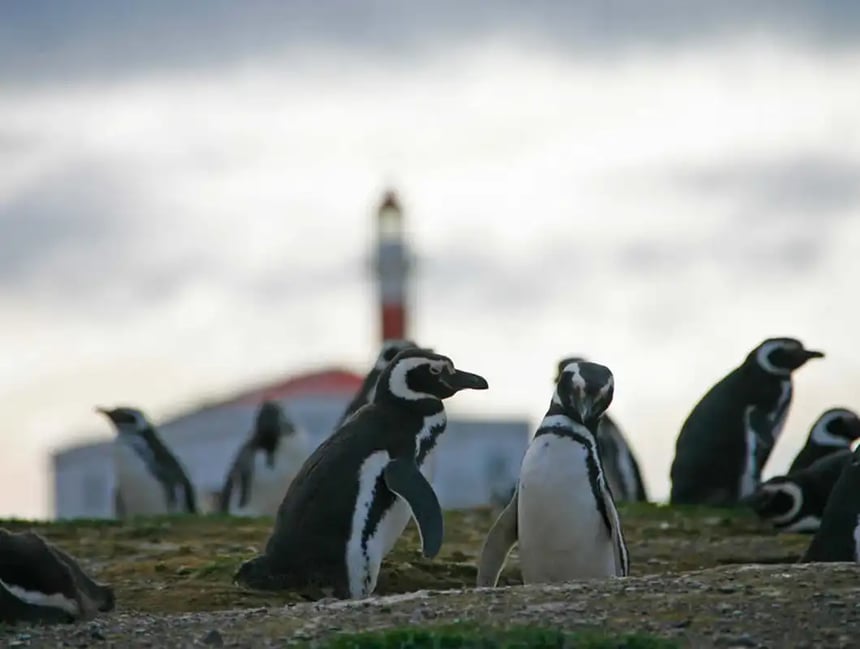 However, there are plenty of accessible options leaving Punta Arenas - the capital of Chile's Magallanes region – on a daily basis. You can go for a Magellan Strait Penguin Adventure and take a cool zodiac boat ride through the strait to meet the 150,000 penguins of the Magdalena island. This small island near Punta Arenas (it's a half day excursion) may be the best place in Patagonia to spot Magellanic penguins, though it is only available from November to March. You will also sail to Marta Island and meet the local sea lions, and might even spot the beautiful commerson's dolphins that live in the strait.
If you're looking for something wild and epic, you should definitely opt for a Humpback Whale Watching experience, the best full day any whale lover could ever dream of. The excursion departs Punta Arenas at 4am – yes, it's a long day – so you can start sailing at early morning and aim to Francisco Coloane Marine Reserve, the biggest marine reserve in Chile. You will take a boat past Cabo Froward, the southernmost point on the mainland of South America.
And while the superstar here is the giant Humpback whale, there is plenty of wildlife in the reserve, including albatross, penguins, sea lions and even orcas. Not to mention to beauty of the surrounding landscapes, which are the true definition of "pristine". Don't forget your binoculars.
TORRES DEL PAINE NATIONAL PARK
Torres del Paine del Paine National Park is considered by many as "Patagonia's finest national park" and not for a good reason, but for many reasons. Chile's most famous national park may just be the most beautiful place in South America, with landscapes encompassing spectacular mountains, glaciers, blue lakes, grasslands and subpolar forests. The Torres del Paine are 3 distinctive granite peaks, which extend up to 2,850 meters (9300ft) above sea level. But there are plenty of other incredible spires you can use as a backdrop for your wildlife photography.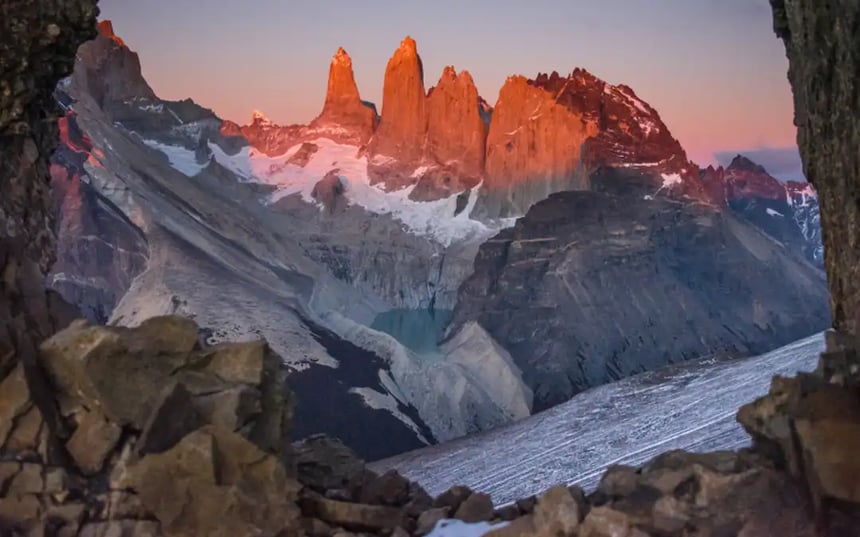 This UNESCO World Biosphere Reserve (since 1978) is also famous for its high density of wildlife. Here, you'll see the highest density of pumas in South America, and condors and guanacos are (almost) everywhere. You can even focus on wildlife photography on a 6-Day Patagonia Puma Tracking.
In just a one-hour drive, you'll go from the dense nothofagus forests to the grasslands, with foxes and Darwin's Rhea hanging around. And while there are some beautiful trails to go wildlife watching, you can even spot animals just by driving through the park's main road. Here, you can do a Wildlife Safari and mix hiking with nature observation to make the most of your stay in Torres del Paine (and spend your nights at EcoCamp Patagonia, the world's 1st geodesic hotel).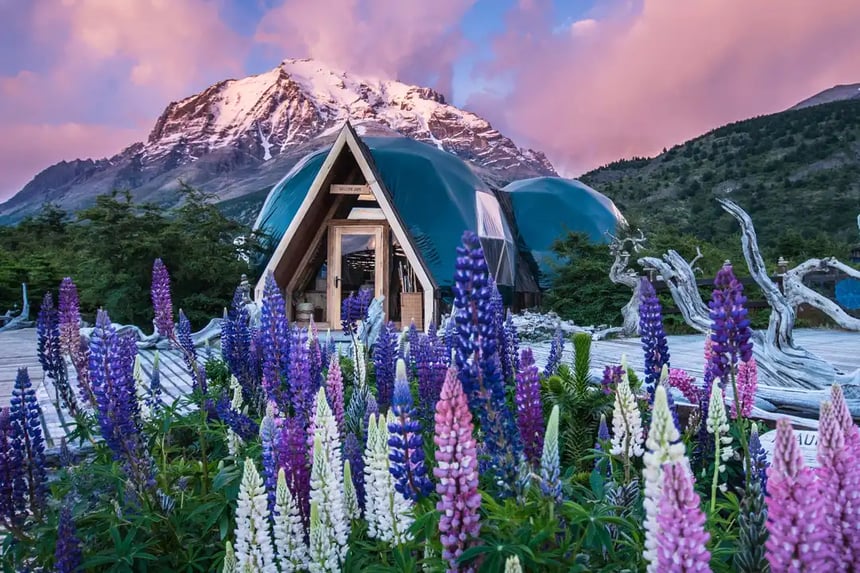 In the eastern side of the park, there is a herd of around 100 wild horses that inhabit a private reserve and which you can observe a full-day wild horse tracking. And if you go west (near Grey Glacier), you might meet the South Andean Deer (Huemul), an endangered deer very few people were lucky to see. There's no doubt why the best wildlife films about Patagonia were shot in Torres del Paine!
CARRETERA AUSTRAL
The Carretera Austral (in English: southern way) is an epic highway that winds through 1240 kilometers (770 mi) of raw beauty. The road starts in Chile's southern Lake District (Puerto Montt) in the north and ends in the extreme south of the Aysén Region (Villa O'Higgins). While driving through the Carretera Austral, you'll travel through areas that are sparsely populated and despite the length of the road, there are only about 100,000 people inhabiting the region. Saying you'll meet more animals than humans is not joke!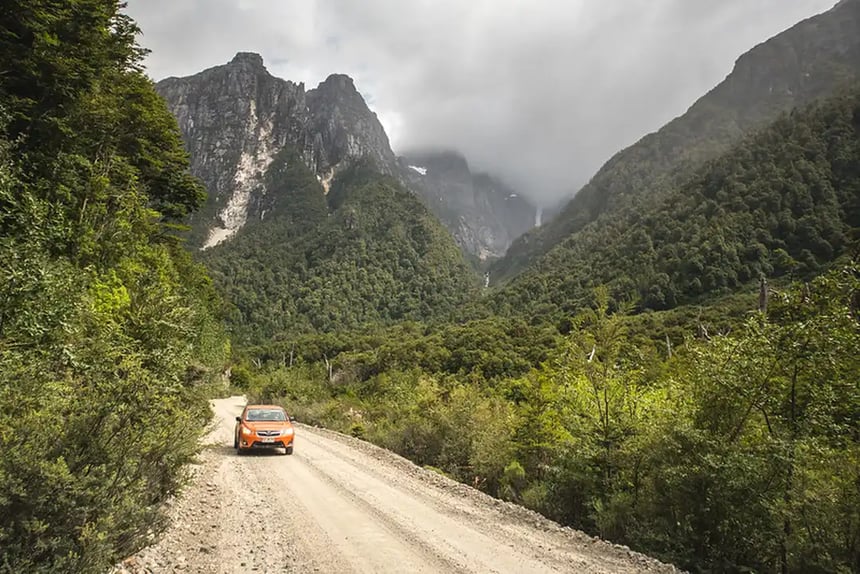 The road is a dreamt opportunity to go deep inside this incredible wilderness and spot some beautiful bird species, like the austral rail, the chucao tapaculo, the magellanic oystercatcher or the many-colored rush tyrant. The dense forests of the Aysén region are a great refuge for the endangered south Andean deer, especially around the Cerro Castillo Reserve, and you might also meet the southern Pudu, the world's smallest deer.
The most beautiful national parks for wildlife watching around the Carretera Austral are Pumalin National Park, Queulat National Park and Patagonia National Park. You can also venture into Patagonia's remote fjords while sailing to Isla Magdalena National Park, an area that is famous for the Magellanic penguins and the southern river otter, an endangered medium-sized otter.
3. When should I go wildlife watching in Patagonia?
It depends on the wildlife you are willing to spot. While some animals can be seen all year round, some species can be seen during specific months only. It's especially the case with marine life. For instance, the best time of the year for whale watching in Chile's Patagonia goes from December to March. However, in Atlantic Patagonia whales can be seen from September to December. As for penguins, they start to arrive along Patagonia's coastline in September and stay until mid-March. The best time to see penguins is December/January (summer), when fuzzy little chicks are still feeding in the nests.
When it comes to mammals and birds, it is hard to find a good answer. Some behaviors are unique, like the guanacos' breeding season that occurs once a year in December and January. But these animals can be seen all year round. Those looking for wild encounters tend to avoid peak season (December to February) when there are crowds in places like Torres del Paine National Park. Autumn (April/May) and Winter (June to September) are a great time to spot wildlife in Torres del Paine National Park, with less people around and animals like pumas getting closer to the roads. However, most hotels are closed in the region in Winter and days are short.
Also, you should consider the weather conditions. In summer (December to February), days are long (up to 17 hours of daylight a day) with more sunshine but also more wind whereas in autumn, there are more precipitations but also less wind. Whenever you come to Patagonia, the weather can change in the blink of an eye. Check out our post for more information on that topic.
4. What animals can I see in Patagonia?
There are plenty of animals you can see in Patagonia. In Torres del Paine National Park alone, there are 118 bird species and 26 mammal species. Some travelers come to see "Patagonia's Big Five", namely the puma, the guanaco, the huemul, the Andean condor and the Darwin's rhea. But there are plenty of other incredible animals, and here's an overview of Patagonia's most fascinating fauna.
MAMMALS OF PATAGONIA
GUANACO (Lama guanicoe)
Where can I see them? All around Patagonia, especially in grasslands
When can I see them? Year round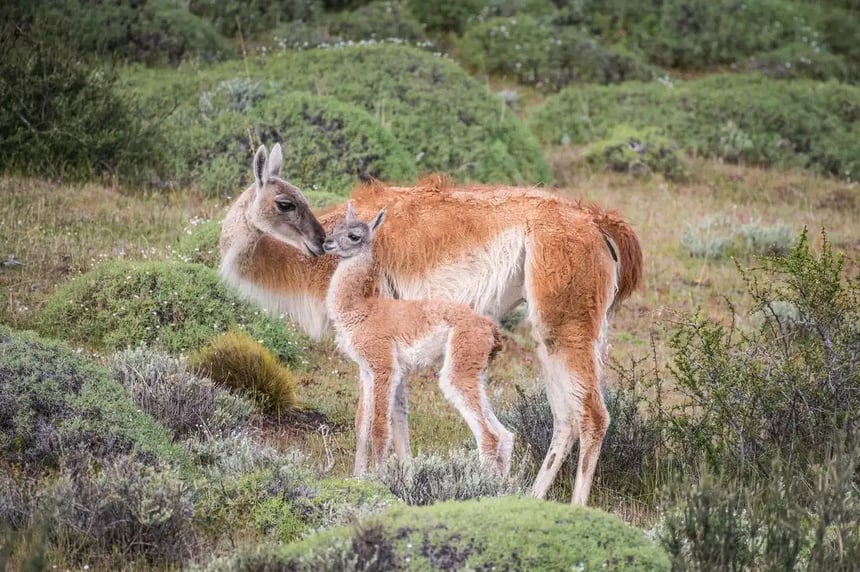 One of Patagonia's most common animals, the guanaco is a camelid native to South America. Guanacos are widely spread (estimates place their numbers at 400,000 to 600,000) and can be seen in parts of Peru and Bolivia. Baby guanacos are called "chulengos". Guanacos are curious animals that spend most the day grazing and live in herds composed of females, their youngs and a dominant male. They weigh up to 140 kilos (310 lb) and are therefore considered one of the largest terrestrial animals in South America.
PUMA (Puma Concolor)
Where can I see them? Torres de Paine, Carretera Austral
When can I see them? Year round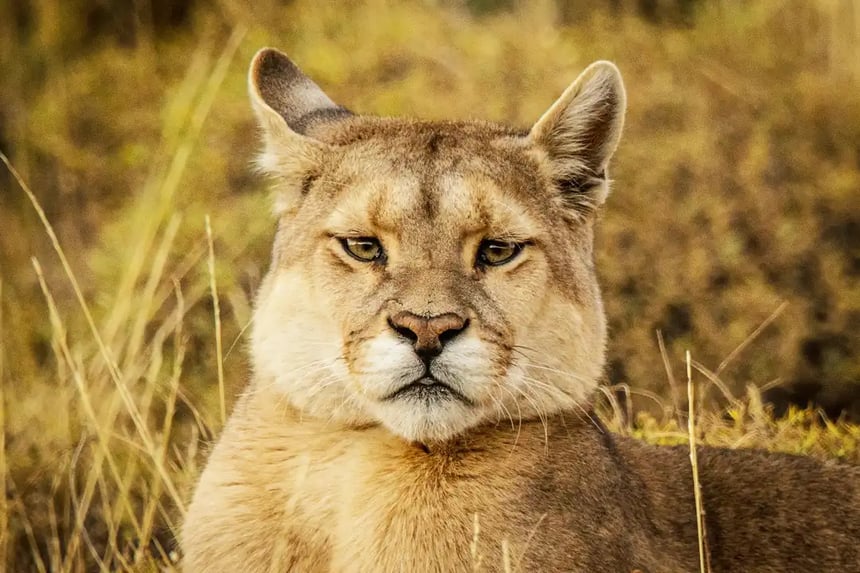 The puma is a large cat native to the Americas the lives from Alaska to Patagonia, making it the most widespread of any large terrestrial mammal in the Western Hemisphere. This ambush predator particularly enjoys eating guanacos, though it also hunts animals like hares and Darwin's rheas. Males can weigh up to 100 kilos (220 lb). While it can be seen in most parts of continental Patagonia, it is more frequent to encounter pumas in Chile's Magallanes and Aysén Region, where the population is protected. But the best place to see pumas is by far Torres del Paine, as they live in open areas with plenty of food and a protected habitat.
Other wild cats in Patagonia include the Geoffrey's cat and the Colocolo cat, both of them small and very hard to spot.
CULPEO FOX (Lycalopex culpaeus)
Where can I see them? Carretera Austral, Torres del Paine, Tierra del Fuego
When can I see them? Year round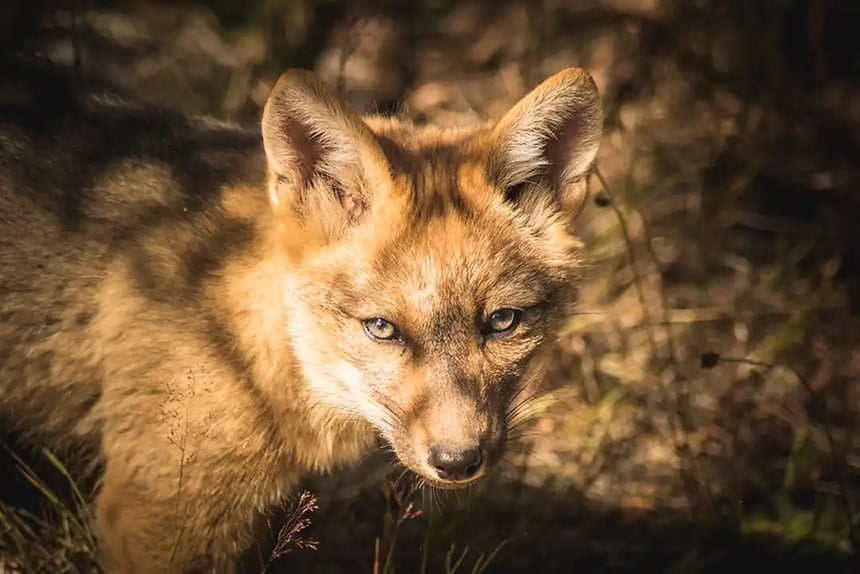 The second largest native canid on the American continent after the maned wolf, the Culpeo Fox is similar in appearance to a red fox and enjoys eating rabbits, birds, lizards and rodents. You will mainly find it around the broadlees Nothofagus temperate forests (it is common to see it around EcoCamp) though it lives in a wide variety of habitats, including deserts and high plateaus
The other fox in Patagonia is the Gray fox (Lycalopex griseus) that is often seen in Patagonia's grasslands.
SOUTH ANDEAN DEER (Hippocamelus bisulcus)
Where can I see them? Carretera Austral, Torres del Paine, Tierra del Fuego
When can I see them? Year round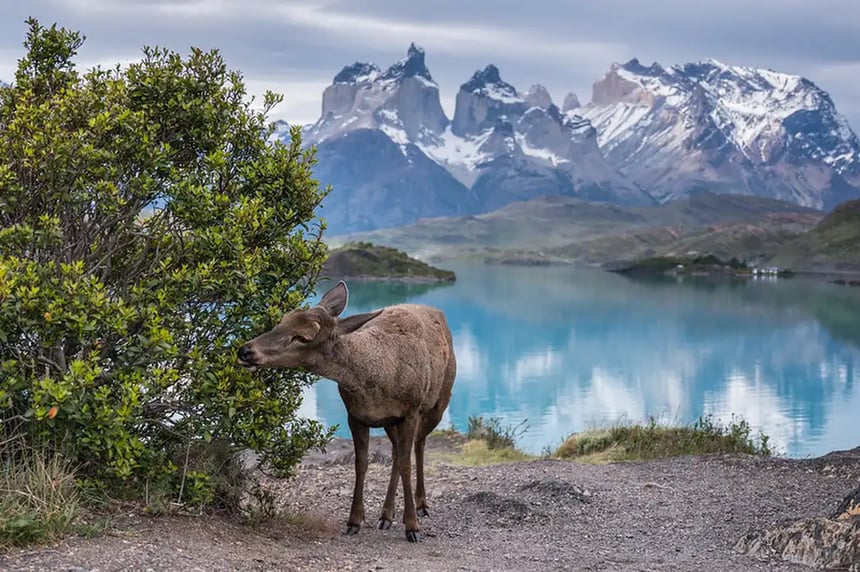 The southernmost deer in the world, the South Andean Deer – also known as "Huemul" – is an endangered deer that can be found in some forests of Chile (75%) and Argentina (25%). Uncontrolled hunting brought this beautiful deer to the brink of extinction and today, it is estimated that less than a thousand deer remain in the wild. This great deer can weigh up to 100 kilos (220 lbs) and feeds on leaves, tender shoots and sometimes grass.
The other famous deer in Patagonia is the tiny southern Pudu, classified as near threatened and that inhabits the forests of northern Patagonia.
HUMBOLDT'S HOG-NOSED SKUNK (Conepatus humboldtii)
Where can I see them? Torres del Paine, Carretera Austral, Atlantic Patagonia
When can I see them? Year round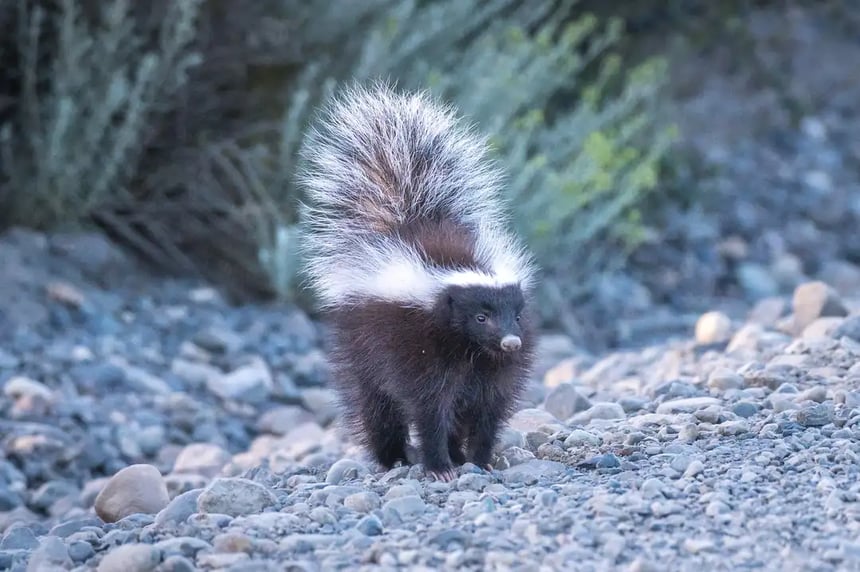 This cute hog-nosed skunk is indigenous to the open grassy areas of Patagonia. They use their long claws to locate prey, mainly insects but also rodents and carrion during winter. They are active at dawn and twilight and are a prey for bigger mammals such as foxes and pumas.
DWARF ARMADILLO (Zaedyus pichiy)
Where can I see them? Torres del Paine, Carretera Austral, Atlantic Patagonia
When can I see them? September to April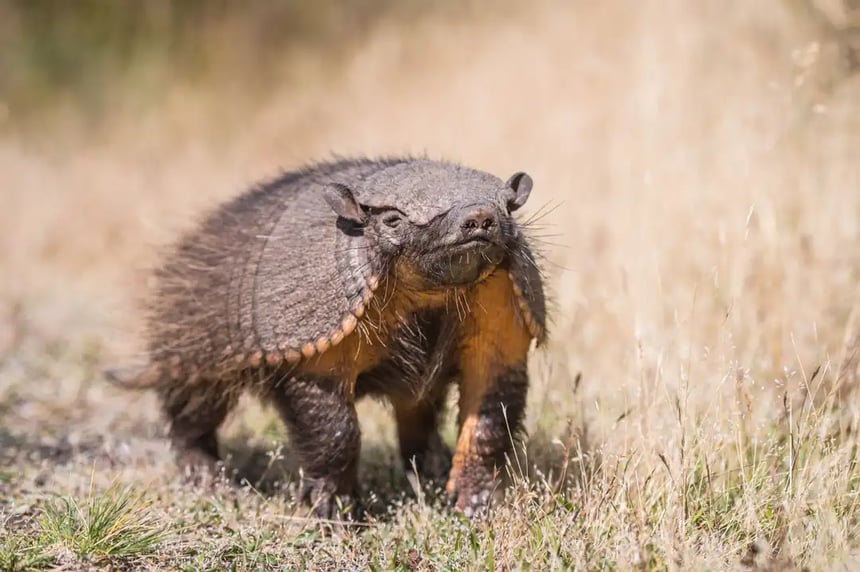 The only armadillo to hibernate, the Dwarf Armadillo – also called "Pichi" – is a solitary animal that lives in Patagonia's arid and semiarid grasslands. Pichis are omnivorous with a special taste for invertebrates like beetles, scorpions and ants. They are considered near-threatened as they are hunted in some places, both for sport (the skin is used is some handicrafts) and subsistence.
PATAGONIAN MARA (Dolichotis patagonum)
Where can I see them? Atlantic Patagonia
When can I see them? Year round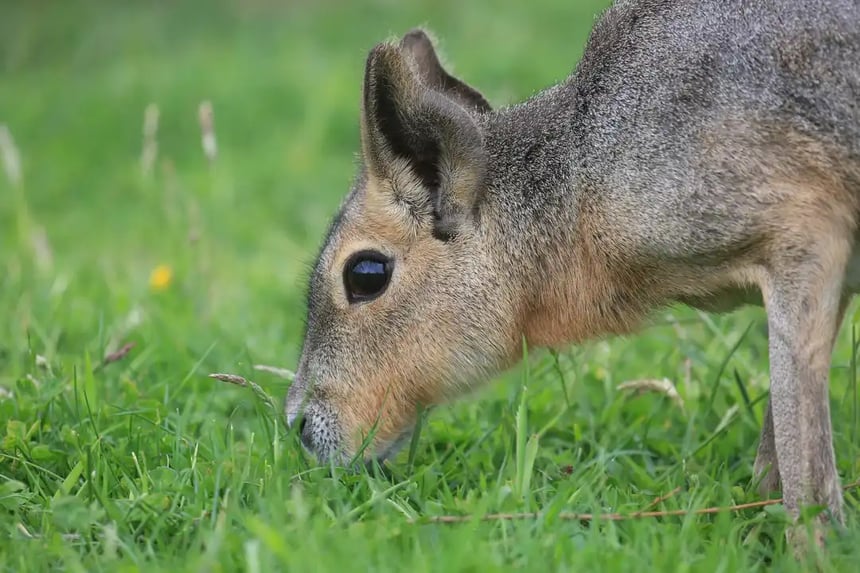 This weird (and cute) herbivorous only inhabits in Argentina (you can see them around the Valdes Peninsula). They are somehow similar to the Jackrabbit and mainly feed on green vegetation and fruit. Maras doesn't only have a peculiar physical appearance: they also have a unique behavior. They are monogamous; the pairs of maras stay together for life, and the replacement of partners only occurs after one's death. Did you say "faithful"?
BIRDS OF PATAGONIA
ANDEAN CONDOR (Vultur gryphus)
Where can I see them? Torres del Paine, Carretera Austral, Atlantic Patagonia, Tierra del Fuego
When can I see them? Year round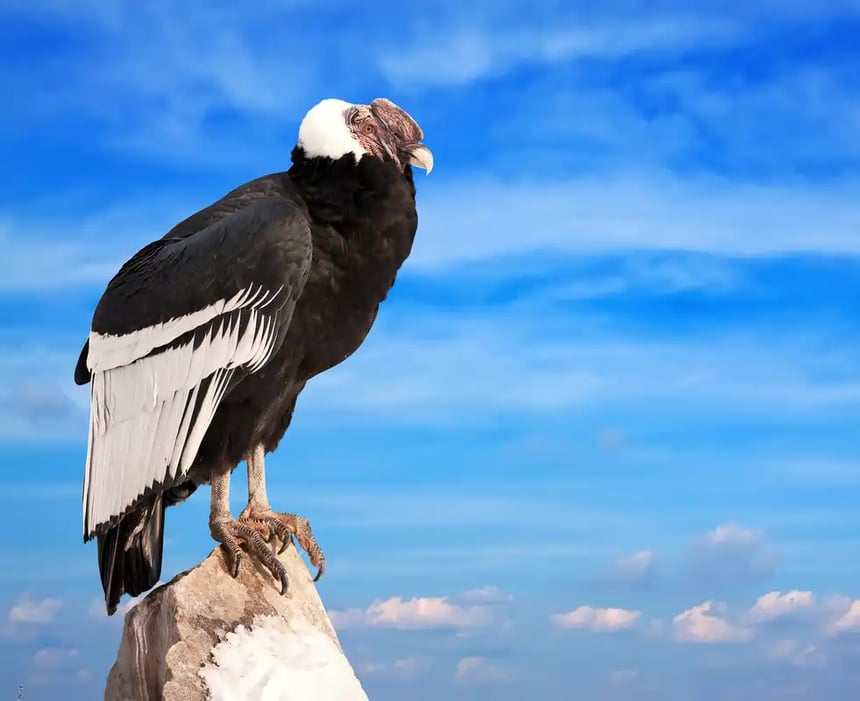 This New World Vulture is the largest flying bird on Earth by combined measurement of weight and wingspan (a max. wingspan of 3.3 meters / 10.10 ft). This huge scavenger feeds on carrion and likes to nest at high elevations (up to 5000 meters/16,000 ft). It can live up to 70 years, which makes it the world's longest living bird. This famous bird is featured on the coat of arms of several countries, including Chile, Bolivia and Colombia. Torres del Paine National Park may be the best place on Earth to spot condors, and they are often seen flying in circles above carcasses.
DARWIN'S RHEA (Rhea pennata)
Where can I see them? Carretera Austral, Torres del Paine, Atlantic Patagonia
When can I see them? Year round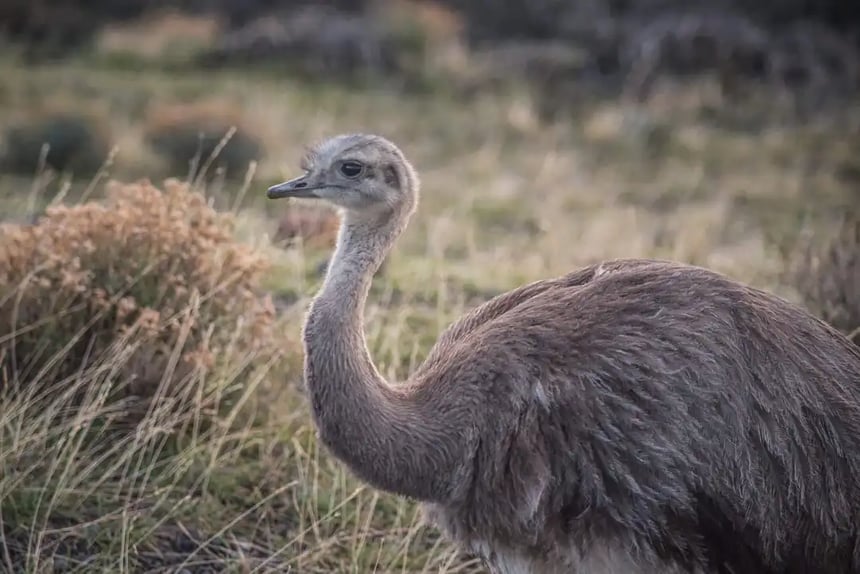 The Darwin's rhea – also known as lesser rhea and ñandu – is a large flightless bird that is commonly seen in Patagonia's grasslands. Their feathers resemble those of ostriches. They are mainly herbivores, even though they sometimes eat small animals like grasshoppers, lizards and beetles.
MAGELLANIC WOODPECKER (Campephilus woodpecker)
Where can I see them? Tierra del Fuego, Carretera Austral, Torres del Paine
When can I see them? Year round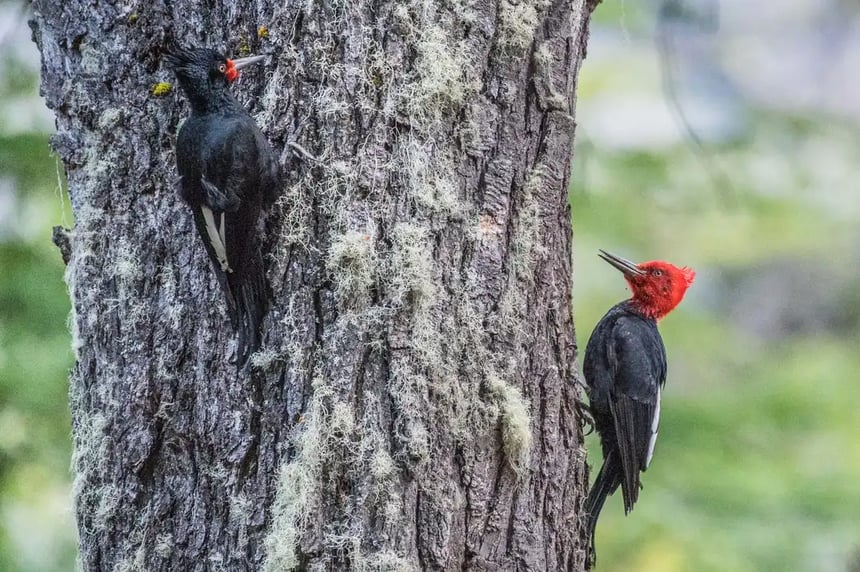 This very large woodpecker (up to 45 cm/18 in in length) inhabits the nothofagus forests of Patagonia where they feed on insects like beetles, spiders and wood-boring grubs. The male is easily recognizable with its elegant red head, while the female has a thin red layer near its beak.
CHILEAN FLAMINGO (Phoenicopterus chilensis)
Where can I see them? Carretera Austral, Torres del Paine, Atlantic Patagonia, Tierra del Fuego
When can I see them? Year round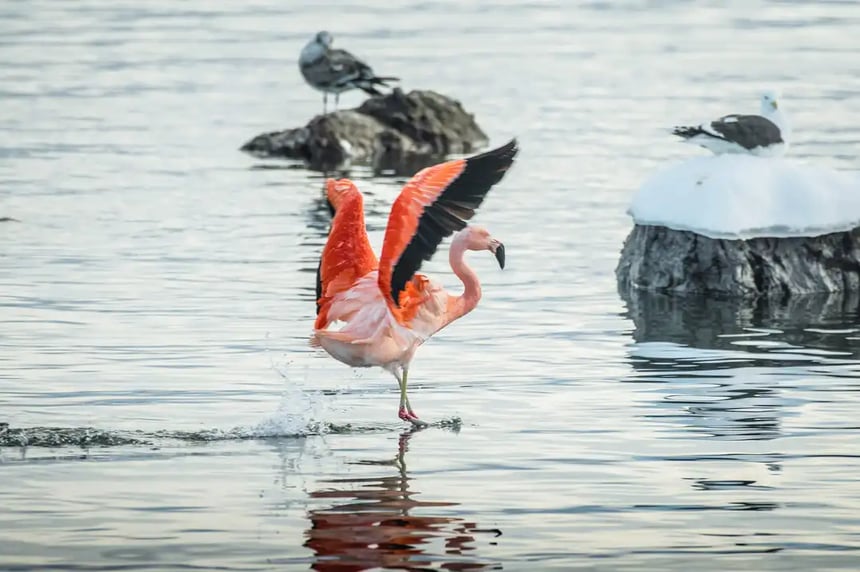 Who said flamingos only inhabit warm places? This large flamingo (up to 130cm/51in) can be found in Patagonia's salt lakes, lagoons, estuaries and fjords. Compared to other similar flamingos like the American flamingo, they have a larger amount of black on the bill.
AUSTRAL PYGMY OWL (Glaucidium nana)
Where can I see them? Carretera Austral, Torres del Paine, Tierra del Fuego
When can I see them? Year round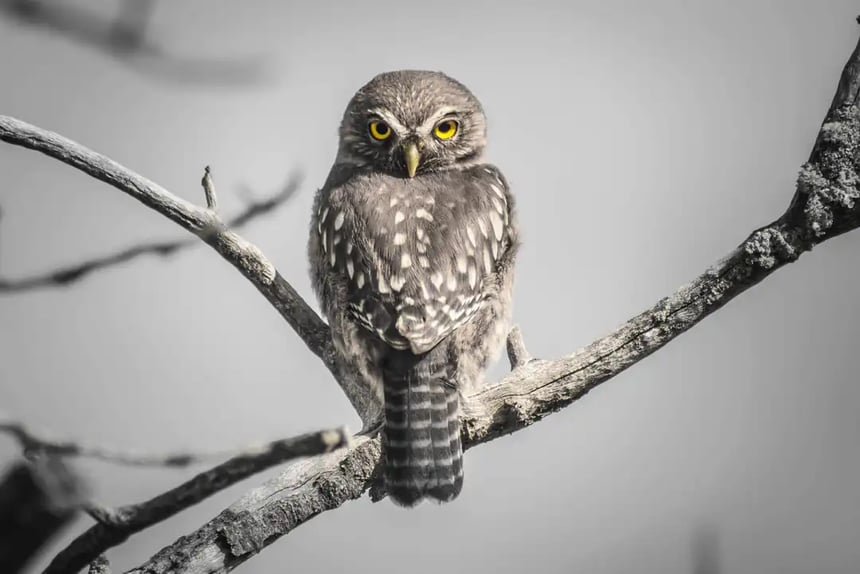 The smallest owl in Patagonia (21cm/0.6ft), the austral pygmy owl – locally known as "chuncho" – inhabits the temperature forests of Patagonia where it feeds on mice and insects, but also on small birds and reptiles. Its small size and silent flight make it hard to spot, though it can be seen during the day. Other owls in Patagonia include the lesser horned owl – the largest in the region – and the strix rufipes.
KING PENGUIN (Aptenodytes patagonicus)
Where can I see them? Tierra del Fuego
When can I see them? Year round, preferably from September to March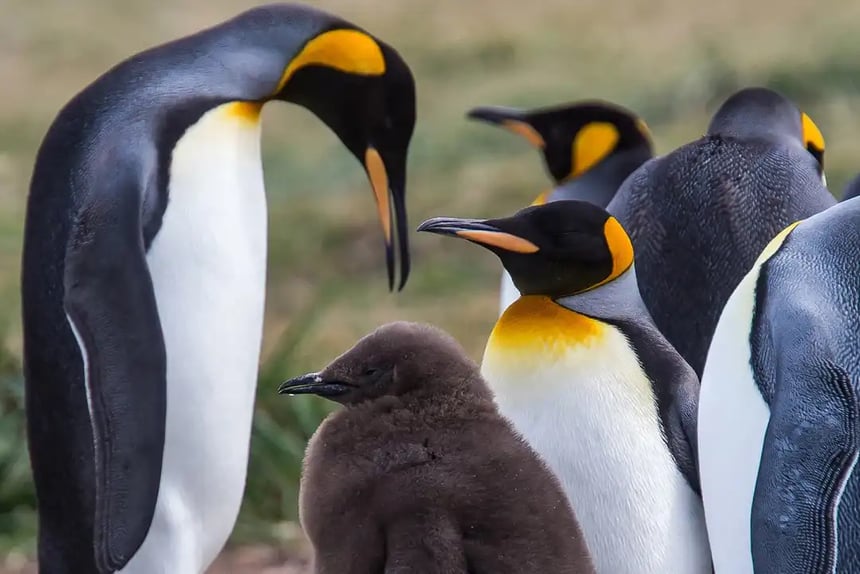 The king penguin is the second largest species of penguin after the emperor penguin and can measure up to 100 cm/39in. These beautiful penguins can be seen in very few places in Patagonia, namely near Ushuaia (Argentina) and at Bahía Inutil (Chile). In winter (April to August) the population drops as the largest chicks are raised, though they can be seen all year round.
MAGELLANIC PENGUIN (Spheniscus magellanicus)
Where can I see them? Magellan Strait, Tierra del Fuego
When can I see them? Year round, preferably from October to March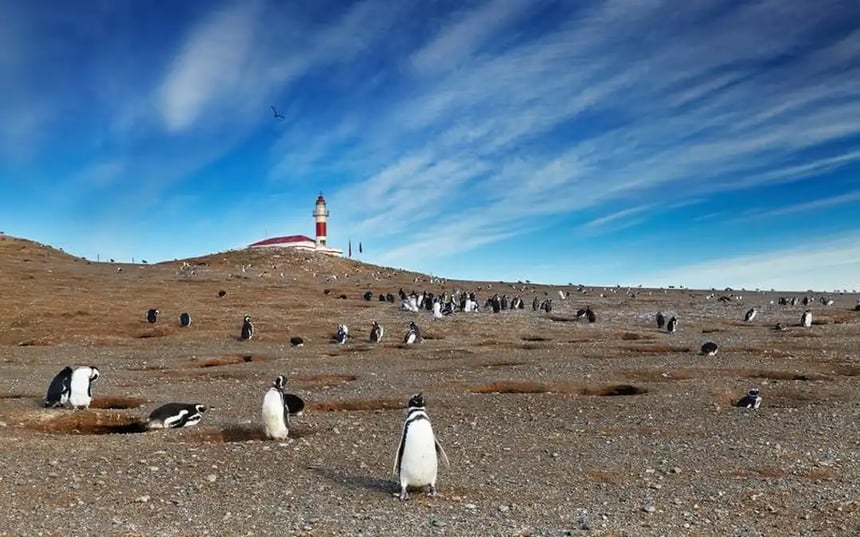 Magellanic penguins are cute and numerous penguins that were first spotted by Ferdinand Magellan in 1520 – hence their name. These medium-sized penguins (up to 76cm/30in) have black backs and white abdomens. During the breeding season, they gather in large nesting colonies at the coasts of Argentina and in some islands in southern Chile (for ex. Magdalena Island near Punta Arenas).
MARINE ANIMALS OF PATAGONIA
HUMPBACK WHALE (Megaptera novaleanglia)
Where can I see them? Magellan Strait, Tierra del Fuego, Atlantic Patagonia
When can I see them? October to March (Magellan Strait), September to December (Atlantic Patagonia)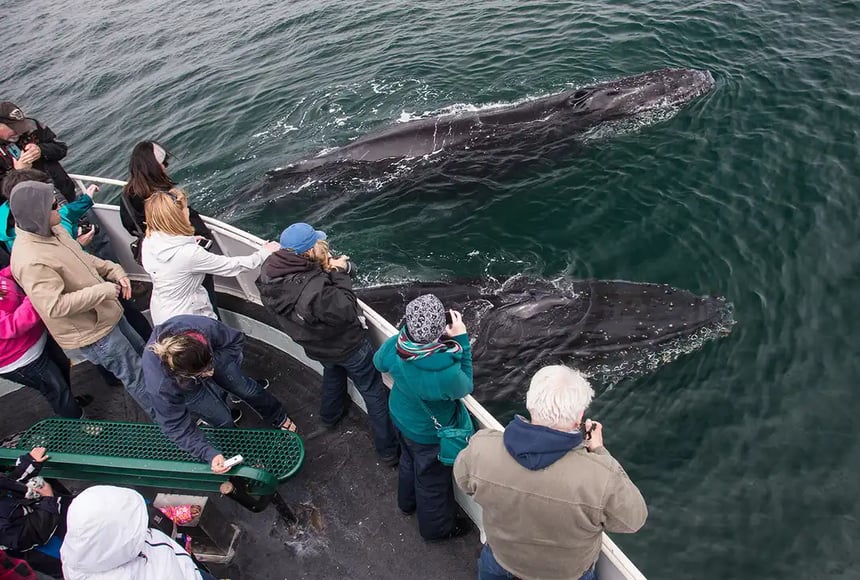 These incredible creatures measure up to 19 meters (62 ft) and weigh up to 35 tonnes and are famous for their spectacular breaching displays. Humbpack typically migrate up to 25,000 km/15,500mi every year, an odyssey through seas and oceans around the globe. They feed in polar waters. They travel to tropical and subtropical waters to breed and give birth, living off their fat reserves. Seeing them in the fjords and channels of Patagonia may be the most beautiful marine life experience you can dream of!
Other whales in Patagonia include the southern right and the blue whale (the largest on Earth!).
COMMERSON'S DOLPHIN (Cephalorhynchos commersonii)
Where can I see them? Magellan Strait, Tierra del Fuego, Atlantic Patagonia
When can I see them? Year round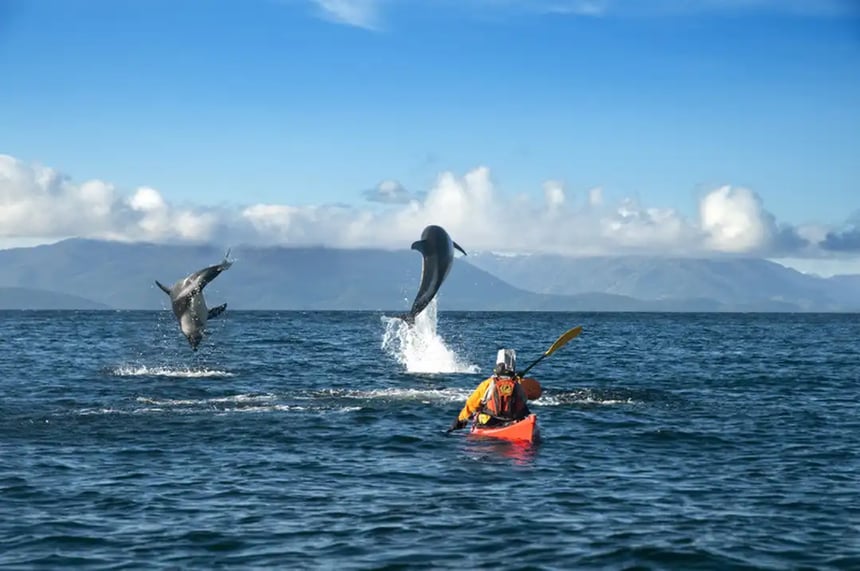 The Commerson's dolphin is one of the most peculiar dolphins on Earth, with names as fun as "panda dolphin" and "skunk dolphin". French naturalist Philibert Commerson first described them in 1767 after he spotted a group of dolphins in the Magellan strait – hence their common name. They have a black head, dorsal fin and fluke with a white throat and body. It is one of the smallest of all cetaceans, growing to around 1.5 meters (5 ft).
The other common dolphins in Patagonia are the Dusky dolphin, the Risso's dolphin and the peal dolphin.
SOUTHERN ELEPHANT SEAL (Mirounga leonina)
Where can I see them? Atlantic Patagonia
When can I see them? August to March
This massive elephant seal is the largest extant marine mammals that is not a cetacean. A bull southern elephant seal can be up to 7 times heavier than a polar bear. Males are typically five to six times heavier than females, with a maximum weight of 4 tons. About 20.000 elephant seals com to Peninsula Valdes ever year – from august to march – to reproduce and shed their skin.
SOUTH AMERICAN SEA LION (Otaria flavescens)
Where can I see them? Magellan Strait, Tierra del Fuego, Atlantic Patagonia
When can I see them? Year round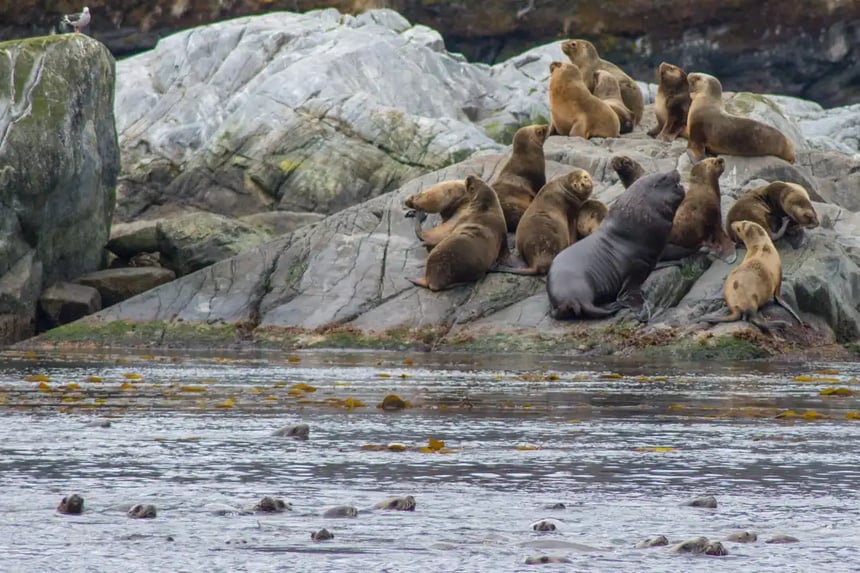 The South American sea lion – also called Patagonian sea lion – can be found in the fjords, islands and coastline of Patagonia. The male is the most "lionesque" of the eared seals, with a very large head and a well-developed mane. Males weigh up to 350 kilos (770 lb), twice the weight of females.
The other seal that inhabits Patagonia's coastline is the South American fur seal.
MARINE OTTER (Lontra felina)
Where can I see them? Carretera Austral, Magellan Strait, Tierra del Fuego
When can I see them? Year round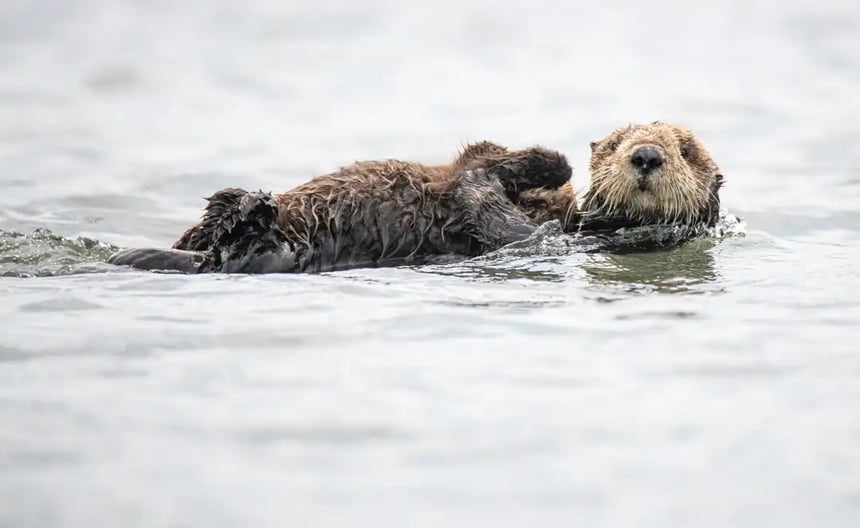 The marine otter – locally known as "chungungo" – is also referred to as "marine cat". It is a rare mammal that is now protected but was extensively hunted for a long time, both for its fur and due to perceived competition with fisheries. They are diurnal animals but are difficult to see as they tend to swin low in the water. The marine otter is one of the smallest otters on Earth, with a maximum size of 115 cm (45 in).
The other otter you can spot in Patagonia is the southern river otter, that is also endangered and inhabits both marine and freshwater environments.
ORCA (Orcinus orca)
Where can I see them? Atlantic Patagonia, Magellan Strait, Tierra del Fuego
When can I see them? Year round
The "killer whale" is technically not a whale. Instead, it is the largest member of the dolphin family that is easily recognizable with its huge dorsal fin, which can reach up to 2 meters high. They can measure up to 9 meters (29ft) and weigh up to 10 tons. Despite their name, killer whales are not considered a threat to humans and no fatal attack on humans has ever been documented.
They inhabit Patagonia's fjords and channels, though it is not easy to spot them. The best place to see orcas is Peninsula Valdes, where they come to hunt sea lions, especially between February to May.
5. What dangerous animals live in Patagonia?
Unlike Africa, Patagonia is a very safe place for the observation of wildlife. Animals here are not considered dangerous to humans, even though travelers should take safety precautions, especially when it comes to puma tracking. Pumas here have enough food and space to live peacefully near humans. Attacks on humans are extremely rare in Patagonia, though travelers should always maintain a good distance from pumas – and in fact, from any other animal. If you respect wildlife, nothing bad should ever happen to you.
6. What tours are recommended to spot wildlife in Patagonia?
If you want a good mix between hiking and wildlife, you should consider doing a Wildlife Safari in Torres del Paine National Park, that can be couple with a full day puma encounter to look for the elusive puma. You can also spend 6 days looking for Patagonia's famous predator on a Puma Tracking.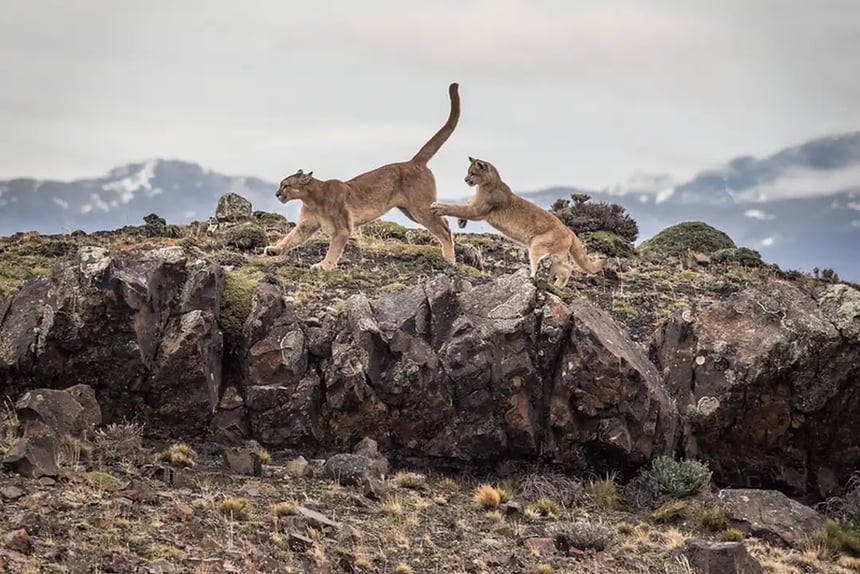 If you want to spot some sea life, we recommend you to do the humpback whale watching, an epic marine adventure that starts in Punta Arenas (Chile). From Punta Arenas, you can also meet the king penguins of Tierra del Fuego on a King Penguin Viewing Excursion and the smaller Magellanic penguins of Magdalena Island on a Magellan Strait Penguin Adventure. Finally, you can also explore the incredible marine life of Tierra del Fuego while traveling to Ushuaia and opting for a Tierra del Fuego & Ushuaia Explorer!
And if you want to organize your own tailor-made wildlife adventure, contact us!