When is the best time to visit Torres del Paine? That is biggest question for all travelers going to Patagonia and for good reason - this region has notorious weather that can change in the blink of an eye. Read on to find out what we, the experts at Cascada Expediciones, suggest and why each season has something special to look forward to.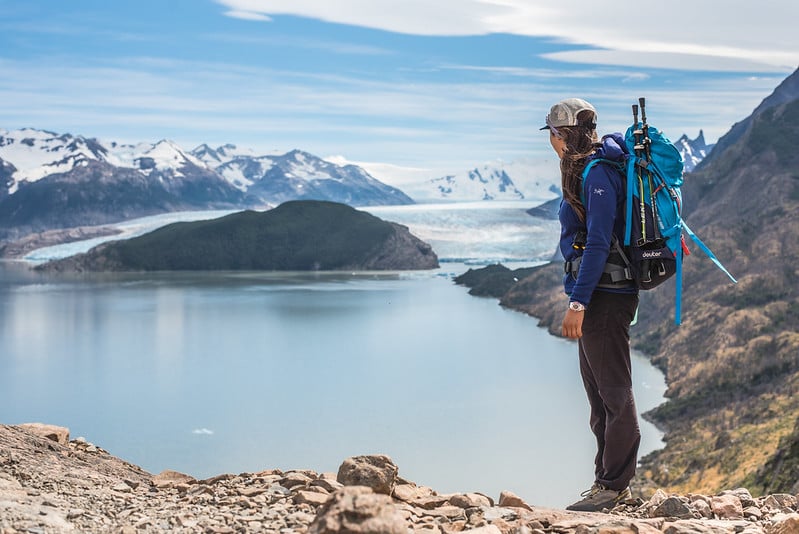 To make it simple, there is no single best time to visit Torres del Paine. Each season has its advantages and drawbacks, and deciding when to go is entirely up to you, based on your expectations and preferences. For example, photographers may love the color contrasts between the blue lakes and the autumn foliage, or the brilliant green of spring, while sociable types bond with other hikers during the peak season. Lower prices in the shoulder seasons draw in more budget-conscious travelers, while some wildlife-lovers may try to visit during birthing season to watch new life entering the park.
To help you make a decision that's right for you and those traveling with you, here's a breakdown of each season in Torres del Paine, looking at temperatures, crowds, hours of daylight, what the landscape will look like and more. This will help you make an informed decision and choose the best time of year for you to visit the eighth wonder of the world.
Spring
If you don't mind a slight nip to the air and some chilly nights, spring is a wonderful time to explore Torres del Paine. Watch as plants come back to life and as wildlife proliferates around the park. You can see the sights ahead of the high season crowds, surrounded by peace and quiet.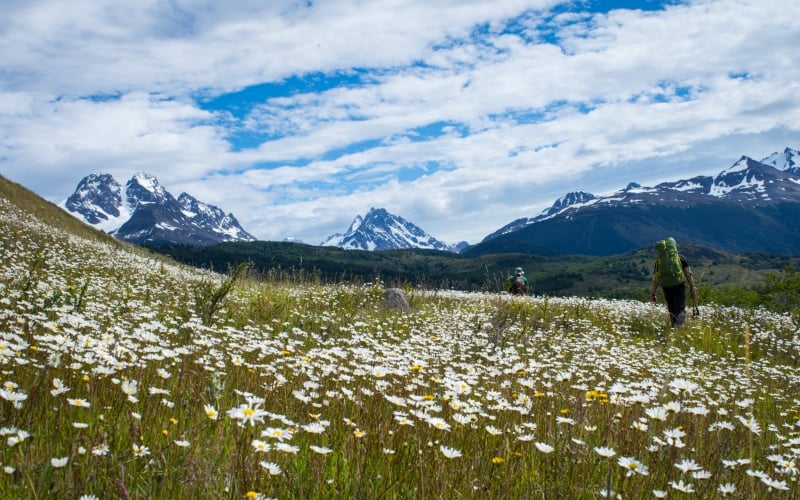 Months: Mid-late September, October and November
Average Weather: Warm during the day, but it can still be chilly with strong winds and cold nights. There is a strong possibility of rain.
Average Temperature (Fahrenheit): Lows in the 30s (3-7 degrees Celsius) and highs in the 60s (14-18 degrees Celsius)
Landscape/Flora and Fauna: Blooming and blossoming plants and snow/ice still present in some areas of the park/on high peaks
Crowds: Low. Spring is low/shoulder season in Torres del Paine, so it's a great time to visit if you don't enjoy crowded outdoor places.
Hours of Daylight: 12 in September, 14 in October, 16 in November and 17 in December
Advantages: Fewer crowds, lower prices, great time to examine plants/wildlife and lower rates
Disadvantages: Can be cold at night, snow and ice is still a possibility, unpredictable weather and strong winds
Accessibility: Limited to good. In early spring, some hotels, campsites, stores, roads, areas of the park, etc may not yet be open or available. Please research beforehand to ensure that the things you want to do will be open and operational. Our hotel EcoCamp Patagonia is one of the first hotels opening in the park in spring, generally opening in early to mid-September.
Summer
Summer is Torres del Paine's busiest time of the year, especially for people hoping to take on the popular W Trek (check out our full guide on this awesome multiday-hike here). If you're a sociable person who enjoys meeting new people or you like being outside during warmer weather, this is the time for you.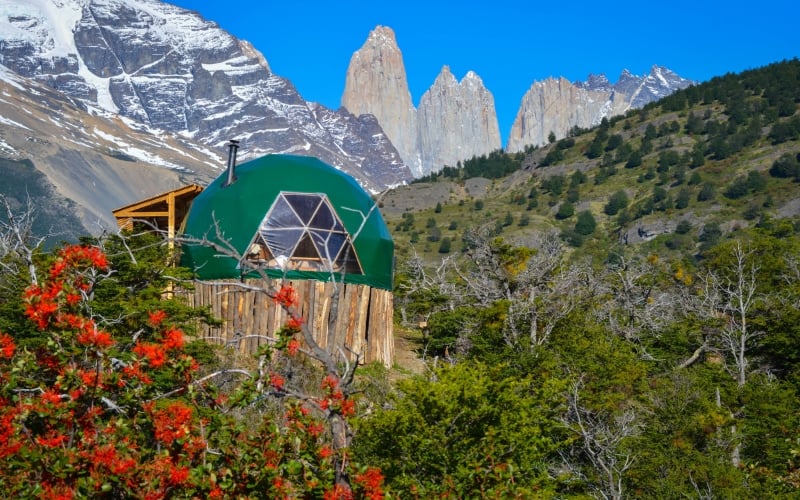 Months: December, January, February and early March
Average Weather: Warm days, cool but not cold nights, strong winds and the possibility of rain
Average Temperature (Fahrenheit): Lows in the 30s (6-8 degrees Celsius) and highs in the 60s (17-20 degrees Celsius)
Landscape/Flora and Fauna: It is the height of growth season with a landscape in full green. High likelihood of seeing wildlife, but the large crowds may drive some species (such as pumas) away into more secluded areas of the park. Mostly clear skies and good visibility during the day and night.
Rain: While summer may have less rain, it's still a strong possibility (average rainfall in the summer is 2.36-2.95 inches)
Crowds: High. Summer is high season so it will likely be very crowded, especially on the W Trek. You should make reservations and book campsites or hotels in advance.
Hours of Daylight: 17 in December, 16 in January, 14 in February and 13 in March
Advantages: Warm weather, not too cold at night, longest hours, best access to amenities and the most popular time to visit due to warmer weather and beautiful views
Disadvantages: Most crowded and busy, harsh winds and unpredictable weather/rain
Accessibility: As summer is Patagonian high season, this is when all hotels, campsites, trails, roads, paths, stores, ranger stations, etc will be open, offering the greatest ease of access to explore the park.


Fall
Lovers of fall foliage, rejoice! The memorable and captivating landscapes of Torres del Paine are covered in autumnal splendor, full of young wildlife exploring and clear weather with that crisp, autumn feel to the air. Best of all, the crowds of high season are gone and the park is peaceful and quiet.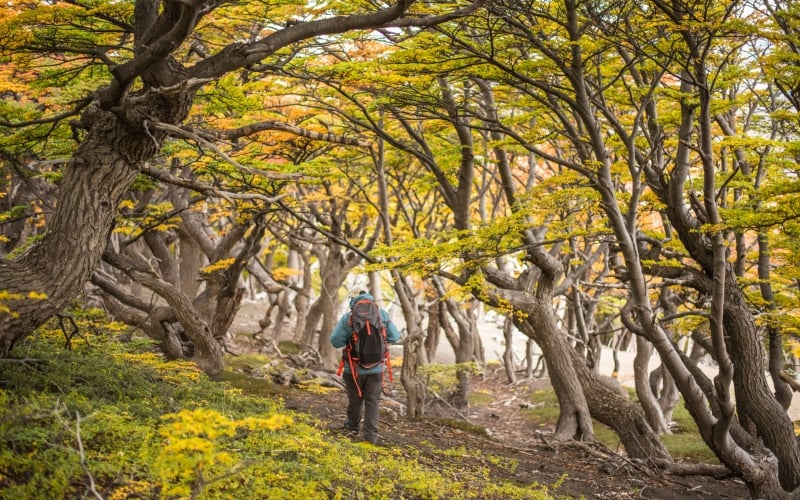 Months: Late March, April and May
Average Weather: Cool days and nights that are starting to get cold, as well as the possibility of rain or even snow later in season
Average Temperature (Fahrenheit): Lows in the 20s (-3 - 3 degrees Celsius) and highs in the 40s or low 50s (5-13 degrees Celsius)
Landscape/Flora and fauna: Fall foliage, plants and trees changing colors and a great chance to see young animals
Rain: Strong possibility, especially later in season
Crowds: Still pretty crowded in early March, with fewer crowds in April and May
Hours of daylight: 11 hours in April and 9 in May
Advantages: Beautiful foliage, fewer crowds and less people, lower rates, good accessibility to areas of the park and amenities, great opportunities to see wildlife and a great time for photographers
Disadvantages: Colder nights, can be cool during the day, possibility of rain and cold weather, possibility of snow and ice later in season, some areas of park may be closed near end of season
Accessibility: Good to limited. As the season gets closer to winter, more hotels, roads, areas of the park, etc will start shutting down for the season. Research beforehand to ensure the areas you want to visit will be open.
Winter
Winter in Torres del Paine is perfect for people who enjoy exploring the great outdoors during cold weather, seeing dynamic landscapes covered in snow and ice, and having a space almost entirely to themselves.
We even offer the classic W trek during the winter, a great chance to see the iconic sights like Grey Glacier, the base of the Towers, and French Valley in an entirely new way. Click here to learn about what to expect on a Winter W Trek.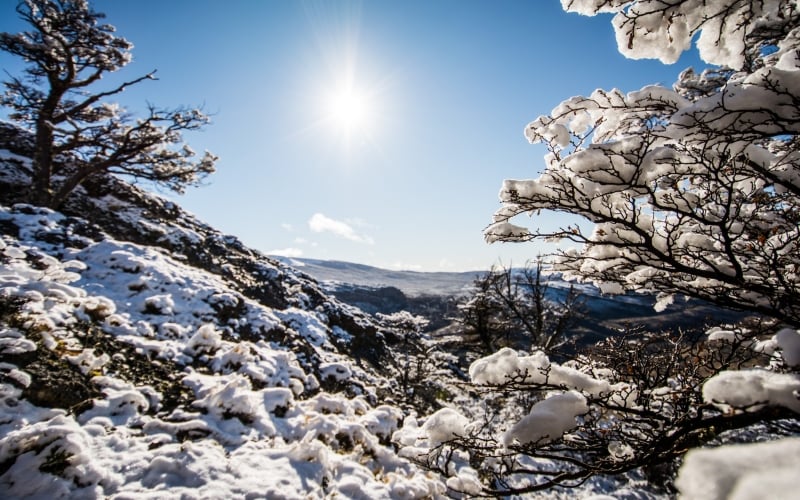 Months: June, July, August and early September
Average Weather: Cold, low temperatures, milder winds, possibility of snowstorms and low visibility, unpredictable weather at times
Average Temperature (Fahrenheit): Lows in the 20s (-3 - 0 degrees Celsius) and highs in the low 40s (5-8 degrees Celsius)
Landscape/Flora and Fauna: Although arguably the most challenging time of year to visit, winter in Patagonia produces captivating landscapes and showcases the classic sights of Torres del Paine (Los Cuernos, Los Torres, Grey Glacier, etc) covered in glistening snow and ice. There is very little plant life, but you are still able to see wildlife such as guanacos, pumas, etc.
Rain: Likely. Snow, ice and precipitation is also very likely.
Crowds: Extremely low
Hours of daylight: 8 in June, July and 10 in August
Advantages: Isolated, lack of people, beautiful winter landscapes and ideal for people who enjoy outdoor activities such as hiking in the winter
Disadvantages: Cold, possibility of snow and ice and lack of access to amenities
Accessibility: Low. Winter is Patagonian off-season, so very few places (hotels, campsites, stores, etc) will be open. Please research in advance to ensure availability.
But When's the Weather Best?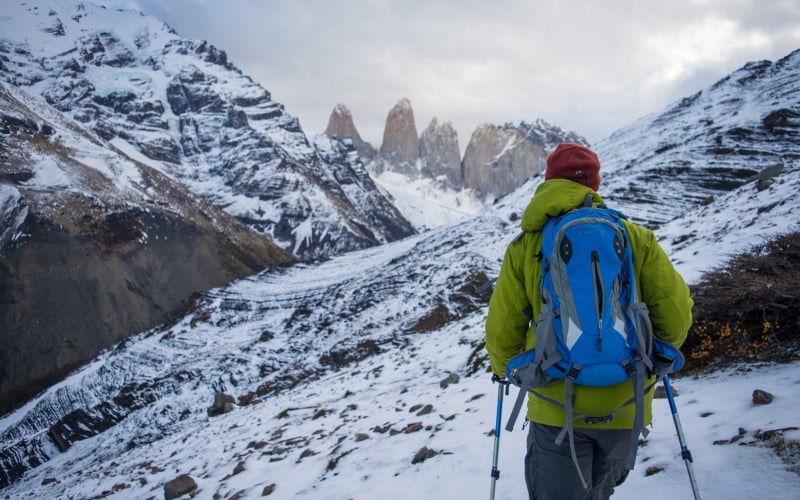 As a general trend, the following can serve as a rule-of-thumb:
1) Summer is warmest and has less rain, but has the strongest winds.
2) Winter has more rain and snow, but with milder winds. You have a better chance of seeing clear skies.
3) The season with the most color (and high chance of seeing wildlife) is autumn.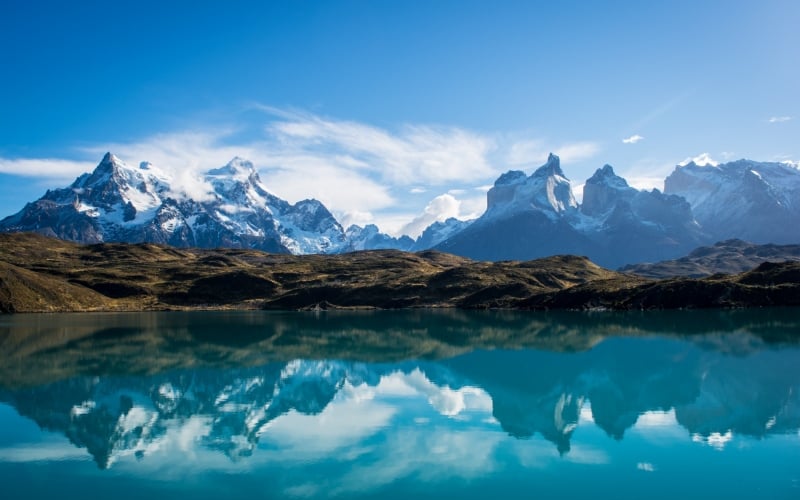 Torres del Paine is one of those spectacular locations that can charm people whether there's rain or shine. Come trek beneath autumn's the fiery foliage or check out our winter programs. We've also great great opportunities for both spring and summer!