Sometimes you just need to get away from it all. Patagonia is one of the last places on Earth where you can still get away from the modern world. And hiking through it? Even better. Without further ado, we bring to you the best-untapped hikes in Patagonia, where isolation is the name of the game and nature is your neighbor.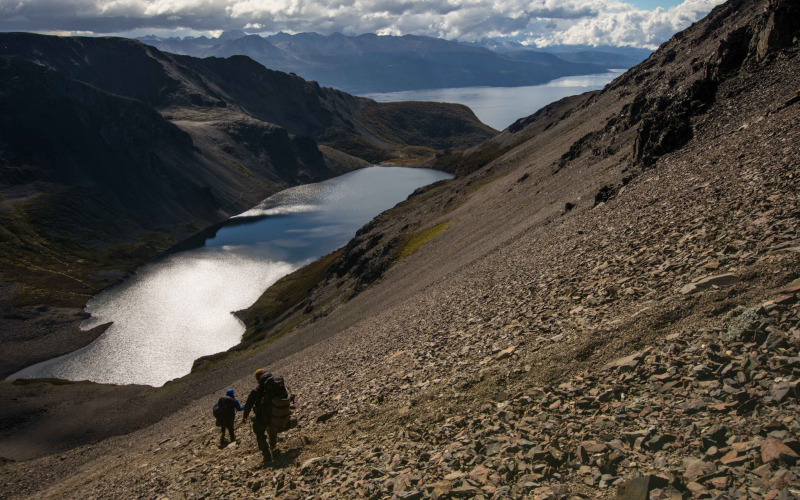 Patagonia's Big Drawcard
Patagonia is comprised of two parts: Argentine Patagonia and Chilean Patagonia, and both regions are diverse. Chilean Patagonia is about the same size as Germany, while its Argentine counterpart is closer to the size of Texas. Argentina's slice is full of broad expanses that turn from windy steppe into forests of Southern Beech. Chilean Patagonia stretches south from no clear-cut point (some say from the region of Aysén others from Puerto Montt), extending from islands, forests, and channels and through to windswept grasslands and moors. Here the wind (2 of the world's windiest cities are here) and water reign supreme but its the ice that rears above them all, sometimes as high as 3000 meters. Just 5% of Argentinians and 1.5% of Chileans live in this zone, meaning that this is about as undeveloped as it gets in today's busy, rushing world.


The Best Time to Visit
The best time to travel in this unique zone is really up to you: summer (December-February) is the most popular time to trek, while Autumn is the photogenic time (March-May); Spring has the best chance for rain (September-November) while trekking in winter brings unique challenges that actually adds to the enjoyment of the trek (June-August). Whatever time you travel you can expect to have four seasons in one day, so you should take a read of this article on what to bring before you leave (and watch the incredible video below!).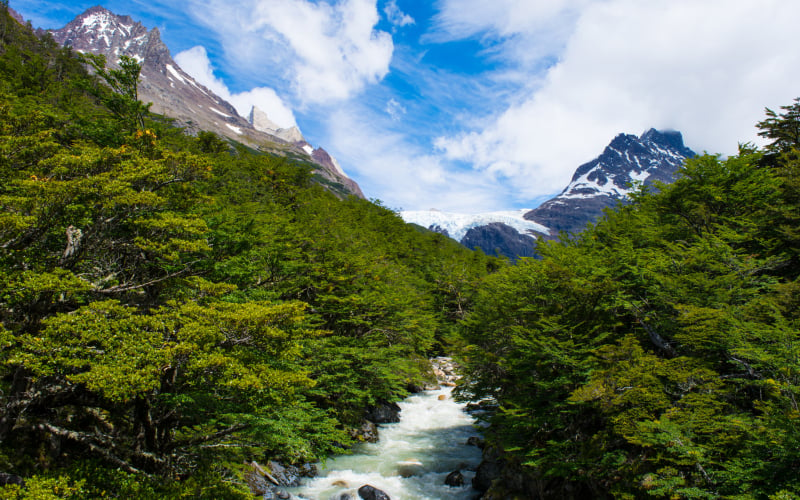 Also known as the 'O' Circuit, this trek makes a 130 km loop through the wilder corners of Torres del Paine National Park and also includes its popular cousin, the 'W'. It is a physically demanding hike and your speed will be affected by the weather conditions; mud, in particular, can be difficult. Expect incredible daily views, early morning starts, and optional hikes to additional lookouts; ask us about upgrading to include a stay at the award-winning EcoCamp Patagonia.
Difficulty: Hard
Duration: 9 days
When: October-March
Highlights
Dickson Glacier & Southern Ice Fields (Day 2)

Stunning views of the Escondido Valley (Day 3)

John Gardner Pass via forests and past boulders and immense views of Glacier Grey (Day 4)

French Valley + French River Hanging bridge (Day 6)

Lake Nordenskjold (Day 7)

The towers' base (Day 8)
* Optional activity
Accommodation
Camp Dickson: An absolutely jaw-dropping backdrop is what you pitch your tent before here. The campsite is formed of an open field surrounded on all sides by mountains and glaciers; here you can find hot water showers.
Camp Perros:

A more basic campsite with flush toilets and a building where you can cook.

Camp Grey: Named for its outlook to Glacier Grey, this is a popular campsite where you can find all the necessary amenities including a kitchen and hot showers.
Camp Pehoe: This is a comfortable site offering hot showers and even a laundry, located right on the banks of Lake Pehoe.
Camp Cuernos:

One of the smaller

refugios

along the trail, its claim to fame being its excellent bar and restaurant. Hot showers.

Camp Torre Central: A privileged location right before the towers helps to elevate this campsite. 24/7 hot showers.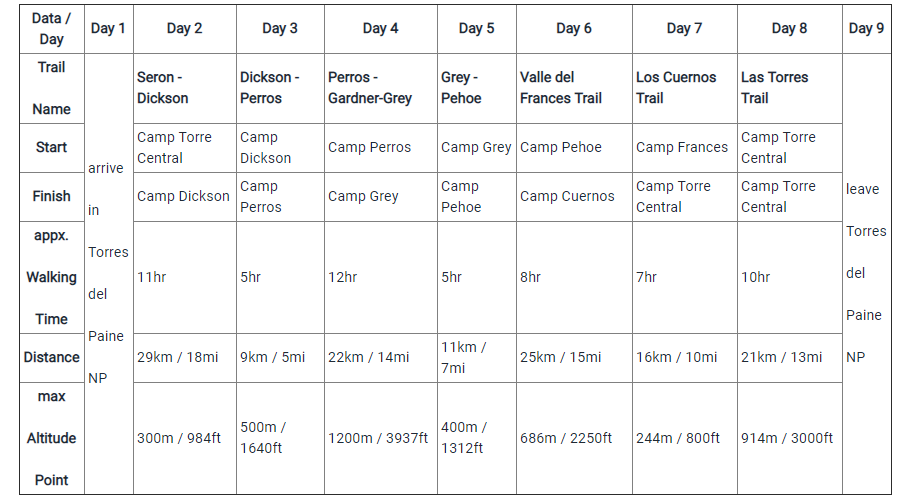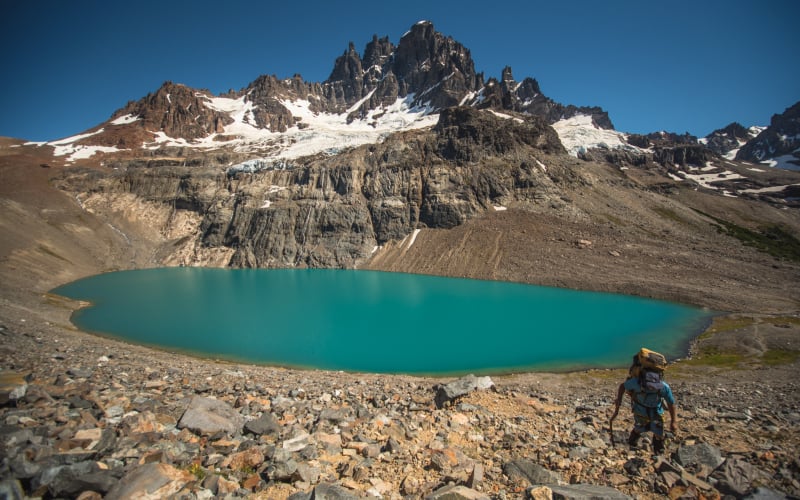 Imagine standing at the top of a mountain, the modern world days away, with a magnificently blue lagoon before you that glimmers with all the light of the sun. This trek is something of a local secret, adored by Chileans but relatively unknown to outsiders. It is a challenging trek so you should prepare yourself prior to departure.
Difficulty: Hard
Duration: 3

days

When to Go

: November-April
Highlights
Las Horquetas (day 1)
El Peñon (day 2)
Cerro Castillo Lagoon (day 3)
Accommodation
Camp Turbio:

running water and plenty of benches

Camp La Tetera

: running water, toilets, but no benches to eat your food on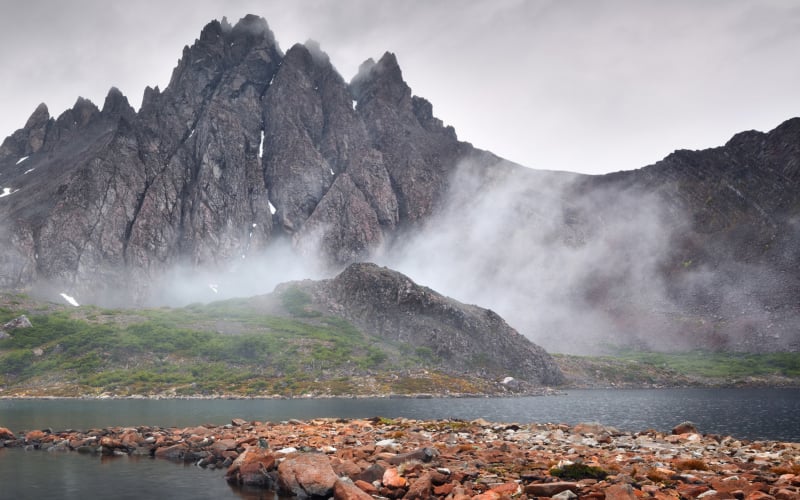 Walking here feels like exploring something new, the air tinged with the hint of the undiscovered. Navarino Island is a remote speck at the end of the world - from here onwards there is only Antarctica. This island is especially famous for its density of archaeological sites dating back some 10,000 years, the middens of the Yaghan people as well as former 19th-century English missions. Trekking takes you mostly above the treetops, through mountains, forests, and marshes; Lonely Planet names this trek as the "best in South America." Tip: this part of the world is especially wet so make sure you trek with waterproof shoes and line your backpack well.
Difficulty: Hard
Duration: 6 days
When to Go: December-March
Highlights:
Puerto Williams, ( Day 1 + 5)
Views across the unique forests of Cape Horn (blog link)
Views of the Beagle Channel (Day 2)
Crossing the Dientes mountains (Day 3)
Climbing Virginia Pass (Day 4)
Accommodation:
Lakutaia Lodge:Your first and last night will be spent in this excellent, boutique hotel that overlooks the Beagle Channel and features wifi, bar, library and excellent food.
Camp Sites: Rustic facilities on nights 2, 3, 4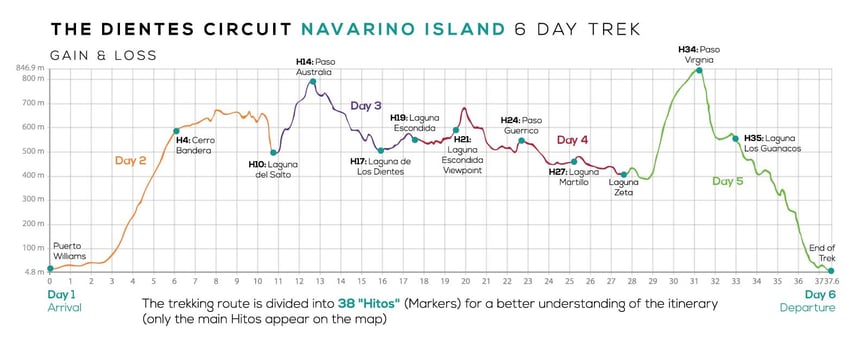 Pin these Treks for Later
"It's important to remember that with travel comes responsibility. If we are going to enter fragile worlds like Patagonia, then we need to make sure that a) we are prepared and b) that we watch our travel footprint - we don't want to ruin the places that we love. The good news is that all our programs at Cascada have their carbon offset by Carbon Fund, and we frequently give to endeavors working to keep these places pure such as the Torres del Paine Legacy Fund and AMA. Take a look at the Tu Mejor Huella campaign just kicking off at a national level here in Chile to protect the Park's vulnerable areas."
-Chloe, Direct Sales Manager