Down or synthetic? Wool or polyester? Three pairs of underwear or one?
I am dedicating this piece to the
Patagonia line
- but keep in mind that there are many companies offering similar products, and we invite you to make your own decision on which one is your preferred choice! The following are just a few of my favorite picks, most of which I personally will be rocking in the wild weather of Patagonia.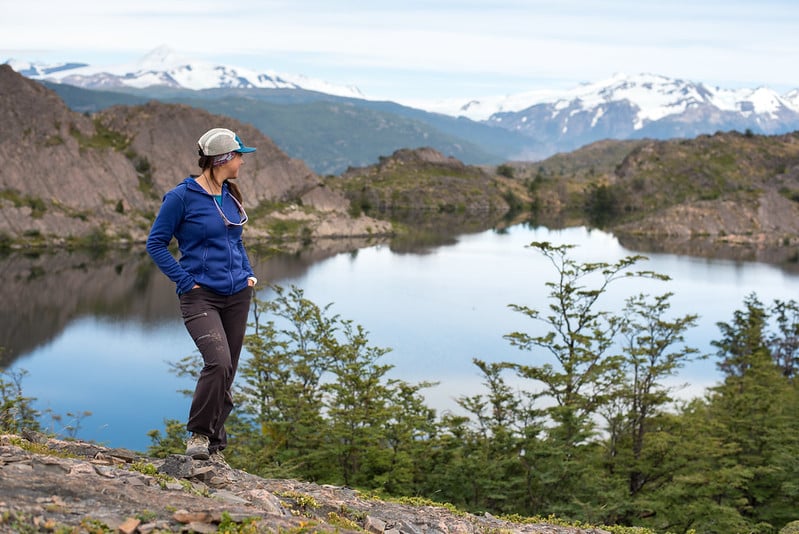 Outer Layer - Patagonia Torrentshell Jacket
Weighing in at 320 grams (345 for men, and just over 11 and 12 ounces), these nylon jackets are waterproof, windproof, breathable, and best of all, it packs down into it's own little pouch. At a better price point than its tougher cousin GORE-TEX, the H2No Performance Standard 2.5-layer nylon shell gets the job done in the pouring rains of the south. And probably my favorite part - it comes in all sorts of bright and festive colors!
Insulation - R1 Fleece Series
It was hard for me to pick which fleece out of all the fleecy fleeces I like the most because they're all so cozy and wonderful! But the R1 series, with Regulator® grid fleece is probably the most versatile one that I have found, making it my choice for hiking Patagonia. It's breathable, compressible, and durable, but best of all warm and wicking, making it a perfect mid layer in the cold, or a simple outer layer on nice sunny days. And you get your choice of pullovers, hoodies, and full-zips to suit your comforts.
Extra or Alternative Insulation - Nano Puff Vest
We could go back and forth for days on which is better - down or synthetic fill - and honestly, I'm a bit undecided myself, but when you're headed into wetter climates such as southern Patagonia, synthetic wins out as it dries faster than the natural down filler. I like this vest as it's so light (209 g/7.4 oz) that when you don't need, you won't even notice it in your pack, but the PrimaLoft® fill keeps your core cozy warm in the coldest conditions. It's not a necessity if you have a fleece layer or a full insulated jacket (they make a full jacket version of the Nano Puff), but if you get cold easily, it's a nice extra layer for those chilly days.
Trousers/Pants - Nomander Pants
Pants are definitely one piece that everyone has different opinions on, so take mine with a grain of salt. I like the material of the Nomander pant - quick drying stretch nylon. It's easy to move in, lightweight and it dries very fast, making them great for a one pair of pants trip, as you can wash them in your sink and wear them the next day. The men's version comes in a zip-off leg, offering a quick change to shorts on hot days.
Base Layers
Okay, the ever-ongoing debate of wool versus synthetic baselayers. Who's to say what's better? In my professional opinion, albeit slightly skewed, I am a wool fanatic, and I'll never go back. Its natural fibers wick away sweat, dry super fast, and regulate with your body temperature. Keep in mind, I'm not talking about your grandpa's itchy old wool sweaters, but quality silky smooth merino wools.
But that's not to say that the synthetic competition is for naught. Some people prefer the feel of the synthetics, and find them easier to care for, not to mention the lower price tag. Again, decide for yourself, but at least do me and yourself a favor and avoid cotton on the trail.
That being said, my choice from the Patagonia baselayers is Merino 1 Silkweights - a 65% Merino/35% Capilene blend, offering the best of both worlds. Great for on and off the trail, these make perfect all around travel shirts. The Merino 2 Lightweight Bottoms work great under hiking pants, are comfy enough to sleep in, and I won't judge you ladies if you choose to wear them under your favorite mini for a night on the town.
Don't forget the undies! Patagonia has a great selection of synthetic underwear for both men and women, making those three pairs work perfectly on a 9 day adventure. And believe it or not, a few great companies are making wool undies. I know, sounds weird, right? Don't knock it 'til you try it, and talking from experience I don't think you'll regret it - Check out Icebreaker and Ibex for some great pieces.
Last but not least, Head, hands and feet!
There are far too many options for me to give you an exact pick on this category. Personal fit and style go into choosing the perfect hiking boot, but be sure to get some comfy wool socks inside of them. As long as you're not heading into too much technical hiking and climbing, a nice pair of wool gloves will cover your fingers just fine. As for your head, go for a hat that's warm and tight fitting - you don't want it blowing off in the fierce Patagonian winds! And sunglasses, do not forget the sunglasses.
So now you have it! For more tips contact us so we can organize the adventure you're looking for!