Some say the word Patagonia means 'Land of the Bigfeet' in reference to the giants that, according to legend, once roamed the land at the end of the world. We're not sure if that's true, but we do know that looking after your feet during your hiking tour in Patagonia can mean the difference between endurance and enjoyment.
The key to healthy feet lies in choosing the right shoe for you, but the world of the hiking boot can be a confusing place for the uninitiated. It's always good to ask salespeople for their thoughts, but if you're unsure of the terminology you might worry that you'll end up being persuaded to pay extra for features you don't need or to buy something that doesn't fit the bill. Never fear, Cascada is here with a handy guide to choosing the right footwear for your trek in Patagonia.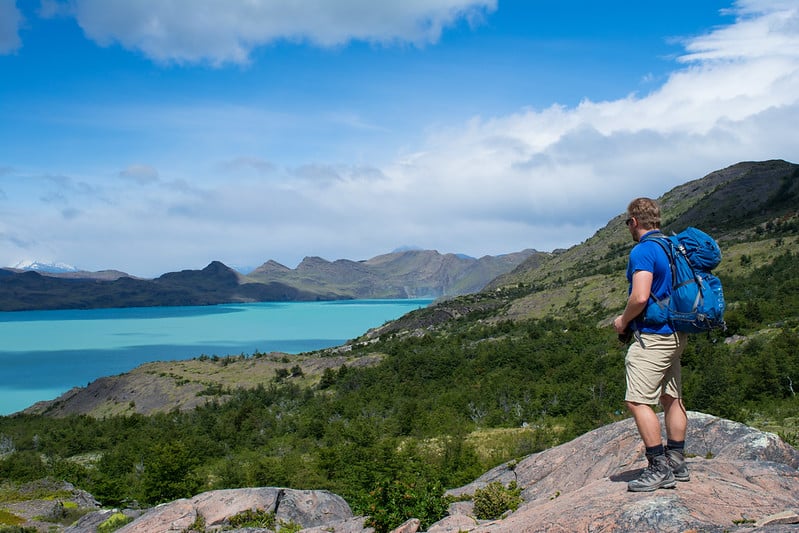 Support
In recent years the old-fashioned, sturdy hiking boot has somewhat fallen out of favour. The rising trend in ultra-lightweight hiking has seen a swing towards smaller, lighter shoes that enable the wearer to travel greater distances at speed because they're carrying less weight and their movements are less restricted. But less restriction also means less support and that is not something you want to skimp on in Patagonia. This kind of hiking frequently involves uneven surfaces, steep gradients and even ladders in and out of ravines, and with the extra weight of a pack on your back, turning an ankle is a real possibility. So here in Patagonia, a boot means a boot, not a shoe or trainer, and that means that the support should reach all the way to your ankle. A sturdy mid-weight boot with padded ankle support is ideal.


Waterproofing
Soggy boots mean cold wet feet and a much higher chance of chafing leading to blisters, so it's something to avoid if you possibly can. To some extent there will always be a play-off between waterproofing and breathability and even if some synthetic fabrics claim to do both, many people find that the first splash of mud renders these boots ineffective. We recommend all-leather boots as they are more effective at keeping the water out and tend to be more durable. That said, no boot is ever 100% waterproof so it's worth investing in some gaitors which will go some way to stopping any water coming in over the top of your boots, as well as keeping the bottom of your trousers dry.
Grip
On a hike in Patagonia, a boot has to cope with almost anything that nature can throw at you and your feet; from dusty, loose earth to deep, sucking mud, from snow in the mountains to rain on the plains, Patagonia has it all. This is where the sole of your boot comes into play, as it can actually protect you from injury by preventing a slip. When looking into grip technology, you might come across the words 'lugs' or 'treads', but both of these terms just refer to the grooves on the sole of the boot. For the rugged terrain of Patagonia, a deep-lugged boot (i.e. with deep treads) is what you'll need.
Preparation
Of course the cardinal rule with any boots you buy is that you must break them in before the big hike. As tempting as it may be to leave them in the box so they're in mint condition for your trip of a lifetime, even the best boot in the world needs a little time to get to know your feet. The first step is to wear the boots indoors for a while, so you can still take them back to the shop if you discover any serious issues. Once you're sure these are the boots for you, wear them on your practice hikes and train your boots as you train yourself. The same principles apply, the harder you work them during prep, the easier it will be once you get out on the trail.
Planning to hike the W Trek? Check out our full guide here!
5 Tips for Getting the Right Boots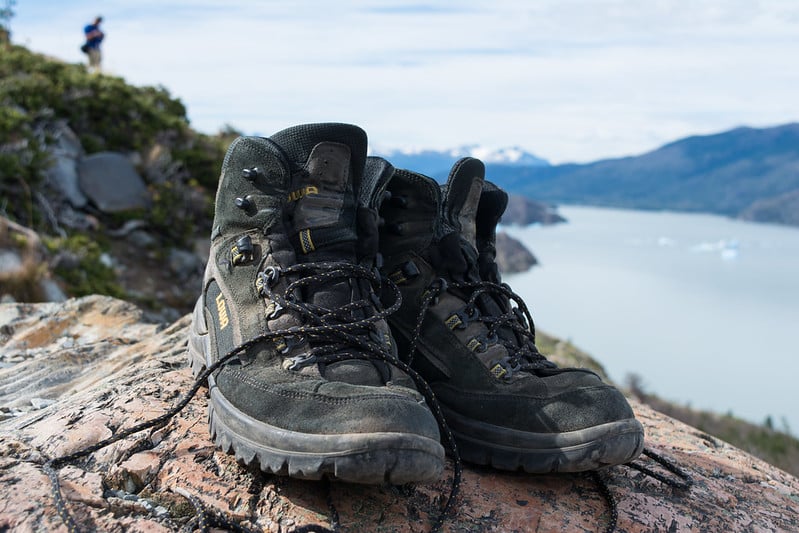 Take your hiking socks with you to the shop and wear them when trying on boots. Wearing the right socks is also an essential part of caring for your feet and it will affect the fit of the boot.
Make sure you try on more than one brand of shoe as the fit and construction will be slightly different for each. Some brands may suit your feet more than others and it's worth taking the time to find out which work best for you.
To check the fit of a boot, push your foot as far forward as possible in the boot and try to fit a finger between your heel and the heel cup. You should be able to comfortably fit one finger into the gap and if your toes touch the front of the boot you need a bigger size.
Take a walk in the boots to check that your arches are well-supported and there isn't too much slippage at the heel.
Don't forget to check the fit on both feet as they probably aren't exactly the same size.
For more tips for your big trip to Patagonia, follow our blog. Also check out our awesome 7 Day W Trek or 9 Day Paine Circuit, a perfect adventure at the end of the world.