In the far south of the world, EcoCamp invites you to live a unique experience that gives you the deep inner space to immerse yourself in nature.
This program is for anyone who wants to forge a deep connection with nature and awaken the senses to a new level of consciousness. This trip combines the highlights of Torres del Paine National Park with yoga and meditation to help us recognize that all life pulsates.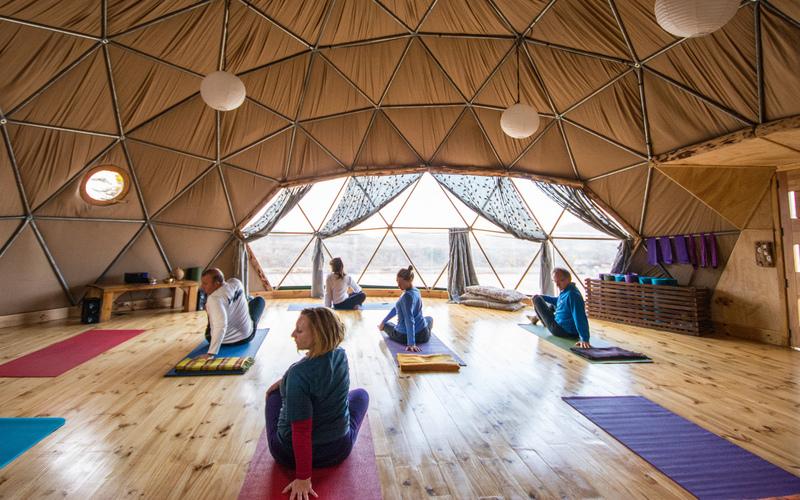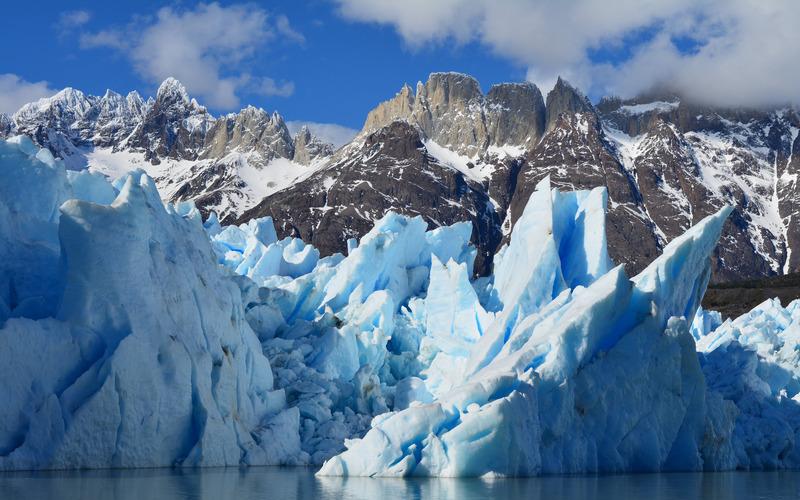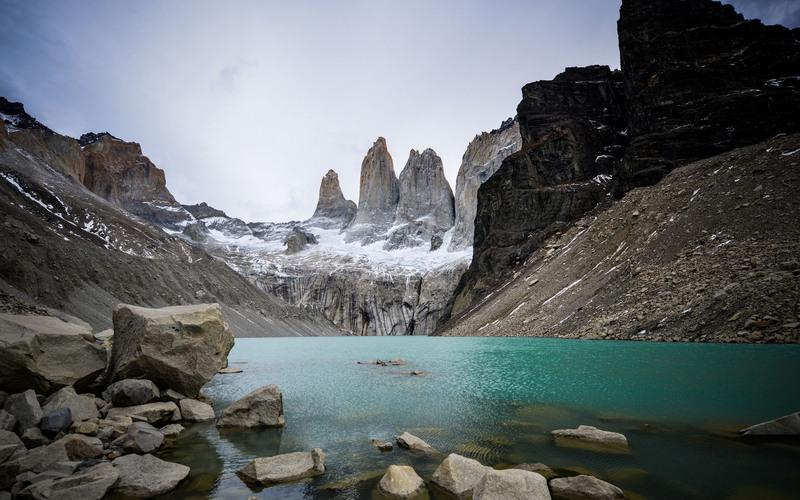 HIGHLIGHTS
Daily yoga and meditation practice to connect body, mind and soul
Unique hiking and nature-immersion experiences in Torres del Paine
Nights in the world's first fully sustainable dome hotel
Search for and observe Patagonia's unique flora and fauna
Marvel at the magnificent Grey Glacier
Discover solitude at Laguna Azul
BRIEF ITINERARY
Day 2: Waterfalls, Lake Meditation, and the Grey Glacier*
Day 3: Awareness at the Blue Lagoon
Day 4: Release of Body and Soul - Rest day at EcoCamp
Check out our Yoga Dome Connections Video
DAY 1: ECOCAMP ARRIVAL AND INTERNAL PULSE ACTIVATION
We will arrive in Punta Arenas and take the shared transfer to EcoCamp stopping in Puerto Natales at the EcoCamp office for the check-in, where you'll meet your yoga instructor for this journey and enjoy a healthy meal before taking the 2-hour journey from Puerto Natales to Torres del Paine National Park. We'll begin the experience with a meditation (1.5 hr). Afterward, it's time for a cocktail and dinner, followed by a restful night's sleep in your own sustainable dome.
DAY 2: WATERFALLS, LAKE MEDITATION, AND GREY GLACIER
We'll welcome the day with a moving meditation in order to generate body awareness and prepare us to embrace the excursion ahead. After breakfast, we will depart EcoCamp and head out on our first adventure to Grey Glacier.

We'll drive across the park, admiring the views of mountains such as the snow-capped Paine Grande and Los Cuernos, famous for its horn-like spires of granite. We'll stop at various viewpoints along the way to observe herds of guanacos, as well as Andean condors and other interesting flora and fauna. As we walk along the shores of the stunning Lake Pehoe, we will see the furious Salto Grande waterfall where the water from Lake Nordenskjold cascades down into Pehoe. Afterward, we will drive to the Grey Lake and wander along the beach past floating icebergs. Here we can enjoy a tasty box-lunch by the lake before embarking on a boat ride to the towering blue walls of Glacier Grey. During this excursion, we'll do a little meditation to better connect with the place. After this incredible visit to the glacier, it's time to return to EcoCamp.

Once back at EcoCamp, we'll take part in an energizing yoga session before breaking for dinner.
DAY 3: AWARENESS AT THE BLUE LAGOON
We'll start the day with an early-morning session of yoga and meditation (1.5 hr). After a healthy breakfast, we will depart EcoCamp for Laguna Azul (Blue Lagoon).
On our way to Laguna Azul, we will have the chance to enjoy some marvelous views of the famous Towers, and when we pass through the pampas (the Patagonian steppe) we may be lucky enough to spot more guanacos. After soaking up these beautiful surroundings, we will continue our drive to the Laguna Azul to have our lunch overlooking the lake followed by around two hours of gentle hiking. If the weather is on our side, we will meditate and practice a few asanas with a view of the three granite towers in the distance. Then it's time to head back to EcoCamp for cocktail hour and dinner. We'll close the day with a yoga session designed to deeply relax our muscles, free up any tension and bring our awareness to the release of any negative emotional charges we may have.
DAY 4: RELEASE OF BODY AND SOUL
We'll start a little earlier today at 6:30 AM so that we can dedicate some time to a yoga practice that is a little longer and more intense while enjoying the beautiful sunrise. After a delicious breakfast and some time to rest, we'll spend the next two hours on a sonotherapy workshop experience. We'll pause to have lunch and enjoy some free time*, perhaps to relax or have a massage (additional charge), before returning to a final meditation. The day ends with an evening cocktail and dinner.
*Additional excursions are available at an additional cost and depends on availability.
DAY 5: TOWER BASE TREK
This morning we'll start with a yoga practice (1 hr) designed to prepare us for the trek ahead to the Tower Base. After breakfast, we take to the path that will lead us to the foot of these iconic granite towers and reveal one of the best views in Torres del Paine National Park. This enriching experience connects us deeply to ourselves and to nature and is a fitting way to close our last full day in Patagonia. We'll finish with a brief session of stretching, deep breathing and a closure ritual to finish the experience (1.5 hr).
DAY 6: GOODBYE ECOCAMP
On this last morning, we'll eat a filling breakfast before taking our shared departing transfer back to Punta Arenas, body and soul content.


RATES
Rates are valid from April 24th to 29th, 2020
GROUP PRICING
Prices are based on a Standard Dome on a shared basis
6 people group: 1,811,900 CLP per person
7 people group: 1,720,900 CLP per person
8 people group: 1,654,300 CLP per person
9 people group: 1,601,000 CLP per person
10 people group: 1,602,500 CLP per person (Published price)
11 people group: 1,563,600 CLP per person
12 people group: 1,531,300 CLP per person
Single Room Supplement: 467,900
Optional Upgrades
Upgrade to Suite Dome (Double): CLP 390,000 per person
If you are a solo traveler, you will share the standard dome with another person of this group unless you pay the Single Room Supplement
>> Check more details about the domes in the "Accommodation" section
FIXED DEPARTURE
Regular departure:
STARTING / FINISHING POINTS
This trip starts and ends in Punta Arenas (hotel or airport) and includes all transfers.
PHYSICAL DEMANDS
This trip has been ranked with a difficulty level of the medium due to the trekking involved on Day 5 (Tower Base). Ideally, guests should have some yoga experience, but the instructor will adapt the poses to suit the capability of each participant (thus positions from beginner to advanced).
THE YOGA INSTRUCTOR
Susanne Steiger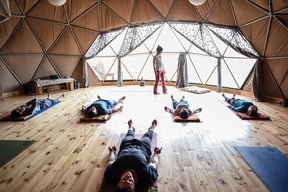 Susanne Steiger is a pediatric nurse, as well as the founder and director of the yoga academy "yogapatagOMlila" and yoga house "patagOM" in Puerto Natales. Twenty-five years ago she began practicing Iyengar yoga and ashtanga vinyasa in Germany, then she traveled for three years through Central and South America, practicing at any yoga studio she could find. In Santiago, Chile, she participated in her first teacher training program for one year, focusing on punra/integral yoga. This experience inspired her to create the first yoga house in Puerto Natales, where she has been living since 1999. More intense studies and practice brought her to her second teacher training course in the Bahamas (International Vedanta Center Sivananda) and an additional advanced teacher training in Vrindavan, India. Furthermore,n she did a training course in Germany for yoga therapy, seeking new tools for different people with specific needs, such as pregnant women. Yoga is for everyone and therefore it is important to be aware of various needs for different people in all places and situations. Susanne is so happy to bring yoga and yoga education to the end of the world and is always looking for new skills and tools, such as Thai massage (passive yoga) or singing bowls, to make her classes special and unique.
Her qualifications include the following:
International professor of hatha yoga ( Purna /integral Yoga 2000 and Sivananda tradition 2006)
Ayurveda Formation & Nutrition, Bahamas 2006
Ayurveda and Yoga with Dr. Marc Halpern, USA 2007
International Formation ATTC Sivananda (500 hours), India 2007
Sound therapy with Tibetan singing bowls, Greece 2010 with Peter Hess
German Yoga Therapy ( Haus Vidya 2013)
Thai Massage ( Arkaya Santiago2013)
Specialized in Yoga & Kids, Yoga & Education "Rainbow kids" "Atemporalia" "Creative Education " (2015,2017, 2019 )
The Yoga Style
This program will incorporate the traditional hatha yoga style and will adapt to the level of each participant. Hatha is a broad genre of yoga, focusing on physical postures, breathing exercises and relaxation. It is the stairway to raja yoga or classical yoga, which focuses on the mind, deep concentration and meditation. "Asanas" or yoga postures, are defined and should be done quietly and relaxed. There are postures like standing, sitting and lying on the back or on the belly. In the program, participants will focus on the spine and different movements which will create more space, strength and awareness of daily postures and how to economize energy. In general, hatha yoga focuses on kriya-asana combinations through poses and breathing exercises, releasing toxins from the body and mind and creating balance. Expect exercises such as forward folds, hip openings, mantra chants, lying on the spine or stomach, etc. It's an opportunity to get in touch with your body and your essence to shine.
INCLUDED
Shared Transfer in/out (Punta Arenas >> EcoCamp >> Punta Arenas).
National Park Entrance fee.
Yoga instructor & group leader
All ground transport as specified in the itinerary.
Grey Glacier Navigation (Shared excursion with other EcoCamp guests)
Guided trek to the Towers' Base
5 Nights in an EcoCamp Standard Dome
Daily yoga sessions as per itinerary
Yoga mat, blocks, bolsters, and blankets provided
Tea, herbal tea, and coffee available in the afternoon
All meals included (vegetarian/vegan/gluten-free options available with prior notice)
NOT INCLUDED
Travel insurance (mandatory)
Any drinks or snacks outside of mealtimes.
GROUP SIZE & GUIDING STAFF
Minimum group size of 6 passengers and maximum 12. Guide to passenger ratio: 1:12
TRANSPORT
In Torres del Paine (and throughout Patagonia), transport is in vans that normally seat between 8 to 14 people.
WEATHER
You can expect all four seasons in one day. This is because the Patagonian Andes are exposed to the same winds that circle Antarctica, while the sea and the Southern Patagonia Icefield both exert their own influences. This means that fine weather may deteriorate almost without warning, bringing with it rain or even snow. Even in summer (December to March), you should come prepared for strong, cold winds (up to 130km/hr), rainfall and average temperatures of 11ºC/52ºF (24ºCmax, 2ºC min). However, it can become lovely and sunny just as fast so come prepared for all types of weather!
Read more about the weather in Patagonia here.
WHAT YOU NEED TO BRING
Comfortable attire for yoga
An inner

insulating layer (such as fleece or wool)
We will also send you a detailed list before your departure.
EcoCamp Patagonia
Ecocamp Patagonia is located in the heart of Torres del Paine National Park in Chile, with views of the majestic granite towers. The region's first sustainable lodge south of the Amazon and the first of its kind in the Patagonian wilderness, EcoCamp offers upscale camping in domes inspired by the region's ancient nomadic inhabitants.
EcoCamp Patagonia Standard Dome
(Shared bathroom, no heating, no electricity, 10m²/108ft²)


EcoCamp Standard domes were the world's first lodge accommodation in geodesic shape. They are resistant to the strong Patagonian winds and come equipped with two single beds (doubles on request), cozy fleece blankets and feather quilts. There are windows in the ceiling for stargazing. Standard domes include shared bathrooms which are large, comfortable and gender divided.
OPTIONAL UPGRADE
EcoCamp Patagonia Suite Dome
(Heating & Private bathroom, 28m²/300ft²)
suite domes were designed to further our goal of providing comfort in a natural setting with minimal environmental impact, and also maintain the hotel's familiar and cozy vibe. The domes have comfortable double or twin beds, a wood stove and a private bathroom with a state-of-the-art composting toilet.