From the icy chills of our frosty glaciers, to the scorching heat of our steaming geysers, Chile is the ultimate land of extremes! As a seismically active, fault-lined, volcanic country nestled in the Pacific Ring of Fire, it is no surprise that Chile can offer up over 270 hot springs to any travellers in need of a spot of wonderfully self-indulgent relaxation after being pushed to their limits on a challenging W Trek or Atacama Desert Trek. So sit back, relax, and let's take a closer look at where you can dip your toes and soothe your aching muscles the whole length of Chile...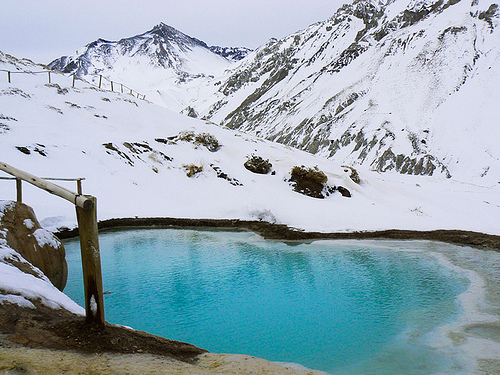 Escape the icy cold by plunging into one of Chile's warm pools...
Atacama and Altiplano - In the North...
1. Jurasi Springs (Chilean Altiplano) - take an Altiplano 5 Day Wildlife Explorer with Cascada, and treat yourself to some all-natural pampering in this secluded spot featuring indoor and outdoor pools... don't forget a fluffy towel, your swimsuit and some warm clothes for when you finally drag yourself out of the warm waters! Sink slowly into the red mud bath, and enjoy casting your eyes out over spectacular views of the Jurasi Channel, spotting the roaming vicuñas.
2. El Tatio Geysers (buses from San Pedro) - the world's third largest geyser field, and one of the very highest too at 4, 300 feet! Prepare to be wowed by a back-drop of snowy-peaked volcanoes, as over 80 geysers send wispy trails of steam to drift lazily upwards to greet clear, forget-me-not blue skies... Spluttering mud pools provide the ultimate natural face mask, and the 35°C pools will protect you from the cold. Possible as a day-trip from San Pedro, for the most jaw-dropping photos you're going to want to be there snapping at six o'clock in the morning!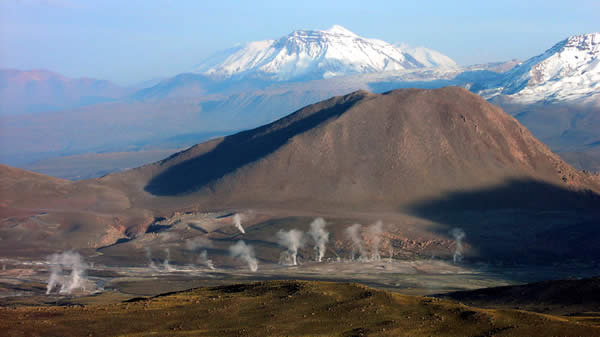 El Tatio Geysers
3. Termas de Puritama (buses from San Pedro) - situated just 35 km north of San Pedro de Atacama, eight large, naturally-heated pools and their miracle-working sodium sulphate waters await you... There are also wooden walkways and changing rooms, as well as tasty food from the café, and massages available at the weekend.
4. Los Baños de Ipla, Termas de Mamiña (buses from Iquique) - bubbling away at an average of 45°C, these mineral-rich pools also provide a stunning view of the surrounding, wind-sculpted desertscape. Legend has it that a blind Incan princess had her sight miraculously restored in these very waters. Her father was so grateful that he named the area Mamiña, meaning ñina de mis ojos (girl of my eyes).
Central Chile, Andes Mountains, Green Patagonia - In the Middle...
5. Colina Hot Springs (near Santiago) - found in the Andes right next to Santiago, this is offered as a moon-lit Cascada extension to our day trips in the El Morado area! So give tired muscles and minds the chance to relax and unwind after your hiking or horse-riding expeditions, and indulge in a dip at dusk, deep in the mountains, a well-deserved cocktail in hand...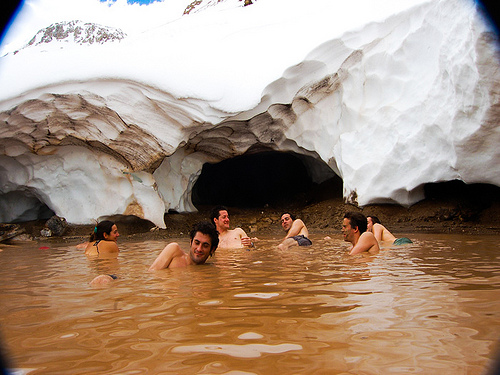 Take some much-needed time out at Colina Hot Springs
6. Termas de Jahuel (short taxi ride from Valparaíso) - the slightly alkaline waters are renowned stress-busters at this popular destination just 98 km north of Santiago - you'll emerge reborn and re-energised! Even Charles Darwin took some time out from his busy explorer's schedule for some downtime here in 1834, so there's no excuse not to give yourself some me time.
7. Termas Geométricas (Lake District) - situated in the Villarrica National Park, you are sure to fall in love with these world-class hot springs, whose ambitious designer aimed to create a striking, harmonious fusion between geometry and the natural world. With not just one but two cascading waterfalls, 17 hot springs and three cool, plunge pools, this is the true meaning of relaxation in the heart of nature.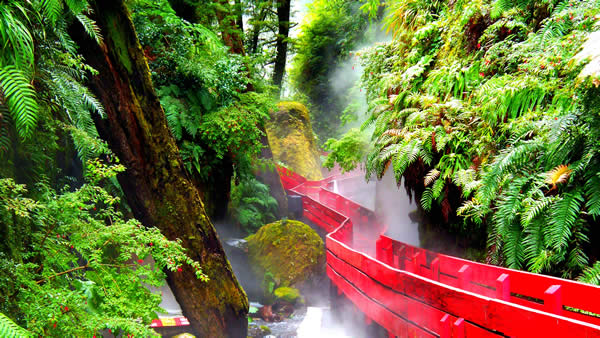 The beautiful Termas Geométricas
8. Termas de Chillán (Chillán) - ski by day, soak by night! This resort, situated 82 km east of Chillán, gives you the enviable option of hitting the slopes first thing, and then lounging contentedly in a tempting five-star spa afterwards - the perfect après-ski.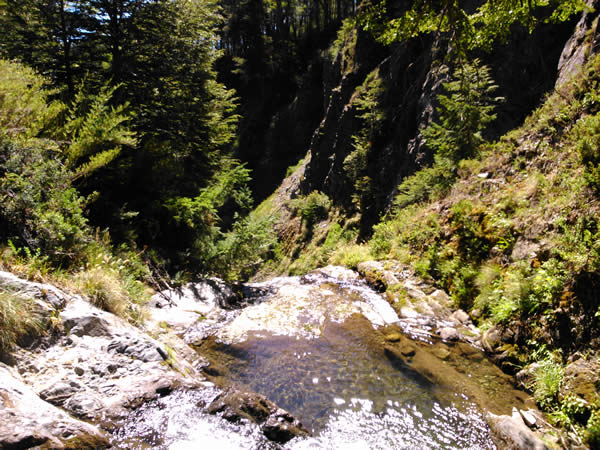 Waterfall at the Chillán Hot Springs
Patagonia - Southern Chile...
9. Aguas Calientes springs (southern Lake District) - these hot springs are hidden amidst the Puyehue National Park on the Chanleufú River Shore, and in the surrounding areas you can catch spectacular views of the breath-taking Casablanca Volcano and the lush green forest thriving in the volcanic soil, whilst all the while recharging your batteries in the allegedly medicinal waters.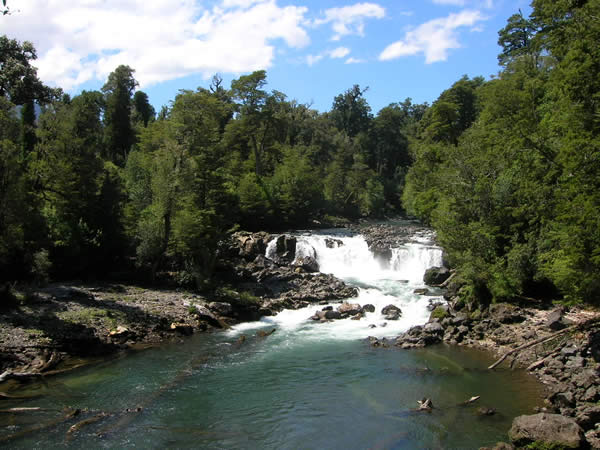 The stunning Puyehue National Park
10. Puyuhuapi springs (Dorita Bay) - wooden huts perched upon the shores of a fjord and blending into the natural landscape will greet you at this resort on the Carretera Austal, deep in the Patagonian wilderness. It offers unrivalled panoramic views and chances to spot local wildlife, as well as innovative treatments, such as thalassotherapy, using marine muds, algae and salt water, to give you a glowing sense of well-being.
Feeling in need of your own time to unwind? Spring into action and talk to our travel experts today!