Chile's location on the far end of the Pacific Ring of Fire - a geographic hot spot of tectonic plate movement and active fault lines that results in regular volcanic and seismic activity - has an unexpected but welcome side effect: a network of close to 270 thermal hot springs spanning the length of the country, many of them perfect for a relaxing soak on a cold winter's day.
Winter in Chile brings with it many opportunities for outdoor fun and leisure, and what better way to enjoy those snowy days and nights than laying back to relax in a natural pool of soothing, steaming thermal water while a quiet snowfall blankets the landscapes around you? Sounds like the ultimate, "treat-yourself" paradise, right? Keep reading to learn more.
1. Termas de Puritama
It can get cold up in the chilly heights of the driest desert on Earth, so what better way to escape the elements than sliding into an all-natural, high-altitude, sodium-sulphate thermal bath? Located near the tourism hub of San Pedro de Atacama, this desert paradise of eight toasty pools, nestled among bunches of pampas grass and local flora on the floor of a rocky valley, is a relaxation oasis. A small waterfall connects two of the eight pools, filling the air with the gentle sound of flowing water, and with wooden walkways connecting the pools, changing rooms, and picnicking areas, it has everything you need to while the day away in heat-induced enjoyment.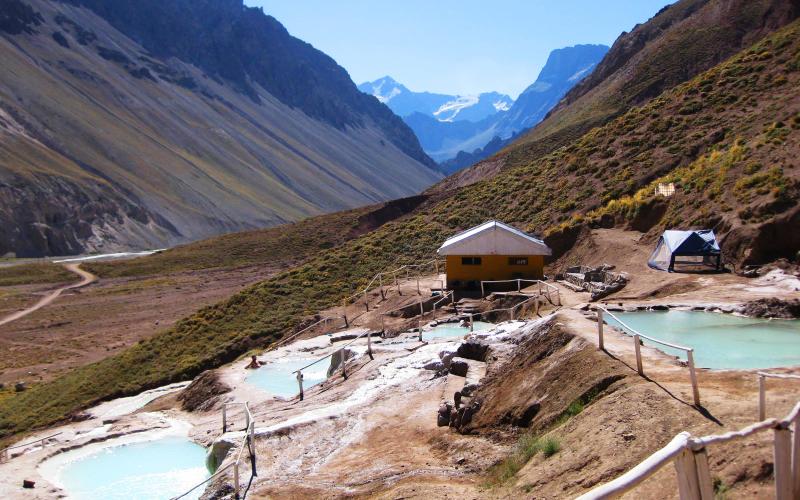 2. Laguna Verde Hot Springs
Located alongside the iridescent Laguna Verde in the altiplano desert, these charming, heated baths, which are built up with rocks to form circular pools, are warmed by nearby volcano activity, and are ideal for a quick rest after trekking or hiking. With blue sky above, blue water next door, and a skyline rippling with volcanoes and colored sand, it's a place for soaking yourself as well as soaking up the views.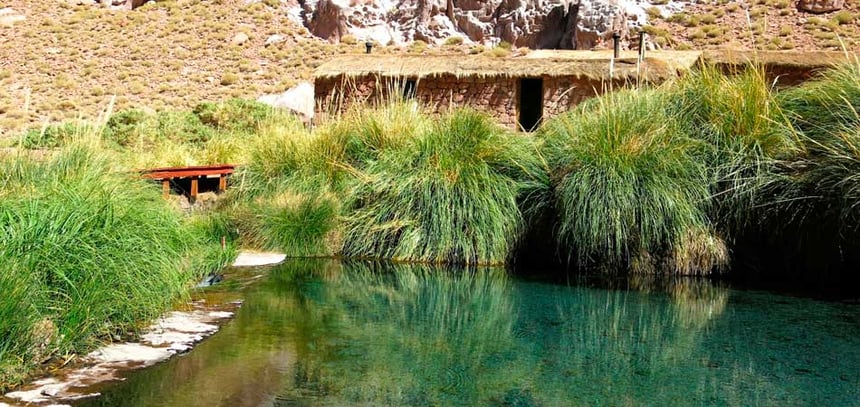 3. Termas de Chillan
After long days hitting the slopes of Chillan's epic ski runs or secluded backcountry trails, dip into the healing waters of Termas de Chillan as a reward. Officially recognized by the Chilean Health Department as a "healing spring" thanks to waters rich in magnesium, iron, sulfur, and potassium, local indigenous groups have used these springs for rejuvenation and rest for thousands of years. Lounge in the pools to your heart's content, while gazing at the snowy mountainsides.

4. Termas Geometricas
Hidden in the depths of a lush forest in Chile's Lakes District, these Japanese-style hot springs are arguably the most famous in Chile, and for good reason. Red walkways twist and wind their way through a series of thermal baths and cold plunges that turn the surrounding forest into a steaming, ethereal Nirvana of relaxation. Located far from civilization in the heart of the Villarrica National Forest, you are guaranteed peace and quiet to rest your weary bones after days spent skiing on nearby slopes or hiking through snowy forests, and enjoy the views of the site's two waterfalls and surrounding foliage. With the waters rich in magnesium sulfate and salt, they're reputed to help with digestive issues, work wonders on skin, and act as a stress-reliever. Either way, spending the day luxuriating in a maze of volcano-heated water is the ultimate cure.