It may be heading toward summer in the northern hemisphere, but down in the southern half of the world, winter has getting ready to set in, and nothing helps people get through the long, cold days and nights better than some hearty seasonal foods and beverages using delicious native ingredients and recipes passed down from generation to generation.
Stretching from high desert, to swampy forests, to icy fjords and glaciers, Chile's diverse environments each come with their own version of "invierno"-- dry and blisteringly cold, wet and chilly, icy and snowy... the list goes on. But luckily, the locals of each region have their own special concoctions to stave off the chill. Winter visitors will be greeted by a rich smorgasbord at restaurants and host family tables all over the country. Here's a sampling of some of Chile's most popular winter dishes and drinks!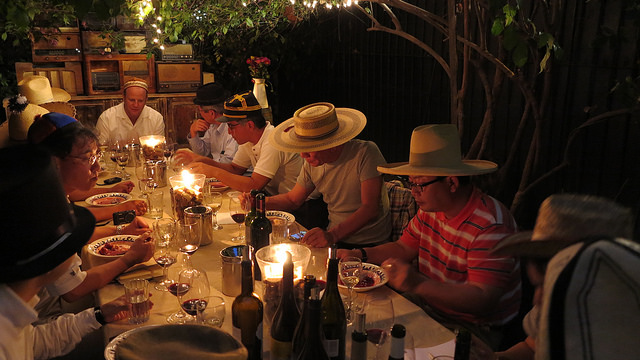 The North
La Calapurca
Often, a rich hearty stew is just what the doctor ordered on cold nights, and Chile has their own special addition to the culinary genre in 'calapurca'. Similar to the preparation of curanto in Chiloe, early versions of this dish, which is a traditional recipe of pre-Columbian origins in the high Andes, called for the soup to be heated with hot stones or set over coals. The stew has slight variations in Argentina and Bolivia as well, but in Chile, typical ingredients include beef, lamb, potatoes, onion, chicken, carrots, mote (a hominy-type wheat kernel), and paprika. The spicy stew is especially popular during and after festivals and big holiday celebrations such as New Year's to recuperate after partying (hangover cure?). Whatever you use it for, it's sure to warm and fill you up!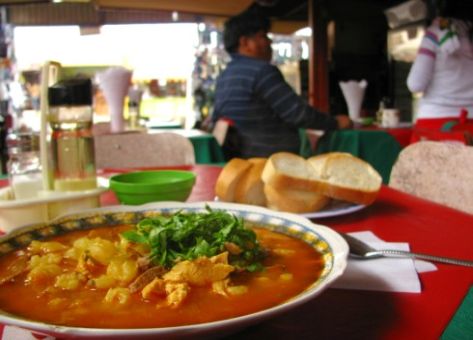 Porotos con Riendas
Literally translated as "beans with reins," this comfort food specialty originated in the Chilean countryside. Typical ingredients include beans, spaghetti, pumpkin, some manner of sausage or pork, onions, and spices such as oregano and cumin, but households may have their own variant on the recipe. The resulting dish is a creamy concoction packed with delicious veggies, protein, and carbohydrates, all stewed in a creamy sauce. Que rico!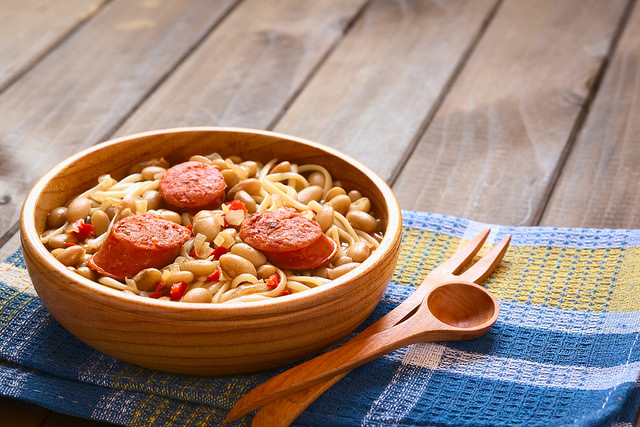 Ulpo
Need something warm to wash down those rich entrees? Ulpo could practically be called a meal in itself! The word, which originates from the indigenous Quechua language of northern Chile, means 'dry flour,' referring to the primary ingredient. Toasted flour is combined with milk, hot water, and sugar or honey and stirred together until well blended. Ulpo is usually drunk in the morning with breakfast or to replace bread at breakfast, and can also be prepared using red wine. Bottoms up!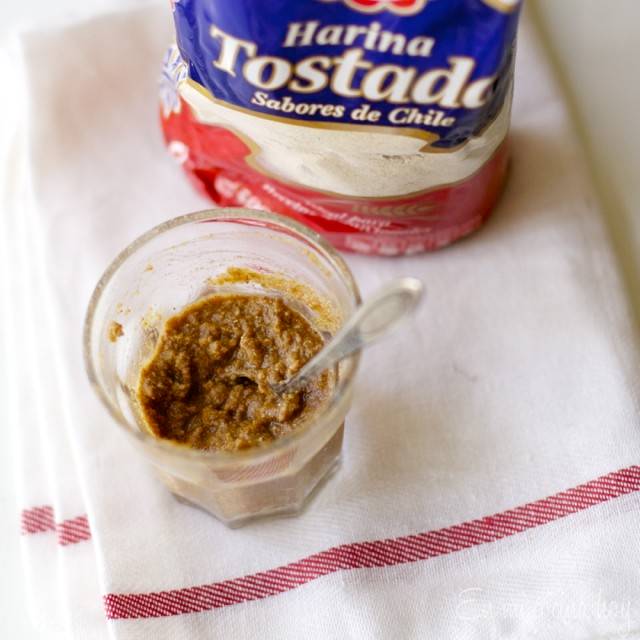 Central Regions
Beef or Chicken Cazuela
One of Chile's most popular and well-known delights is the tantalizing cazuela stew. A mixture of chicken, beef, chunky potatoes, corn on the cob, Andean pumpkin, squash, carrots, and assorted other vegetables and seasoning are simmered in a light broth until everything is fully cooked to melt-in-your-mouth, falls-off-the-bone deliciousness. People are served a bowlful of broth and ingredients, and hungry diners can either chop and mash up the respective ingredients and mix them with the broth, or can eat each ingredient separately with the broth. Whatever way you like it, it's a guaranteed crowd pleaser!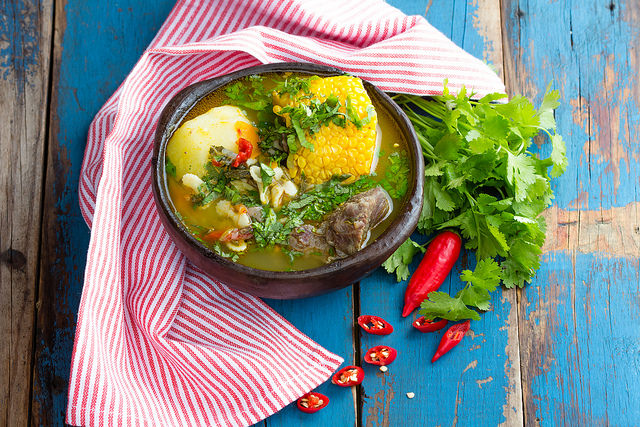 Pantruca
Ask many a Chilean about their favorite childhood memories of winter, and a fair number of them will probably include this doughy staple. Strips of savory dumpling dough get cooked in a simmering broth of chunks of beef or another hearty meat, onions, carrots, cilantro, and other spices until they're tender and juicy. Slurp them up to your heart's content and feel this classic warm you up from the inside out.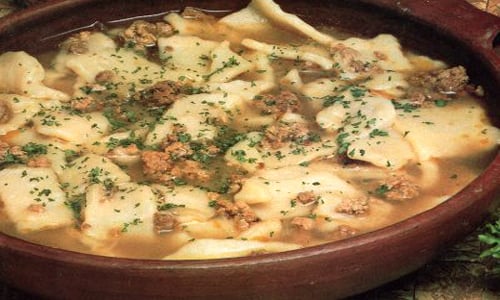 Leche Asada
Enough with the entrees and big dishes! Time for some dessert options! In Chile, you're in luck when it comes to everyone's favorite part of the meal, as Chileans have an insatiable sweet tooth. A classic wintery dessert is "leche asada" a type of milk pudding similar to flan. Made with milk, caramel, eggs, and orange, it is usually made in celebration of Chile's Independence Day, which falls in September. But whenever you choose to chow down on this luscious treat, it's sure to hit the spot!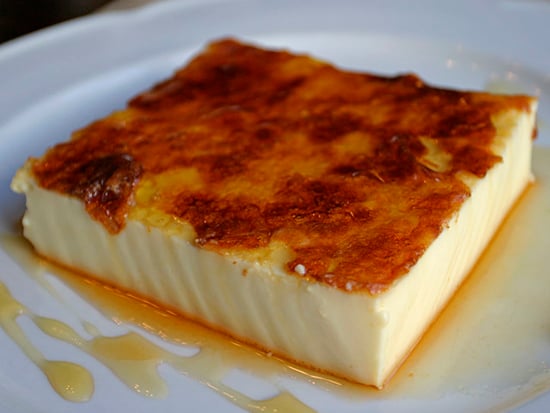 The South
Sopaipillas
Popular all over Chile and throughout the year, sopaipillas are the perfect complement to a winter meal or for just a snack on the go. A circular disc of savory pumpkin dough is deep fried in oil, and the steaming result is a crispy on the outside, chewy on the inside goody. Street vendors are usually found outside bus and metro stations, as well as at markets and gatherings, and many restaurants offer them as well. Toppings for the street food variety can include ketchup, mustard, and mayonnaise, but one of the best ways to enjoy sopaipillas during the winter is to soak them in a orangey sugar sauce called chancaca, creating finger-licking good 'sopaipillas pasadas.'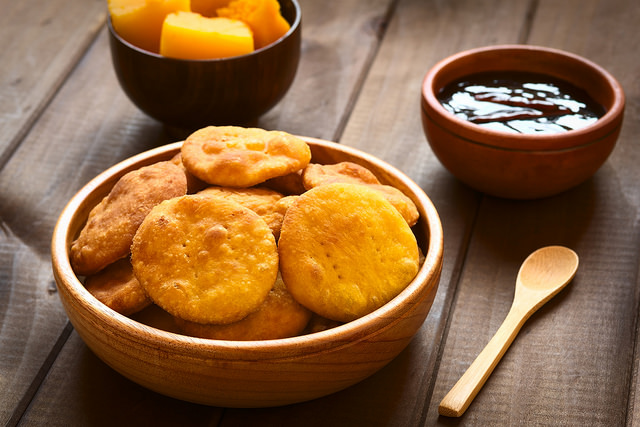 Pulmay
One of Chiloe's culinary pride and joys is their impressive curanto, a delectable mix of clams, mussels, chicken, sausage, potatoes, onions, milcaos (a type of potato patty), and seasoning piled on and under giant leaves in a hole in the ground and cooked to perfection using red-hot heated stones! But if digging a hole in your backyard and preparing a huge meal outside in the cold during winter doesn't sound like your cup of tea, the inhabitants of the island have pared it down to an easier indoor stove top version called pulmay. Using the same ingredients, pulmay can be prepared in a pressure cooker, over a bonfire, or using a grill. The end result? The best clambake you've ever had, with its own regional flair of flavor and ingredients.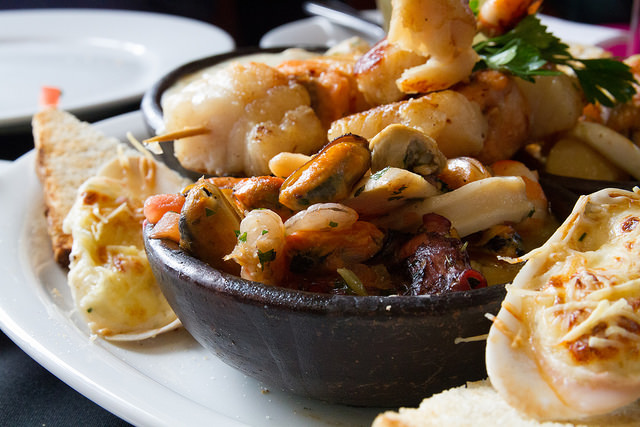 Navegado
Need a drink to warm you up? This toasty beverage, made using Chile's world-class red wines, is Chile's version to mulled wine. Prepared with a heady mix of red wine (varietal is up to you, but Chile's cabernet sauvignons and carmenere wines are excellent options), succulent orange slices, sugar and assorted spices like cinnamon and clove, the mixture is heated until almost boiling while being mixed. Serve piping hot and it's good for all that ails ya. The name "navegado" or "sailed wine" comes from an observation made at some point in the past that the orange slices floating in the drink looked similar to boats and ships bobbing around out on the ocean. In addition to being a great winter drink, the "navegado" is associated with youth movements in the sixties, and so is also a popular beverage at folk clubs through the South, where you can nurse a hot cup of navegado while listening to traditional Chilean music and songs. Que viva!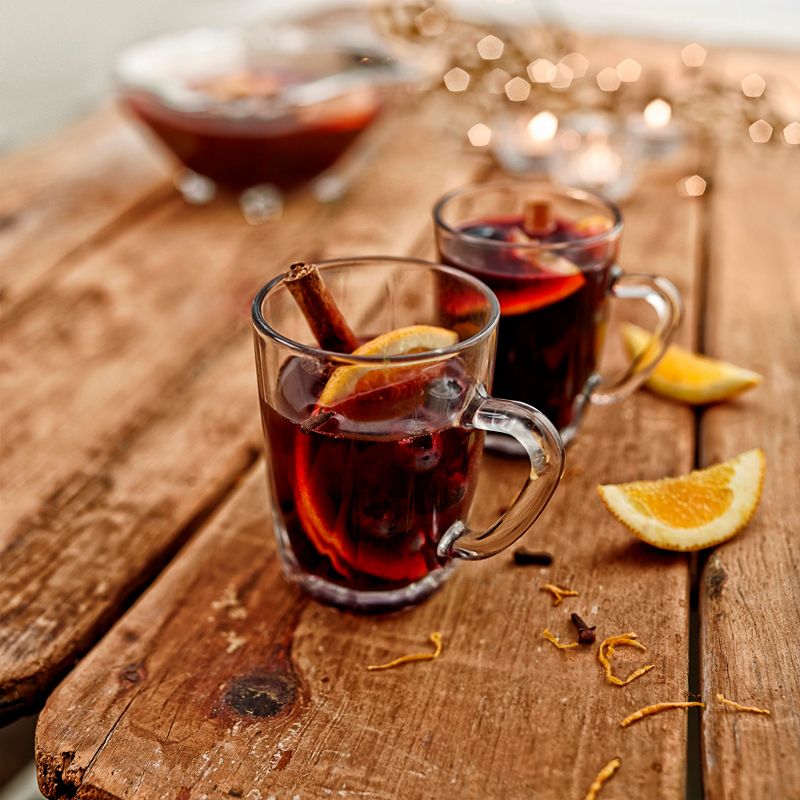 Cordero al Palo
When Patagonia was first colonized, sheep farming was one of its most lucrative industries thanks to the rambling pampas and wide open fields that were optimal for grazing herds. As whole families and communities depended on the animals for their livelihood, special barbecues in celebration of holidays and to commemorate the end of work events such as herding and shearing started to become a local tradition. These communal asados, or barbecues, were (and are) occasions for music, dancing, storytelling, and sharing succulent food and drink with kith and kin. One of Patagonia's most recognizable and desired culinary dishes arises from this legacy: the roasted lamb. A lamb is gutted, skinned, prepared with any seasoning necessary, and then stretched open on a spit and aimed at about a 70 degree diagonal over a slow burning, low fire. While the lamb roasts, other ingredients are prepared such as potatoes, fried cakes, salads, and of course, plenty of red wine to go around! When the lamb is thoroughly roasted with crispy skin, the body is removed, carved up, and distributed. Time to eat up!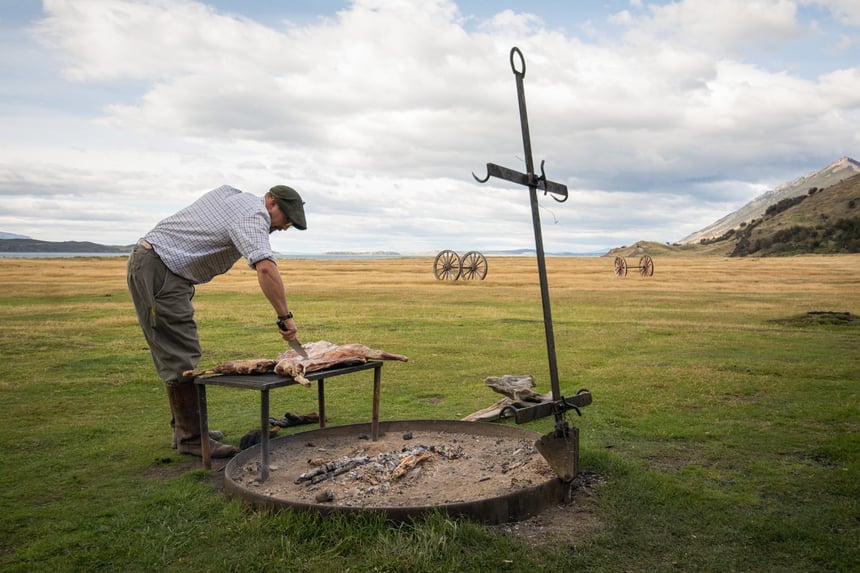 Whew! Are you full yet? Because if not, there's even more! If you're hankering for a quick bite to eat while meandering around town on a chilly afternoon or before hopping on a bus to head off to another part of this lengthy and endlessly fascinating country, get thee to the nearest street corner vendor and tuck into a delicious cheese, pino, or napolitana empanada. For a sweeter option, seek out a vendor of calzones rotos, deep fried dough molded into small circles and sprinkled generously with powdered sugar (a la funnel cakes.)
Whatever your personal tastes, Chile's winter offerings have something to please everyone. So what are you waiting for, foodies? Click here to learn more about our winter tour options!