Written by Julien Mordret
Chile stretches along the western edge of South America, with roughly 6,000 kilometers of the Pacific Ocean coastline. While there are lots to do and see in the country, from scaling mountains in Patagonia to sampling the best of Chilean food, one thing you need to try is sea kayaking in Chile. In more recent years, sea kayaking has enjoyed a surge in popularity around Chile, especially since several destinations like Southern Patagonia and Tierra del Fuego offer excellent chances for you to encounter whales, dolphins, seals, and sea lions, among so many other wildlife. Another reason why you should go on a sea kayaking expedition is for you to be able to fully soak up the magnificent mountain ranges and fjords in the region.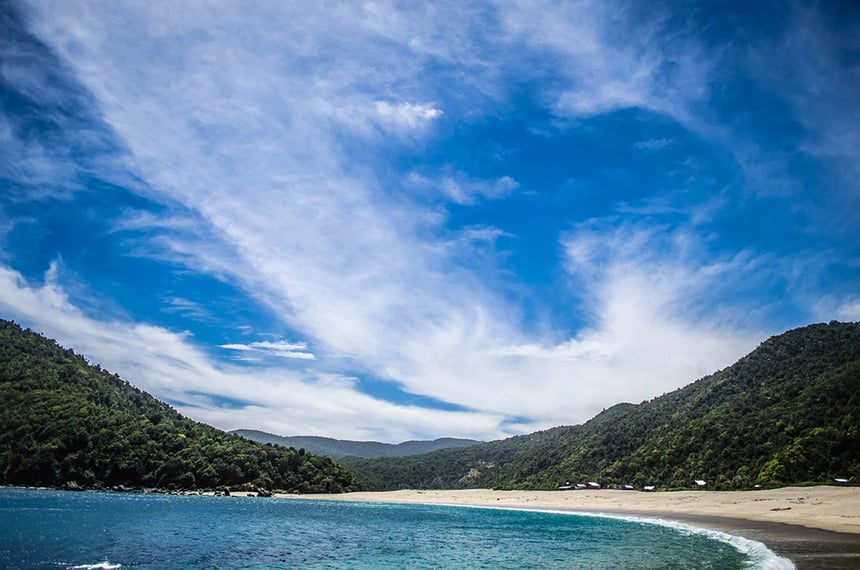 Sea in Chile surrounded by mountains
But before you book that flight to Chile for any exciting kayak vacation, you should be well-prepared with crucial information. You should know when the best time to visit Chile is, for instance, or which kayaking essentials you need to pack. Read on below to start getting ready for a sea kayaking trip in Chile.
The Best Time to Visit Chile for Sea Kayaking
The top factors to think about when scheduling a sea kayaking adventure in Chile are the area you're visiting and the season. In fact, there are loads of sea kayaking opportunities throughout the year, depending on what type of water adventure you want.
Summer Months (December to February)
Generally, the best time to go sea kayaking in Chile would be in the summer months, when the weather is warmer and there's little chance of rain. During this period, several sea kayaking classes open, so it's perfect for those who want a bit of guidance. These months are recommended for sea kayaking beginners since there's also less chance of strong winds. However, the weather in Patagonia — one of the most popular kayaking destinations — during summer can be the windiest time of the year. If you're headed there, make sure that you're well-equipped and trained for possibly rougher waters.
Head out to Teodoro Schmidt in Chile's Araucanía region in summer to clearly see the brown rock formations leading out into the ocean
Autumn (April) and Spring (October to November) Months
Although several kayaking expedition companies operate in summer, it may not be the ideal time for those who are looking for more tranquil seas, especially in Patagonia. If you are heading to this region, consider visiting Chile in Spring or Autumn since this is when the waters are most peaceful and the weather mild. These are the best months for beginners and family kayaking trips. Even sea kayaking pros can take this chance to just be out in the placid waters.
Winter Months (June to September)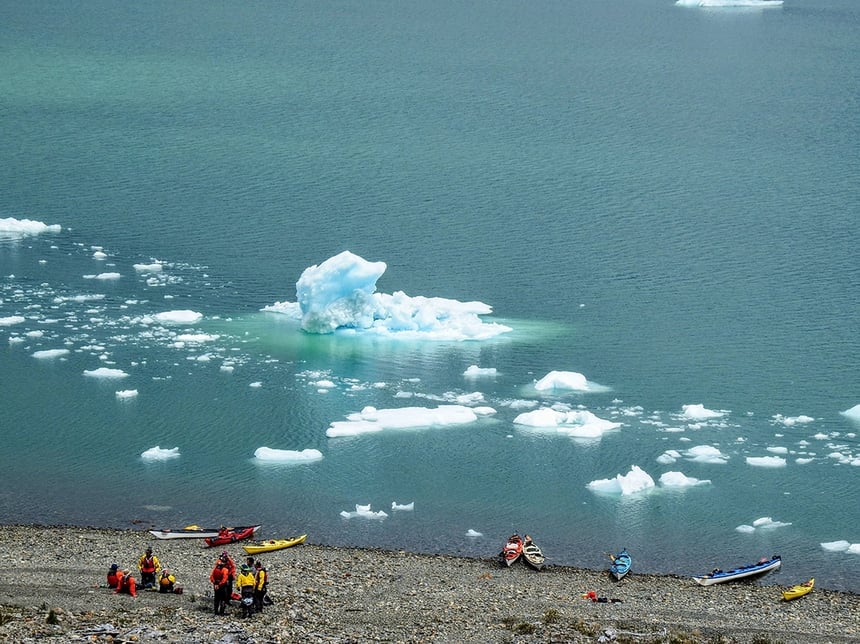 People and kayaks near icy shore in Patagonia
Sea kayaking in winter might not sound like the best time to visit Chile's oceans on a kayak, where you're exposed to potentially very chilly winds. However, there are some great winter destinations for sea kayaking. For one, winter sea kayaking is fast becoming one of the most popular winter sports in the Magallanes region and even at the San Isidro Cape near Punta Arenas. During these winter sea kayaking trips, you're guaranteed spectacular views of icy landscapes and even rare winter wildlife encounters.
Best Spots in Chile for Sea Kayaking
Puerto Río Tranquilo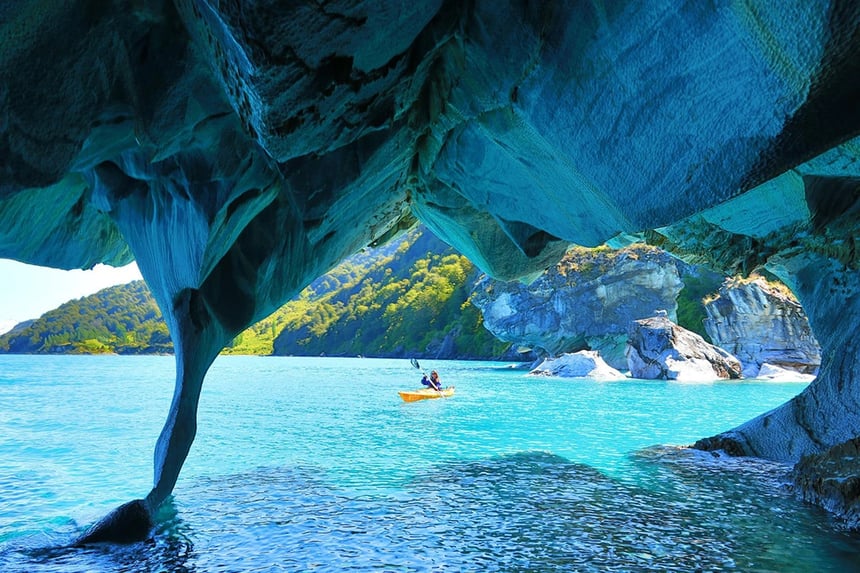 Person kayaking toward marble caves
One of the most scenic places in Patagonia has to be the waters off of Puerto Rio Tranquilo. It contains the stunning and otherworldly Marble Caves, part of a national monument. These rock formations are estimated to be about 300 million years old, rising almost eerily white from crystal blue waters.
You can sail and sea kayak through the marble caves with Puerto Rio Tranquilo as your jump-off point. Since the weather in Patagonia can get a bit extreme, you'll have to be prepared with kayaking essentials like extra layers of clothing in case of cool weather and sunglasses to protect your eyes from the bright sight of white marble caves under intense sunlight.
Francisco Coloane Marine Park
The 416 square mile marine park is the first aquatic reserve in all of Chile. There are two main seasons when you should visit this Chile gem, first is during the breeding season in the first part of the year (January to April). The marine park transforms into a breeding ground for awe-inspiring marine animals like whales and penguins. However, it's during observation season (November to May) that you have the best chance of sighting these majestic creatures. And even if you don't encounter these friendly animals, you'll still be treated to beautiful sights of the nearby fjords and glaciers when you're out sea kayaking.
Torres del Paine (Rio Serrano)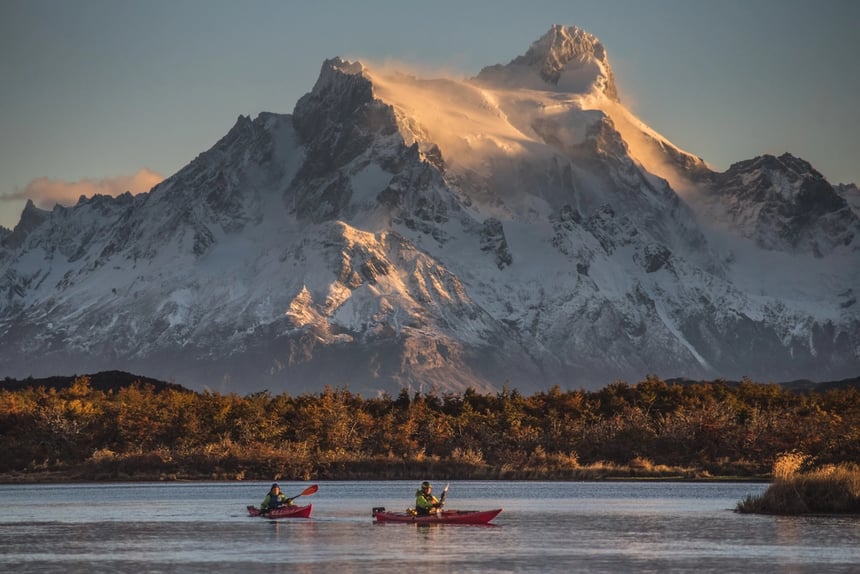 Mountains and waters of the Torres del Paine National Park
Within the Torres del Paine National Park is one of the most interesting destinations, the Rio Serrano River. While technically a river, the 38-kilometer body of water opens up to the coast in Puerto Natales. Sea kayaking routes vary, but the Serrano bank is the usual starting point. It's important to note that the entire journey is a two-day endeavor.
You'll have to be physically fit to experience one of the best touring kayak activities in Chile, and you can also add a bit of hiking along the traditional W circuit to this trip. When you are in Torres del Paine National Park, don't miss our Epic Patagonia Multi-Sport Adventure, which would take a grand total of six days. During the tour, we'll guide you through the gorgeous Torres del Paine by foot, bike, horseback, and, of course, kayak.
But if you still want to go on this trip without all the physical exertions it requires, you'll fare better with a kayak sail instead of a traditional kayak that requires you to paddle. With the added sail, you can leverage the wind to help you move through water with less physical effort.
Training for a Sea Kayaking Expedition
It's important to know that sea kayaking needs a lot of physical preparation beforehand. The activity requires stamina to ensure that you're safe and able to enjoy the trip.
Stability and Core
You need a strong core to maintain balance on a kayak. This also helps maintain a healthy posture, with the added benefit of gaining more control while paddling. Do abs and hips exercises regularly to make sure you're hitting the right muscle groups.
Strength
Sea kayaking requires more strength compared to lake kayaking. Out at sea, the water resistance could be greater with the currents and ebbing tides. With strength training, you become stronger meaning that you can get to cruising speed without needing maximum paddling effort.
Endurance
Sea kayaking trips in Chile could run from a few hours to three days, so it's important to work on muscular endurance to avoid fatigue. Better endurance also helps you avoid muscle injuries while you're out on the water.
Knowing when to visit, which areas to prioritize, and how to physically train for a sea kayaking vacation in Chile can make a world of difference. When you come prepared, you can ensure a successful and enjoyable trip.
Check out our water adventures here or contact us to organize your next adventure!