We hear it all the time "We want to go trekking in Torres del Paine but we don't know what to take" or "I don't want to buy everything on the list if I'm only going to use it once" And it's true, embarking on a hike if you're not a regular trekker can seem a little daunting once words like 'gore-tex' and 'merino layers' are thrown into the conversation.
If there is one thing we have learned as trekking specialists, it's that trekking is one of the best ways to feel human and that throwing lots of dollars at expensive niche gear is not always conducive to said amazing experience. With that in mind, let's take a look at the 8 things you don't need to see what you can get away with leaving behind!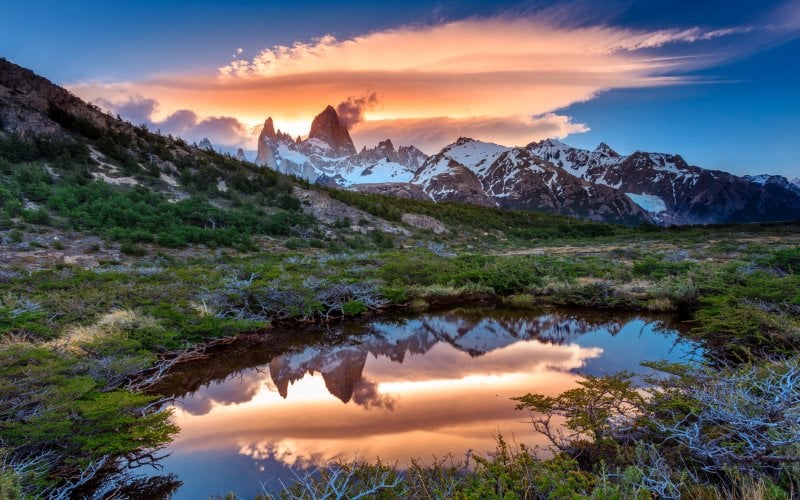 8 Things You Don't Need in Patagonia
1. Budget gear - We are sorry to say it, but this time you shouldn't buy based on price point alone - you need quality. But this shouldn't mean blowing your entire travel budget on a list a mile long, instead stick to the essentials that you can't afford to skimp on i.e. your boots, jacket, pack.
2. Electronics - At EcoCamp we have built an entire business around the concept of immersing oneself in nature. To do this, you need to be right in the moment and that means NO limitless glances at phones, no Facebook alerts, no stressful work emails, no game alerts - nada. That way there's nothing between you and the feeling that comes from connecting with nature.
3. Bulky towels and other bulk - You really want to aim to carry as little as possible, so buying things with multi-purposes (such as a Buff band) or a lightweight microfibre towel that dries quickly and scrunches up small in your pack.
4. Tent - Unless you're planning on going camping in Patagonia, none of our tours require that you bring your own tent. Some of our tours require that you bring a thermal sleeping bag (suitable for -9°C) although it is also possible to rent both sleeping bag and tent in Puerto Natales.
5. Plastics - Sometimes plastic has its place (such as a bag to use along while trekking in case you have an emergency), but in general, we believe that we should try to avoid unnecessary plastics wherever possible. A reusable "dry bag" is an excellent way to protect your gear from the rain, and a stainless steel drink bottle is one of the best things that you can use (we recommend Kleen Kanteen).
6. Cards - Of course, you have to take credit cards and the like with you - there is no avoiding this - but what you do need to do is stock up on cash. Many places in Patagonia do not have facilities to accept cards and so to avoid an uncomfortable situation you should stock up in places like Punta Arenas and Puerto Natales.
7. A Crammed Itinerary- Seriously this is perhaps one of the biggest blunders you can make when planning a trip to Patagonia, and a cram-packed schedule is one of the best things you can leave at home. Patagonia is huge, distances are long, public transport is slow, and services are at peak capacity during the summer months, and all this means that getting around is not going to be fast. You're coming here to enjoy your holiday, right? That means you want to take a leaf out of the slow travel handbook and plan in some travel days, a rest day or two for after your trek, and a few free days where you leave yourself open to those wonderful can't-be-planned moments that travel is all about.
8. Canned Food - If you're buying a program, you won't have to worry about your meals - those are all nicely taken care of. If you're going it alone and planning on camping and self-catering, you might want to avoid taking canned goods. Why? Simply because everything that you take in you also have to take out, which means that you will be left lugging around old tuna cans around. Since you can now get so many food items that require you to 'just add water' you can save yourself a whole lot of extra weight by buying powdered foodstuffs.
What are the 6 Essentials?
So what about the essentials? The truth of it is that minimalists can get by on the following:
1. Waterproof Jacket - A Gore-Tex waterproof jacket is an essential piece of gear because the weather in places like Torres del Paine can range from sunshine to storm clouds in just a day. This jacket will not only protect you from the worst of it but it's also completely breathable so you won't get too uncomfortable.
2. Quality Hiking Shoes - The terrain in Patagonia is both vast and varied, from flat barren fields to crumbling rocky slopes, and everyone should be equipped with a decent pair of boots. If your planning on taking smaller day hikes, then you can probably get by with a good pair of hiking shoes, but otherwise you should look for boots with excellent ankle support. Have a read of this article to learn more about what to look for in a pair.
3. Layers - This is often the part of the packing list where people get confused. While experienced trekkers will likely have all the gear, if you're just planning on trekking the 5-day W (or any type of W Trek!) or taking part in the daily excursions offered on the Wildlife Safari, then you don't need to buy shares in your local North Face store. You do, however, want to take a range of clothes that you can layer on top of the other and take on/off as you go (remember, the weather is unpredictable). 2x short sleeved & 2x long sleeved tops should suffice, with a shirt over the top and a couple of fleeces, as well as 2x leggings and 2x trousers that are comfortable to trek in. If you feel the cold and have some more dough to spend, then an insulated down jacket will be an additional help.
4. Drink Bottle with Water - Obviously, you have to keep hydrated - no, coffee does not count. And nor does soft drink. You can fill up your drink bottle as you go along the trek at the different refugios or the guide will point out safe spots from the river where you can take water directly. Before heading out you should aim to drink 2 glasses of water, and then a quart more every hour trekking.
5. Hat or Buff - Keeping your head warm goes a long way in keeping the rest of your body at a stable temperature. Alternatively, a bandana or Buff is one of those indispensable little travel creations that has caused waves in the trekking world thanks to its versatility, and it doubles as both a hat/scarf as well as offer protection from the sun.
6. Time - Just as we pointed out above, time is one of the biggest luxuries you can give yourself when in Patagonia, especially on those days when you have to travel. Remember that:
TRAVEL TIMES (APPROX.)
Santiago to Punta Arenas (flight): 3.5 hours
Punta Arenas to Torres del Paine (ground transfer via Puerto Natales): 4.5 hours
Torres del Paine to El Calafate (via Cerro Castillo): 4 hours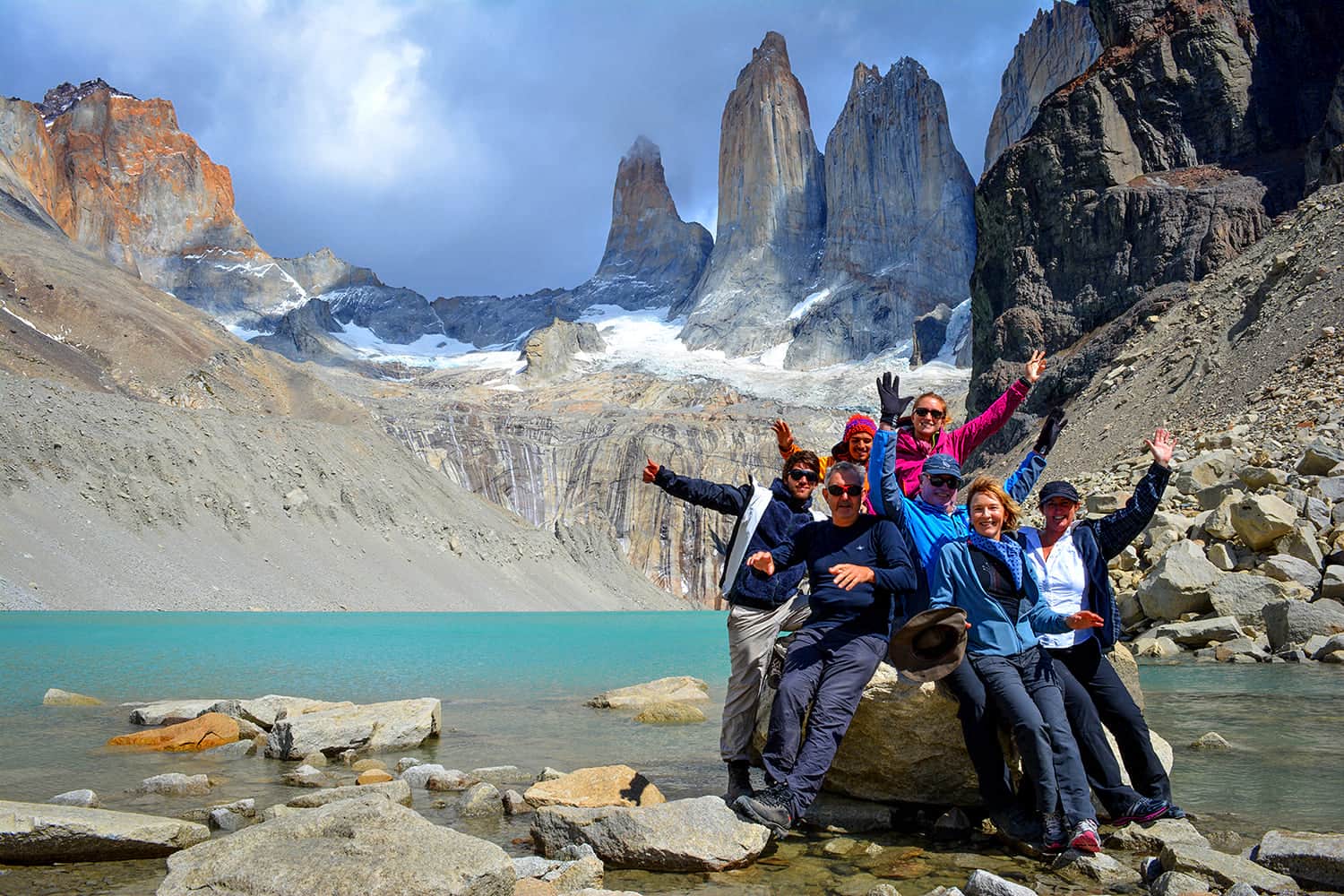 What We Take
However, all of this is simply relative - after all, we're all different! So we asked around the office and compiled a list of our favorite items to take on a trekking adventure:
Daniela, Product Analyst - "It's a little obscure, but one of the things that I HAVE to take with me trekking is a pocket microscope. I love to see things in more detail, and with patience, you can use it to take photos as well."
Keila, Key Account Manager Oceania, Africa, + Asia - "For me I find a Buff super useful. If it's chilly I can use it as a scarf or to cover my face, and if it's warm I can use it as a headband or hair tie. It's one of those things that I always use if I'm exercising or playing sports."
Paulina, Human Resources - "Water. It's the best way to keep hydrated. Always take a 2L refillable drink bottle so that you can refill it at the refugios along the trek."
Patricia, Senior Account Executive - "Tennis shoes, so that you can change out of your hiking boots post-trekking and lounge around."
Verónica, COO - "A small backpack (less than 40 lts), Buff, sunglasses (sun gets fierce), change of socks, healthy snacks for when you're on the trail (like fruit or nuts), and something for you to store your waste in until you can dispose of it properly - remember to leave no trace!"
Hans, Travel Experience Designer - "Something I feel I have to take is a small notebook so that I can write down the things I find interesting that the guide says, or to keep track of wildlife I see so I can identify them later."
Lorena, Key Account Manager Europe + Latin America - "Trekking poles are a must! You can either bring your own, rent in Puerto Natales or rent one of our nature sticks from EcoCamp. They help so much to save your knees especially when you get closer to the towers."
Helen, Public Relations - "If you are planning on doing longer treks or traveling more around Latin America, then a SteriPen is a tried & tested way to sterilize the water. While it's a bit pricey, it is indispensable for those looking to really off track, and basically makes all sediment-free water safe to drink."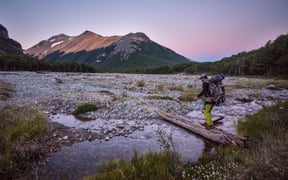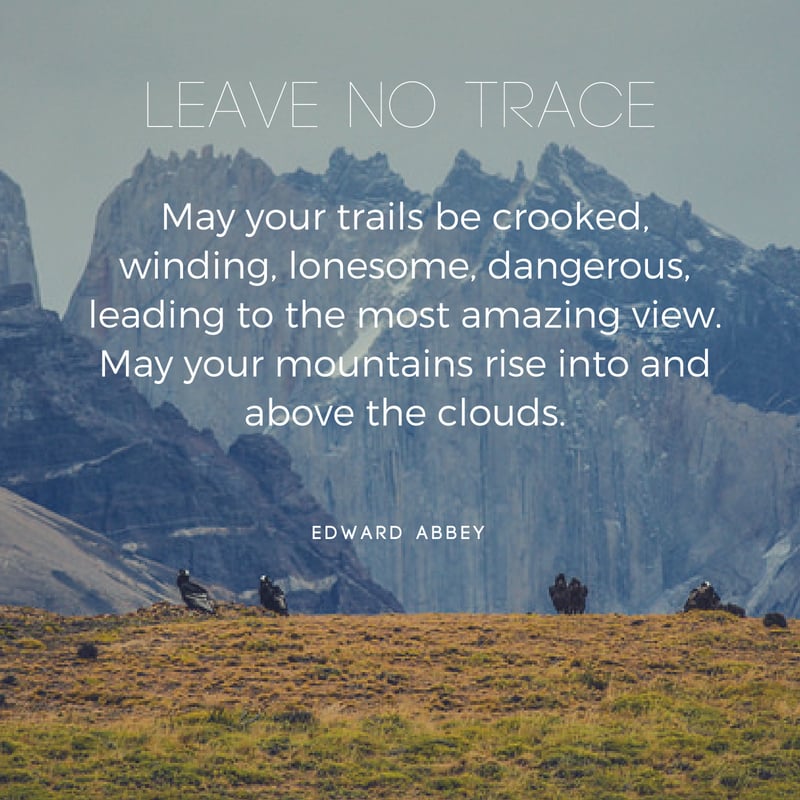 "Don't let packing lists put you off - options such as the 5-day W or Wildlife Safari can be easily experienced without a lot of specialist gear. But if you're an old hand at trekking, are already equipped (or looking to be) then the Mount Fitzroy or Dientes trek would make unmissable experiences for you!
-Chloe, Direct Sales Manager