Fixed departure
Fixed departures will be informed every season.
Starting / finishing point
This trip starts and ends in Punta Arenas (hotel or airport) and includes all transfers.
Physical demands
This trip has been ranked with a difficulty level of the medium due to the trekking involved on Day 5 (Tower Base). Ideally, guests should have some yoga experience, but the instructor will adapt the poses to suit the capability of each participant (thus positions from beginner to advanced).
The yoga instructor
Susanne Steiger.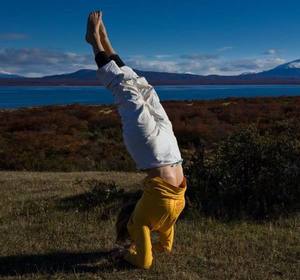 Susanne Steiger is a pediatric nurse, as well as the founder and director of the yoga academy "yogapatagOMlila" and yoga house "patagOM" in Puerto Natales. Twenty-five years ago she began practicing Iyengar yoga and ashtanga vinyasa in Germany, then she traveled for three years through Central and South America, practicing at any yoga studio she could find. In Santiago, Chile, she participated in her first teacher training program for one year, focusing on punra/integral yoga. This experience inspired her to create the first yoga house in Puerto Natales, where she has been living since 1999. More intense studies and practice brought her to her second teacher training course in the Bahamas (International Vedanta Center Sivananda) and an additional advanced teacher training in Vrindavan, India. Furthermore,n she did a training course in Germany for yoga therapy, seeking new tools for different people with specific needs, such as pregnant women. Yoga is for everyone and therefore it is important to be aware of various needs for different people in all places and situations. Susanne is so happy to bring yoga and yoga education to the end of the world and is always looking for new skills and tools, such as Thai massage (passive yoga) or singing bowls, to make her classes special and unique.
Her qualifications include the following:
International professor of hatha yoga. ( Purna /integral Yoga 2000 and Sivananda tradition 2006)
Ayurveda Formation & Nutrition, Bahamas 2006.
Ayurveda and Yoga with Dr. Marc Halpern, USA 2007.
International Formation ATTC Sivananda (500 hours), India 2007.
Sound therapy with Tibetan singing bowls, Greece 2010 with Peter Hess.
German Yoga Therapy. ( Haus Vidya 2013)
Thai Massage. ( Arkaya Santiago2013)
Specialized in Yoga & Kids, Yoga & Education "Rainbow kids" "Atemporalia" "Creative Education ". (2015,2017, 2019 )
The yoga style
This program will incorporate the traditional hatha yoga style and will adapt to the level of each participant. Hatha is a broad genre of yoga, focusing on physical postures, breathing exercises and relaxation. It is the stairway to raja yoga or classical yoga, which focuses on the mind, deep concentration and meditation. "Asanas" or yoga postures, are defined and should be done quietly and relaxed. There are postures like standing, sitting and lying on the back or on the belly. In the program, participants will focus on the spine and different movements which will create more space, strength and awareness of daily postures and how to economize energy. In general, hatha yoga focuses on kriya-asana combinations through poses and breathing exercises, releasing toxins from the body and mind and creating balance. Expect exercises such as forward folds, hip openings, mantra chants, lying on the spine or stomach, etc. It's an opportunity to get in touch with your body and your essence to shine.
Group size & guiding staff
Minimum group size of 6 passengers and maximum 12. Guide to passenger ratio: 1:12.
Transport
In Torres del Paine (and throughout Patagonia), transport is in vans that normally seat between 8 to 14 people.
Wheather
You can expect all four seasons in one day. This is because the Patagonian Andes are exposed to the same winds that circle Antarctica, while the sea and the Southern Patagonia Icefield both exert their own influences. This means that fine weather may deteriorate almost without warning, bringing with it rain or even snow. Even in summer (December to March), you should come prepared for strong, cold winds (up to 130km/hr), rainfall and average temperatures of 11ºC/52ºF (24ºCmax, 2ºC min). However, it can become lovely and sunny just as fast so come prepared for all types of weather!
What you need to bring
Waterproof hiking boots
Parka
Pants
Gloves
Comfortable attire for yoga
An inner insulating layer (such as fleece or wool)
Hat
Sunscreen
Sunglasses

We will also send you a detailed list before your departure.