Located just a short drive from Santiago, the San Francisco-esque city of Valparaiso is a popular stop for visitors hoping to get exposed to Chilean art and culture, as well as some fresh sea breeze after the stuffy, high mountain air of Santiago.
Squashed up against the coast, Valparaiso is a bonafide artsy city, a New York's West Village or San Francisco's Haight Ashbury at the height of their hippie movements. But aside from its historic funiculars, vibrantly painted houses, and cascading hills, Valparaiso has another claim to fame that is rapidly helping this seaside "Jewel of the Pacific" assert itself as Chile's bohemian, counterculture city par excellence: its street art.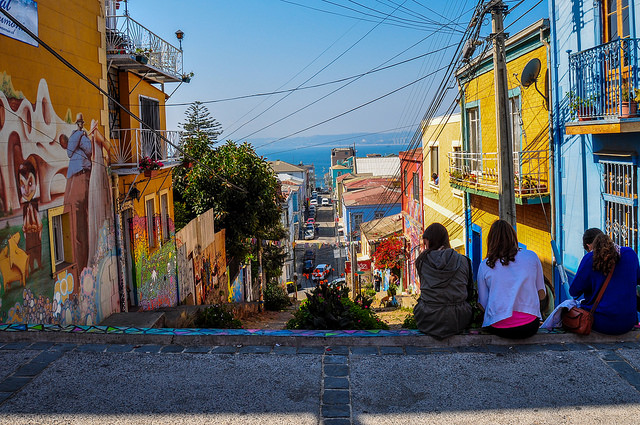 Splashed over the walls and houses of the city, Valpo (as it's affectionately known by residents) has amassed quite the collection of colorful and creative murals, stencils, and paintings, marking it as a top destination for street art enthusiasts, along with other street art meccas like Berlin, London, and Melbourne. As a UNESCO World Heritage Site, Valparaiso takes great pride in its history and culture, and the local government and citizens encourage and support local and visiting artists, with many businesses either requesting, bartering, or paying for their storefronts or buildings to be given an artsy touch-up.
But it isn't just the sides of buildings that receive the creative treatment. Street art in Valpo can be found anywhere: transforming a stairway into a cascade of piano keys by painting them black and white; tiny stencils of weird and wacky creatures that peek out from corners; or even using natural materials like stones or plants to create images.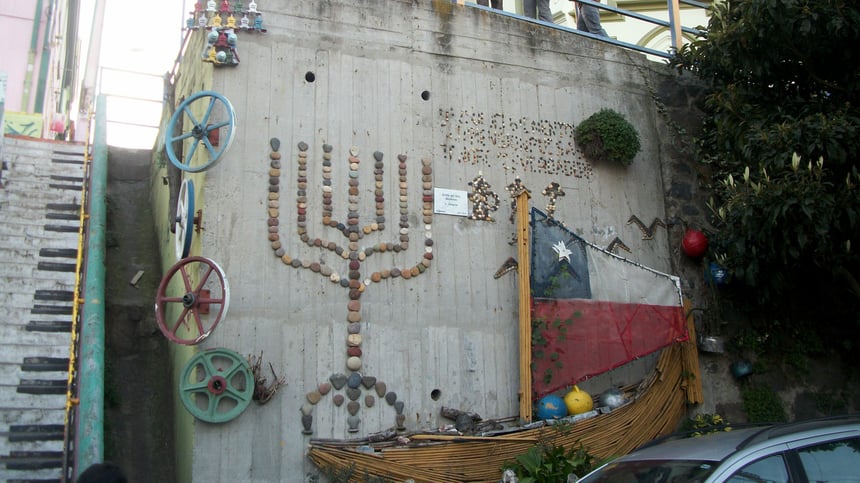 The majority of the street art is concentrated in the more tourist-centric district of Cerros Concepcion and Alegre, a short walk from the historic seaport neighborhood. Cobble stoned streets ramble up and down these hills, which are packed with restaurants, shops, galleries, hotels, and bars. Valparaiso's iconic corrugated-iron-fronted houses line the streets, brightly painted and accented. Around every corner there is a fresh, new discovery: another brilliant view of the ocean and the city spread out over the hills, a whimsical hostel with quirky decorations, local bands or artists performing in a plaza or square, or, of course, a brilliant and striking piece of local art.
The variety of styles used is just one of the reasons Valparaiso has become famous for its street art, with artists creating original pieces and styles, but also utilizing common techniques such as wild-style, graffiti, character, piece, mural, and stencil. Many artists also pay tribute to the styles of some of visual art's greatest practitioners, such as a beloved mural of Van Gogh, impersonating his fluid and vibrant Impressionist style, showing him in a field of sunflowers under a swirling sky reminiscent of "Starry Night."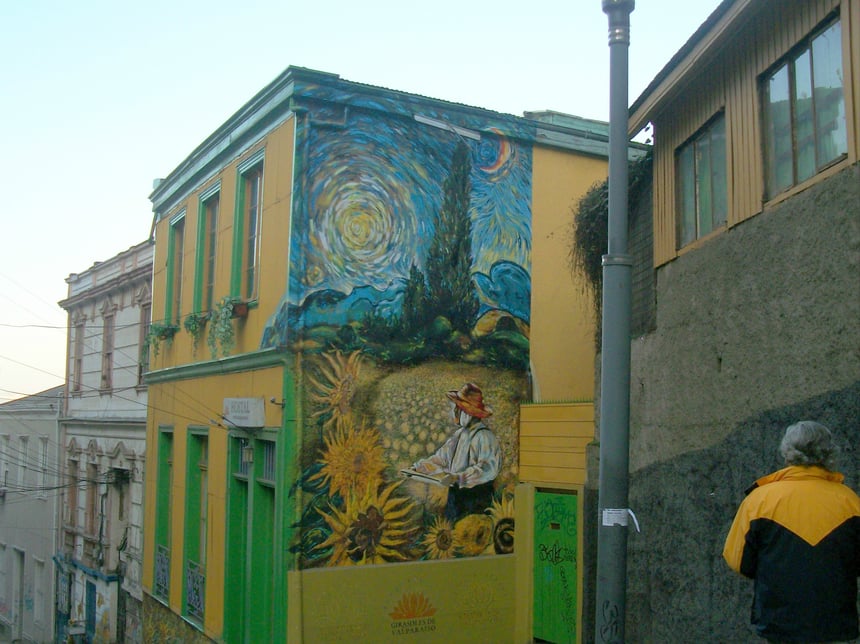 Artists have traveled from all over the world to contribute to Valpo's street art (it's rumored that Banksy has a piece somewhere, but it's never been confirmed), but the local fare is hard to beat. Three of the most well-known and prolific local street artists are Inti Castro, Charquipunk, and Teo (the latter of which is responsible for the aforementioned Van Gogh mural), whose styles are instantly recognizable to the trained eye and can be pointed out on guided street art tours. For example, Charquipunk is famous for his nature-themed murals, especially focusing on Chile's beautiful diversity of birds, particularly hummingbirds.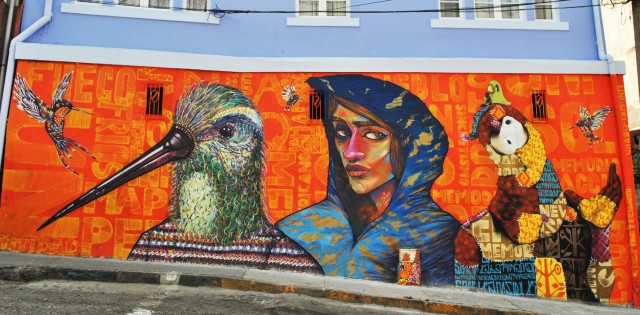 Throughout Valparaiso can also be found examples of a uniquely Chilean urban art movement: the Ramona Parra Brigade (Ramona Parra Brigada). Created in 1968 at the dawn of the Socialist presidency of Salvador Allende, tensions were high over economic uncertainty and social issues, and during a large student protest in Santiago, a young woman named Ramona Parra was shot and killed. Having belonged to the popular youth Communist Party, a community of young artists and activists took up the baton, named their collective after her, and started to cover the walls of Santiago with their art in protest. Their murals - distinctive for their bold, black outlines and the use of dynamic, eye-popping primary colors - were (and still are) symbols of resistance to authority and oppression during the dictatorship, using symbols like raised fists, the sun, the faces of workers, and icons of Chile like birds (symbolizing freedom and liberty).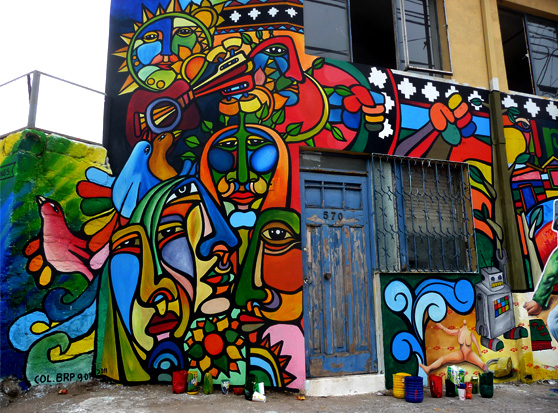 Although Cerro Alegre and Cerro Concepcion are generally regarded to be the heart and soul of Valparaiso's street art, exploring a little further afield also turns up interesting finds. The Open Air museum on Cerro Bellavista, for example, is a great spot for admirers to explore the streets at leisure and discover the art organically. Opened in 1992, this outdoor collection of 20 murals features the diverse artwork of Chilean and Latin American artists, and is located just down the hill from poet Pablo Neruda's "La Sebastiana" house, which is a classic stop for most visitors.
Discover and be awed by Valparaiso's street art on our day tour here.