When is the best time to travel to Torres del Paine?
While it might seem easy to answer that question considering aspects of weather, planning a trip to Patagonia isn't only a matter of climate. Torres del Paine, Chile's most stunning national park, is a very different place if you come in low or high season. And this mostly has to do with how busy the park is, the probability of spotting wildlife, the vegetation and other components of the place that completely transform the experience.
EcoCamp Patagonia, the world's first geodesic dome hotel, usually opens from September to early-May. Winter (May to August) is therefore considered "off-season", though Torres del Paine is open and there is the possibility of doing a Winter W Trek, an epic trekking experience during the wildest time of the year in Patagonia.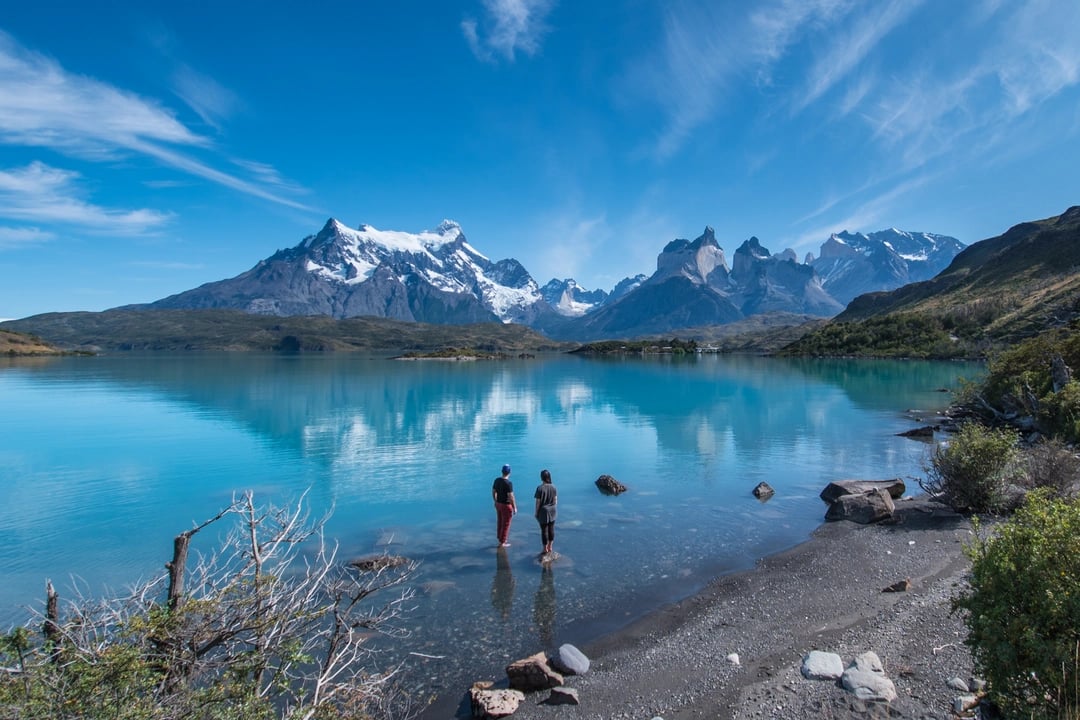 You want to travel to Torres del Paine but are unsure whether to do so in low or high season? Read the full guide!
1. When is the low and high season in Torres del Paine?
When we talk about "season" in Torres del Paine, we mean a 9-month period that goes from September to May.
Low season includes the months of September, October, April and May. Therefore, it is composed of the end of Winter, part of Spring and Autumn.
High season includes the months of November, December, January, February and March. It includes most of Spring and Summer.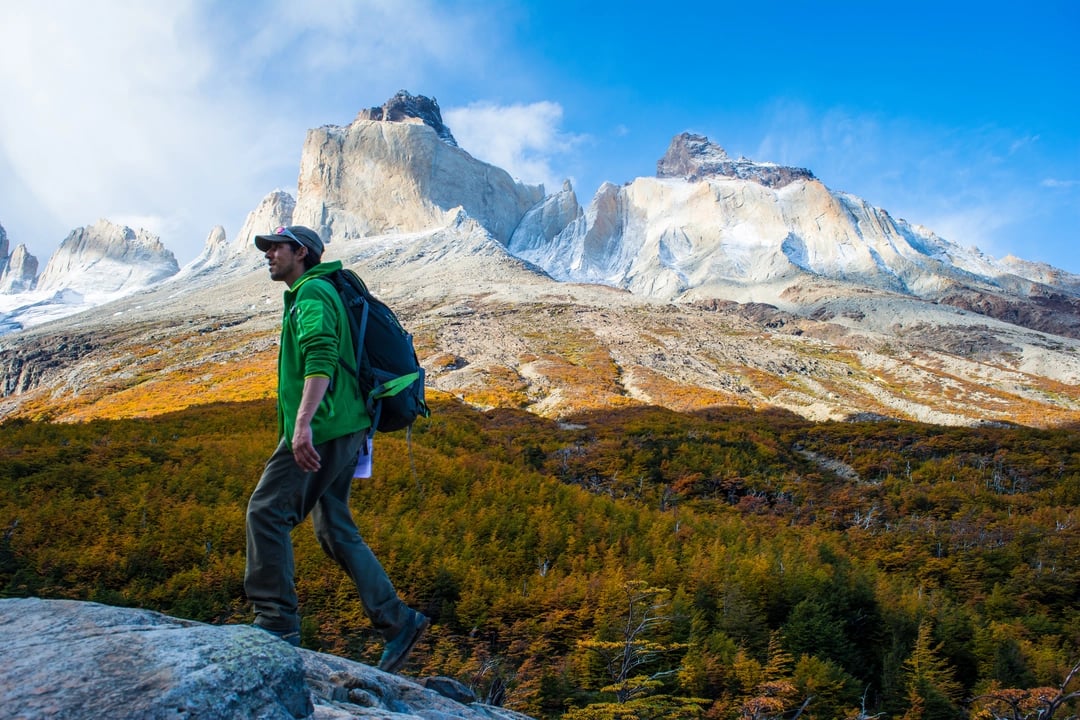 2. What is low season like in Torres del Paine?
THE PROS
Low season is the quietest time of the year in Torres del Paine. Few people come in September, though there are some well-known events such as the Patagonian International Marathon and the Ultra Paine (runners take note, these are epic events and there are special programs for you to also explore the park and stay in a dome).
You will also escape from the crowds if you come in October and April, but more and more travelers choose these photogenic months to immortalize both the landscapes and wildlife. May definitely feels like the end of the season, with very few people around.
Days are shorter in the low season, with roughly 10 to 12 hours of daylight. It is something good to consider if you plan to photograph sunrise, as you won't have to wake up at 5am (unlike in summer) to spot it.
Low season is highly recommended to spot wildlife. Less people in the park means more animals near the roads and trails. Also, with more precipitation in low season the lakes and lagoons are filled with water, which attracts plenty of birds that feed here.
Low season offers some stunning landscapes, as the peaks of Torres del Paine are usually capped with snow. There is less wind than during summer, so you may witness the magic reflections of the mountains in the lakes. And if you come in April or May, you will see the spectacular colors of autumn in the forests, which attract plenty of nature photographers every year.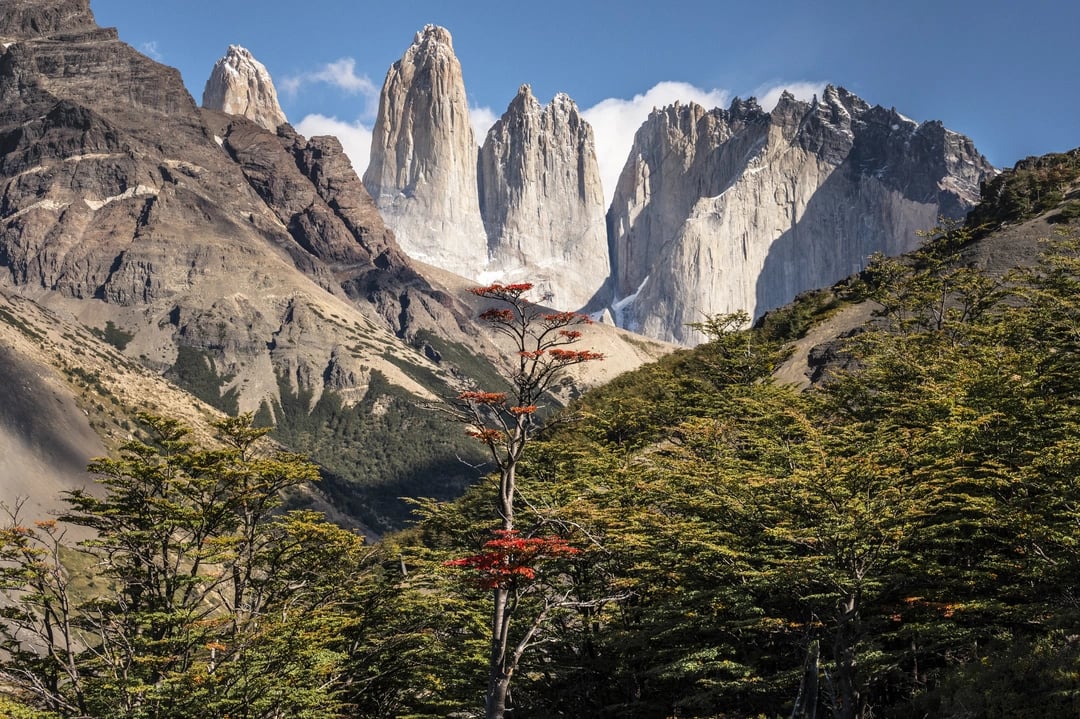 Autumn is a fantastic time for a walk in the forest
Finally, the low season is more accessible than the high season. If you come in September, October, April or May, you shouldn't struggle to find a place to stay in the park (you shouldn't need months of anticipation to book a dome at EcoCamp).
THE CONS
Low season may be a bit cold. It is not unusual to experience temperatures below 0°C at night in September, April or May. Also, you may experience some rain (but also some sunshine), though there are always fantastic sunny days even in the heart of autumn. Don't worry, you will be perfectly fine whenever you come with the right clothes!
Foggy mornings are usual in April and May, but it may actually be something great if you look for some dramatic landscape pictures. As we've said, days are shorter in low season but it gives you enough time to do full-day hikes in full daylight.
The conditions on the trails might be a bit adventurous (you may encounter some mud, snow or ice in some trails like the towers' base and the French valley), but that shouldn't impact your overall hiking experience. However, the trails of the Torres del Paine circuit (Dickson and Perros area) are normally closed in low season. The trails of the W Trek are open all year round.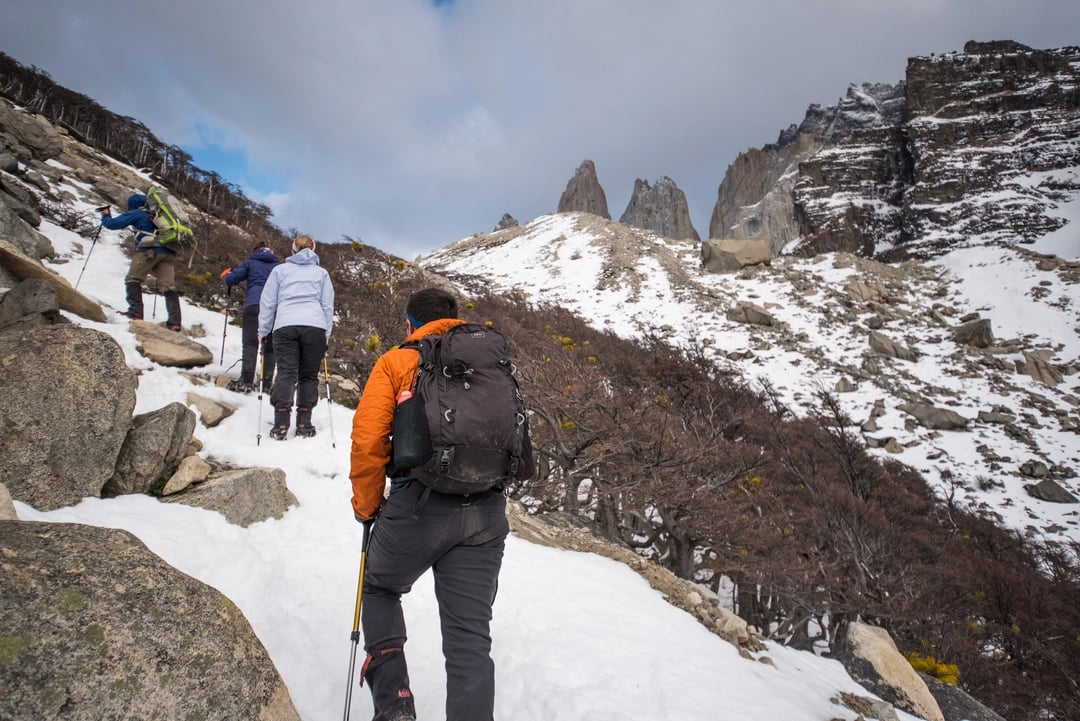 3. What is high season like in Torres del Paine?
THE PROS
High season (from November to March) has the warmest weather. Days are (very) long, with up to 17 hours of daylight in December. The weather is drier than other months, but it doesn't mean it doesn't rain (or even snow). The temperatures fluctuate between 5°C and 20°C during the day, and it doesn't usually freeze at night which is good if you plan to camp.
The forests of Torres del Paine are green and you will spot plenty of flowers, including orchids, if you come in November or December. Spring is also great if you want to spot wildlife. It is the guanacos' breeding season and there are lots of chulengos (newborn guanacos) around, especially in December.
The hiking conditions are usually excellent, as the trails are mostly dry and all of them should be open, including the Torres del Paine "O" circuit.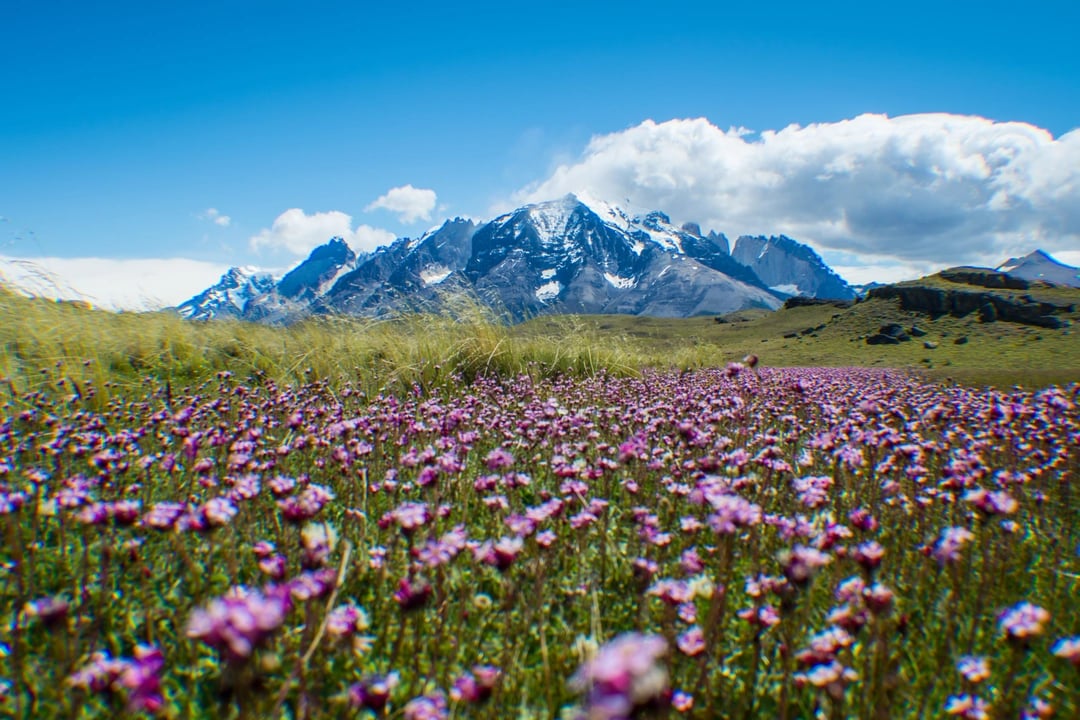 Spring is a colorful time in Patagonia, especially around November and December

THE CONS
High season is very busy. If you plan to travel during peak season (December to February), you may need to book your stay in the park with at least six months in advance. Prices are also higher.
The main drawback of high season is the amount of hikers you may encounter on the trails. While this is a good opportunity to socialize with fellow travelers, some popular places like the towers' base may be crowded especially at midday. There are also more vehicles on the roads of the park, which may keep animals away from some places.
High season is windy. In summer months, you might experience wind gusts of up to 150km/h (93mi/h) so you'd better come with the right equipment. The weather is also more unstable in high season, and this is no joke when people talk about "four seasons in a day". But it is true it makes the experience even more epic!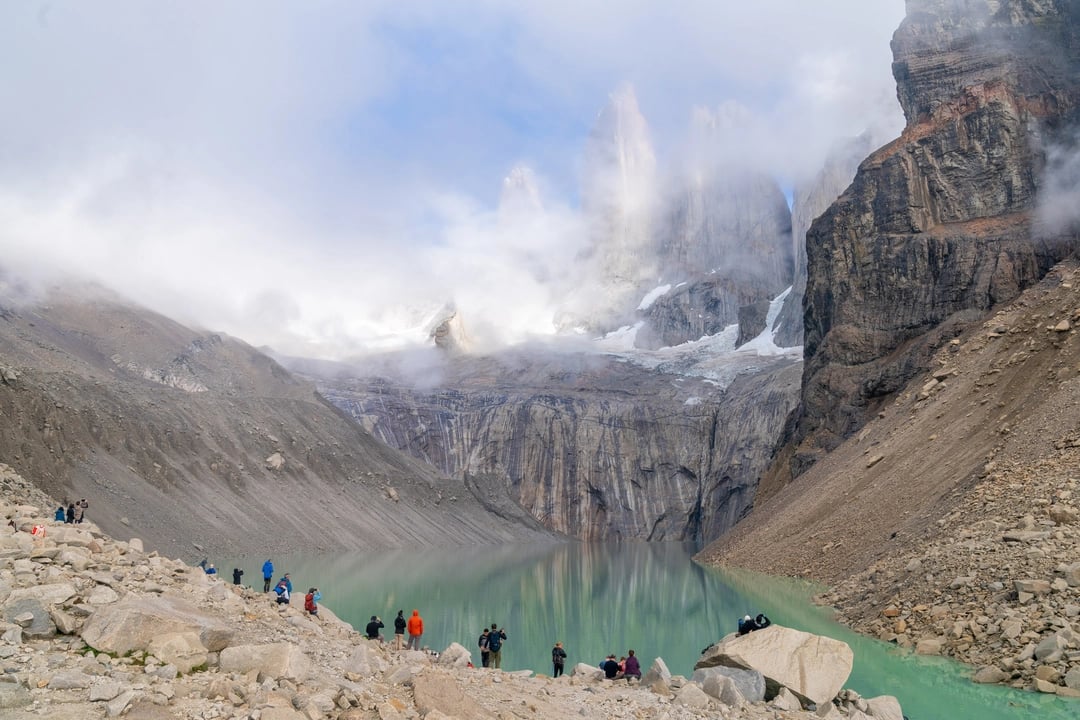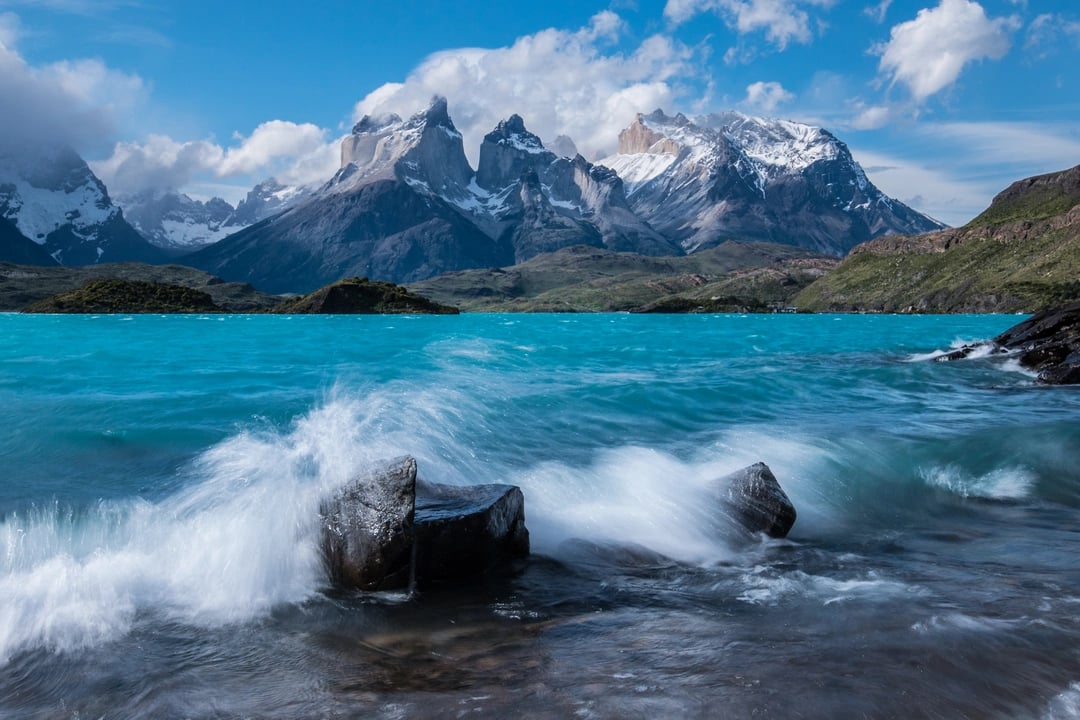 4. Low Season VS High Season : who wins?
It is simply impossible to answer the question "when is the best time to travel to Torres del Paine". It just depends on what you are looking for.
Low season is best recommended for wildlife lovers, experienced adventurers, photographers and those who simply want to stay away from the crowds.
High season is best recommended for those seeking warmer temperatures and longer days, and hikers willing to do the epic Torres del Paine "O" circuit.
Whenever you come, make sure to come with the right equipment (watch this full guide on what to bring to Patagonia) and to be ready for all kinds of weather. Coming in Summer doesn't mean you won't experience any rain! Watch the video below to see what the weather looks like in Patagonia.
Up for an epic trip to Torres del Paine National Park? Check out our adventures or contact us for more information!