Just because museums and galleries aren't your scene, it doesn't mean that there's nothing for you to do on a tour of Chile's capital Santiago. Although it boasts more than one ultra-modern mall bursting with international brands, Santiago is also home to a variety of traditional markets specialising in food, clothes and souvenirs so there's something here for everyone. Here's our list of Santiago's Top 5 Markets!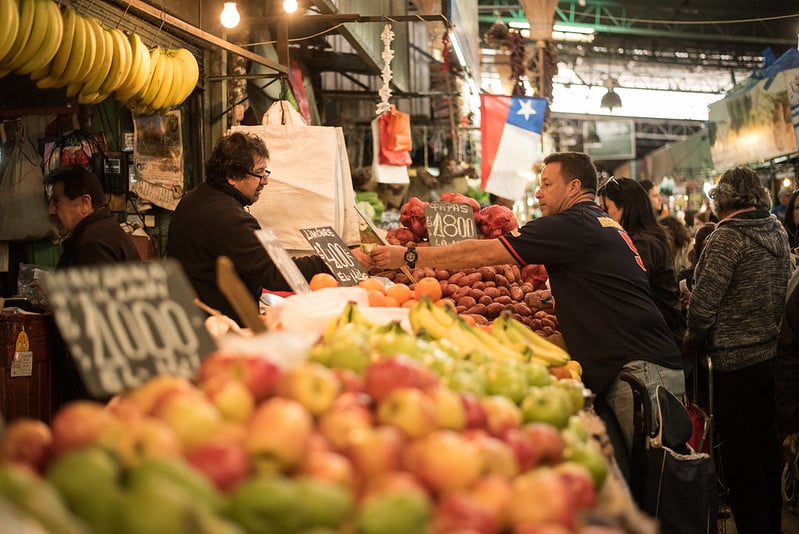 1. Mercado Central & La Vega Food Markets
Although the Mercado Central and La Vega are in fact two separate marketplaces, they're close enough geographically to allow you to visit one after the other on foot. The Mercado Central is Santiago's celebrated fresh fish market, which was listed by the National Geographic as one of the
Top 10 Food Markets
in the world. As well as the helter-skelter arrangement of vendors selling everything from barnacles to giant muscles, you'll find a central plaza with a variety of seafood restaurants where you can sample typical Chilean favourites such as creamy crab bake and clams au gratin. Neighbouring La Vega is a popular fruit and vegetable market and the perfect place to watch Santiago's locals come and go. Cascada's Chilean Culinary Experience Day Tour includes a visit to both the Mercado Central and La Vega while the
Santiago City Day Tour
also passes through the Mercado Central.
2. Los Dominicos Artisans' Village
If you're looking for a cut-price flea-market then Los Dominicos Artisans Village is not the place for you. If, on the other hand, you're after high-quality, hand-crafted Chilean gifts and artwork at reasonable prices then this market is the place to be. The Artisans Village is a great place to see local artisans working hard at their crafts and learn more about Chile's traditional heritage. Buying direct from the artists, you'll ensure that you're paying the right price for your purchases and that all of the money you hand over directly rewards those who put in the hard work. Among the 150 artisans stalls you'll find shops selling jewelry, woodwork, glass, weavings and alpaca woollens. The artisans village is easy to reach for the independent traveller since it lies at the last stop of the red Metro line, which runs through the Providencia and downtown neighbourhoods where most major hotels are found. A short walk through a park and past a quaint church takes you to the gates of this picturesque village.
3. Bellavista Souvenir Market
Located within easy walking distance of popular visitor attractions such as San Cristobal Hill and the Santiago
Pablo Neruda House and Museum
, Bellavista is an essential stop on your Santiago tour. There are actually two markets in the Bellavista area, one inside the square itself and the other just across the road. Bellavista Patio is the more upmarket and chic of the two, with jewelry, clothing and trinkets for sale in small boutiques surrounding a paved square. There's a wide choice of restaurants and cafes within the square, making it the ideal place to pause for thought with a fresh juice or a hot coffee. For a more bohemian vibe, cross the road to the old market, housed under a rickety-looking shelter. This market sells more of the clothing, jewelry and ornaments you'll find over the road, as well as curiosities such as brooches made from old forks and spoons and fashioned in a traditional Mapuche style.
4. Patronato Clothes' Market
Be prepared to hold your ground and push on through if you plan on visiting Santiago's bustling budget clothing market as it can get seriously crowded. For a taste of the vibrant, multi-ethnic side of Santiago that guidebooks tend to gloss over, take yellow Metro line number two to Patronato station and jump into the chaos. Explore the maze-like collection of streets where bargain-basement clothing stores selling everything from ballgowns to harem pants jostle for space with the multitude of shoppers scouting for the best deal. Patronato is also the place to go if you're hankering for Chinese, Korean or Middle-Eastern food to break up your Chilean diet. Intense, popular and endlessly intriguing, Patronato market is one of a kind!
5. Santa Lucia Craft Fair
This market is your one-stop shop for handicrafts from throughout Chile and also neighbouring Peru and Bolivia, which makes it particularly interesting for anyone who doesn't have time to explore beyond Chile's borders. The market lies across Alameda Avenue from Santa Lucía Hill, near to the artsy Lastarria neighbourhood. You'll find stalls selling bags, scarves, jumpers, leather shoes and wallets as well as knickknacks and jewellery made from deep blue lapis lazuli, the quintessentially Chilean gemstone. You'll need a few hours to tackle the entire fair, which extends like a rabbit warren with more stalls around every corner. The Santa Lucia Craft Fair is one of the best places in the city to pick up cheap souvenirs for friends and family back home.
Take a Santiago tour to enjoy its varied markets for yourself!