Perched above steep valleys and clinging to snow-covered slopes throughout one of the most dramatic mountain ranges on Earth, Chile's world-class ski resorts have everything you need to hit the slopes and spend your days "shoop-shoop-shooping" down some pretty epic runs and soaking up that high altitude sunshine and chilled air.
But with so many choices, how to pick the best resort for your skiing needs? Are you a downhill person, or more nordic? What about variety of runs? Different terrains? Groomed or powder? Where has the best snowfall?
Here's our definitive guide to the best skiing in Chile, with recommendations for what gear to bring, stats comparing the top ski resorts, additional activities around Chile you can add to your ski trip, and more, all so you can choose your dream ski vacation.
Hope to see you out on the slopes soon!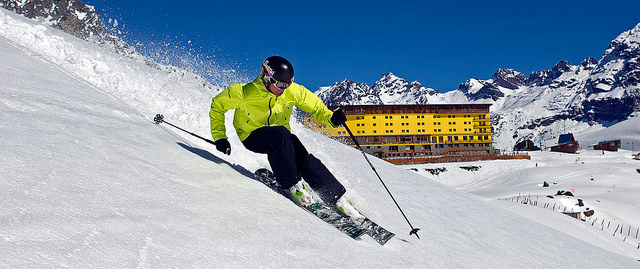 When To Go
Most of the resorts open in late June and close in September or even early October; timing varies depending on the particular resort, as well as what the snow and climate is like that particular year.
High season falls during the middle of July, which is also when Chilean school children are on a two-week break for their winter vacation, so if you're considering skiing during July, booking in advance is highly recommended.
However, the season can often run as late as October for ski resorts in the Lakes District, like Nevado de Chillan and Corralco, thanks to the heavy, annual snowfall, consistently cold temperatures, and easy powder.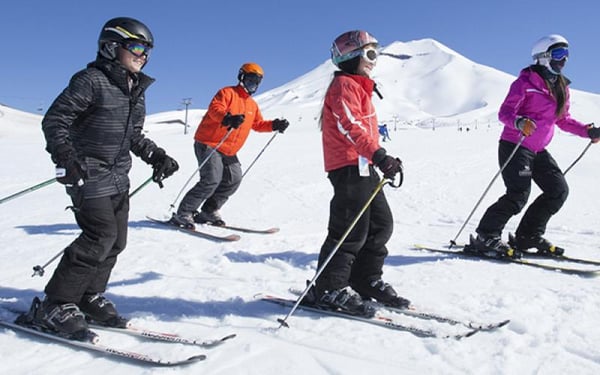 What To Bring
Clothing
1st Layer - Wicking
Long-sleeved thermal shirts
Form-fitting thermal pants
Long socks (thick and warm material)
2nd Layer - Insulation
Fleeces/sweatshirts/pullovers/vests
3rd Layer - Protection
Waterproof winter shell jacket
Waterproof winter shell pants
Sunglasses or ski goggles
Other Accessories:
Sunscreen (SPF 30 or higher)
Sunscreen lip balm (SPF 30 or higher)
Types of Skis:
There are different kinds of skis you can choose from to suite different skiing styles or terrains. Most resorts will offer equipment rental or stores where you can purchase gear, but for many skiing enthusiasts, their own skis are an extension of themselves and they take them everywhere. Here's a brief rundown of the different types of skis and what they're good for:
All Mountain Skis: Suitable for groomed runs (a marked ski path down a mountain) for all levels; ideal for downhill and moguls
All Mountain Wide Skis: Good for groomed runs and powder; ideal if you enjoy downhill and nordic
Powder Skis: Best for powder (non-groomed, like nordic) and backcountry skiing
Backcountry Skis: Good for powder and backcountry trail skiing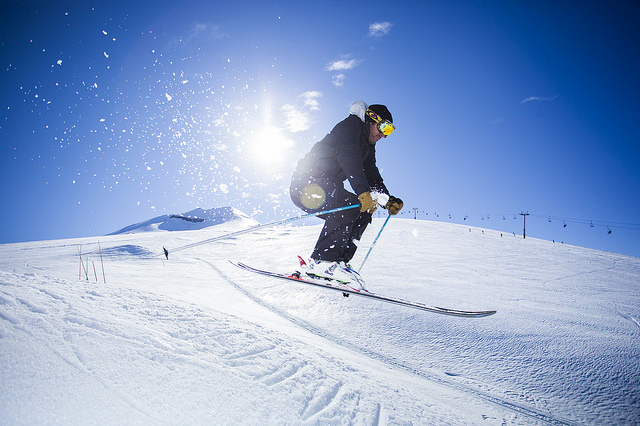 Different Styles of Skiing in Chile
The most common styles of skiing found in Chile are:
Downhill: The most common and the most popular form of skiing in Chile, and arguably the world.
Nordic/cross country: Less strenuous than downhill, involves skiing over relatively flat terrain with slight ups and downs. Best for exploring woods and back country
Backcountry: Similar to cross country, but usually is less well-marked or known trails
Freestyle: Skiing with aerials such as jumps and flips, as well as moguls, cross, half-pipe, and other acrobatics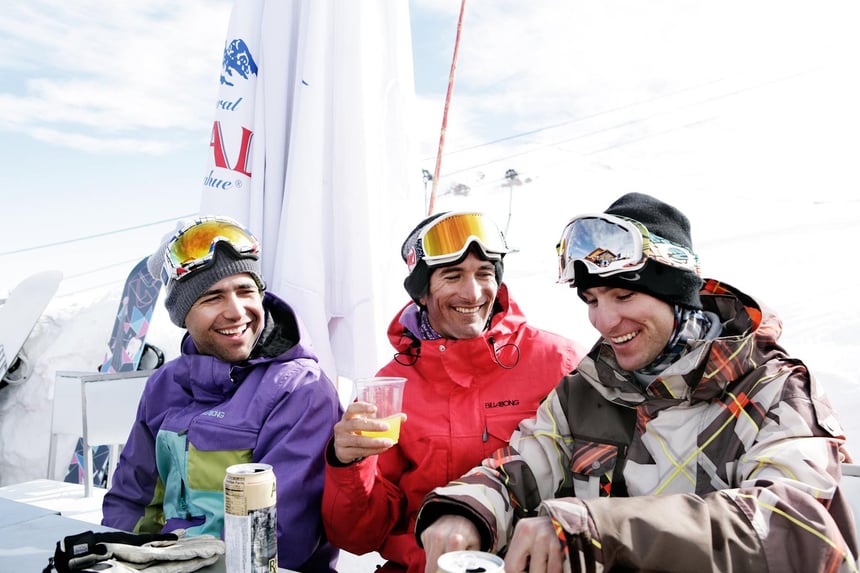 Where To Go
Valle Nevado
Valle Nevado is where Chileans come out to play during the winter. Only 35 miles away from Santiago, it's close enough to allow for easy day trips to the slopes, but also has plenty of cozy accommodations and amenities for longer stays, and is considered one of South America's finest and most modern ski resorts. Located above the treeline and composed of three separate valleys that together make up South America's largest skiable area, the views from the runs and pistes across the surrounding mountains are staggering, with the one drawback that when there is bad weather, visibility is very low. With run options from beginner to expert, and a first-rate Terrain Park for advanced skiers to try out freestyle tricks, Valle Nevado offers some of Chile's best skiing, and is perfect for any type of ski vacation, from a family getaway, to a couple's' retreat, to a getaway with friends.
Where: Valle Nevado (35 miles east of Santiago, roughly a 90 minute drive)
How to get there: Transfers to/from are available with our programs in Valle Nevado, but there are also buses and the option to bring your own car. Please note: the road to Valle Nevado operates on the one-way system during ski season, with cars going up to the resort from 8 am to 2 pm, and down from 2 pm to 8 pm.
Vertical drop: 2,657 feet
Types of skiing/ski runs: downhill, heli-skiing, snowboarding, freestyle
Average annual snowfall: 276 inches (23 feet)
Off pistes: Yes (weather and avalanche risk permitting)
Difficulty level: Beginner to expert
Services: Ski-in/ski-out, ski school, equipment rental, hotels, on-site restaurants, shopping, heated pool and spa, entertainment options (cinema, kids zone), fitness center, medical center.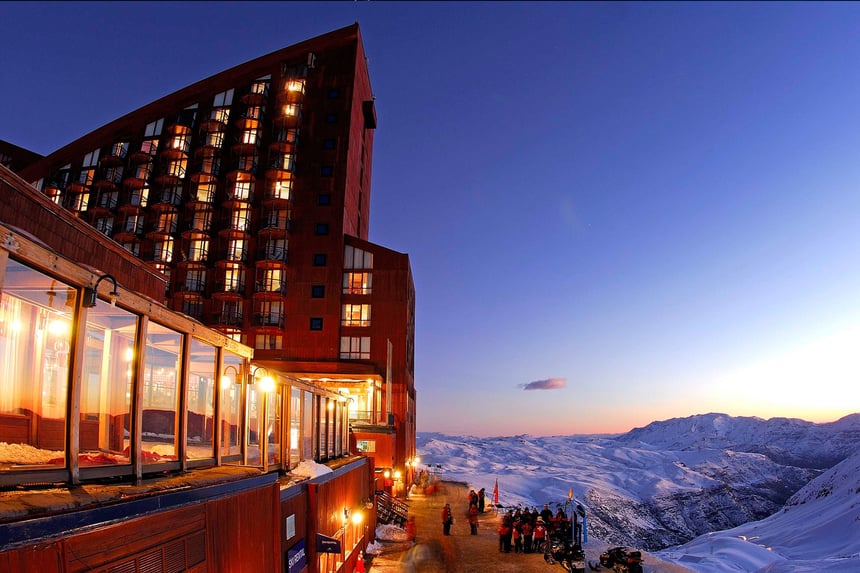 Ski Portillo
A two hour drive from Santiago, Ski Portillo is arguably the most internationally renowned of Chile's ski resorts, with a rich history. Frequented by world-class athletes training for championships such as the World Cup, Portillo has slopes for everyone from beginners to advanced. Its chairlifts were designed specifically for its somewhat intimidating but breathtaking slopes, and if the skiing doesn't take your breath away, the scenery will. The resorts' sunshine-yellow blocky hotel is perched above the shimmering blue Laguna del Inca Lake, which is legendary for being the burial site of an Incan princess. Surrounding by steep, snowy mountains that rise up out of the lake to brush the sky, it's a stunning place to either enjoy an easygoing ski holiday or hone your skills with the best of the best.
Where: Aconcagua Valley (102 miles, roughly two hours north-east from Santiago)
How to Get There: Transfers to/from the resort are built into our Portillo skiing programs, but there also are daily buses
Vertical Drop: 2,500 feet
Types of Skiing/Ski Runs: Downhill, heli-skiing, snowboarding
Average Annual Snowfall: 291 inches (24.7 feet)
Number of Runs: 35 runs (14 lifts)
Off Pistes: Yes (weather and avalanche risk permitting)
Difficulty Level: Beginner to expert
Services: Ski-in/ski-out, school, equipment rental, hotel with full board, yoga room, on-site restaurants, photo service, gym, daycare center, entertainment activities (movies, play room), massage and sauna beauty salon, medical center.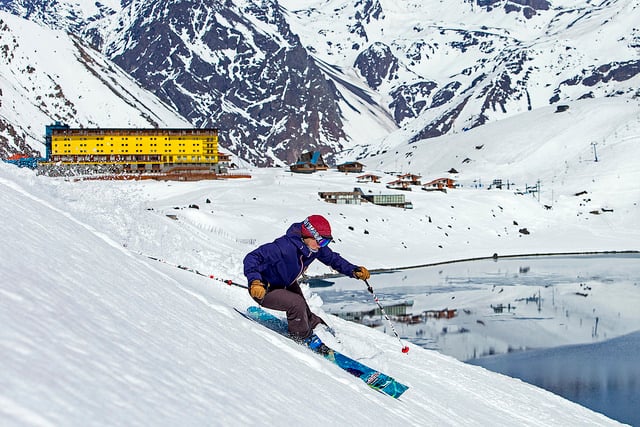 Nevado de Chillan
Formerly known as Termas de Chillan, this cozy ski resort nestled back in the wilderness of Chile's Lakes District is the ideal wintry getaway for cross-country enthusiasts and skiers looking to get away from the hustle and bustle of the capital city resorts for some peace and quiet. The landscapes also offer a refreshing change of scenery, switching up the roof-of-the-world peaks and plunging valleys of the central region for meandering runs and back-country trails through snowy forests, with three of the local volcanoes looming over the runs. With a wide variety of outdoor sport activities outside of skiing and snowboarding, including South America's long ski run, the 13 kilometer Las Tres Marias run, and some truly "treat-yourself" spa and thermal hot springs opportunities, Nevado de Chillan is a winter wonderland.
Where: Las Trancas, Bio-Bio region (roughly 6 hours (500 km) north of Santiago)
How to get there: Drive, take a private transfer or a bus.
Vertical drop: 3,608 feet
Types of skiing/ski runs/other activities: downhill, nordic, snowboarding, snowshoeing, dog sledding, snowmobiling, night skiing, cat skiing, heli-skiing
Average annual snowfall: 400 inches (33 feet)
Number of runs: 29 runs (12 lifts)
Difficulty level: Beginner to expert
Services: ski-in/ski-out, ski school classes, equipment rental, hotels with full board, restaurants, hot springs and spa, gym, entertainment activities, childcare.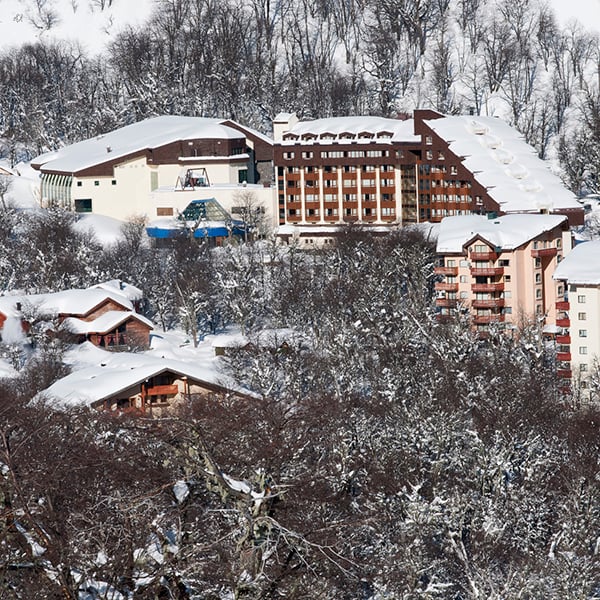 Corralco
Surrounded by prehistoric araucaria trees and with the mighty Lonquimay volcano looming in the backdrop, the 1,800 hectares of the Corralco Ski Resort offers sublime skiing terrain in the south of Chile, about eight hours away from Santiago. With downhill runs open for beginners to advanced, and plenty of oft-ignored backcountry trails that explore the slopes of nearby volcanoes and wander through quiet, snowy forests, it's a peaceful place to escape the crowds of the Santiago ski resorts and treat yourself to some rest and relaxation at the local hot springs.
Where: close to Temuco (roughly 8 hours (714 km) south of Santiago)
How to Get There: With our Corralco ski program, you will fly into Temuco regional airport and then be transferred to the resort. Alternative independent transfer options include: buses/cars from Temuco.
Types of Skiing/Ski runs/Other Activities: downhill, nordic, snowboarding
Vertical Drop: 3,018 feet
Average Annual Snowfall: 275 inches (22 feet)
Number of Runs: 26 runs (6 lifts)
Off Pistes/Backcountry: Yes
Difficulty level: Beginner to advanced
Services: Ski-in, ski school classes, equipment rental, hotel, restaurants, spa, entertainment activities, gym.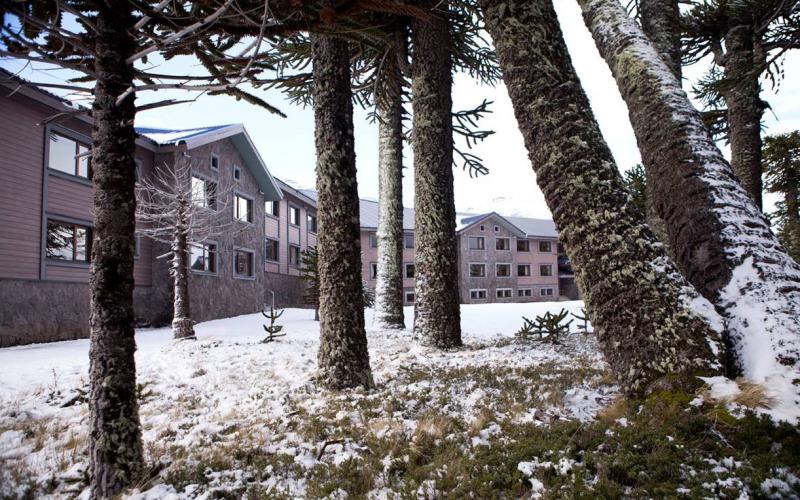 Volcano Skiing
Hands down, one of the coolest places to ski in Chile is on the slopes of one of the country's many volcanoes.
The Lakes District is home to some of Chile's most spectacular - and most active - volcanoes, such as Villarrica. While that may seem a bit unsettling, to be puttering around on an active volcano, Chile is always prepared for natural disasters, and so has excellent alert systems that work to detect potential volcanic and seismic activity and keep locals and visitors safe.
The Villarrica and Lonquimay volcanoes are the hot spots (no pun intended) for downhill and backcountry volcano skiing and snowboarding in the Lakes District, with good runs and excellent views of the surrounding mountains and landscapes. Osorno Volcano, close to Puerto Varas, also houses a ski resort, and is a great photo opp spot thanks to the volcano's smooth, conical profile against the horizon.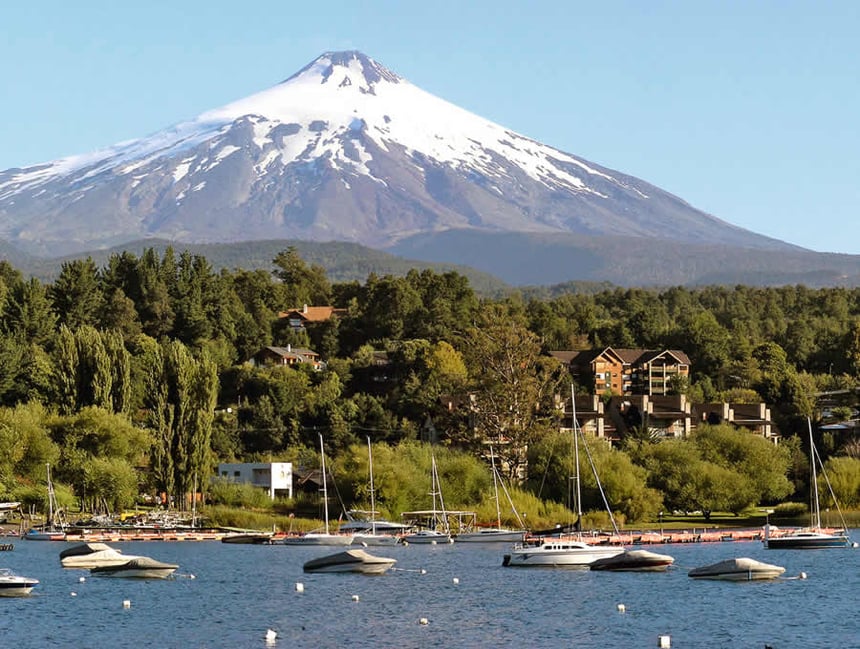 Why Go Skiing in Chile?
It's true that there is quality skiing available all over the world, so why come all the way down to Chile just to shred some powder? In addition to the excellent slopes and myriad resorts to choose from, there's plenty more you can do with a winter trip to Chile. Here are just some of the benefits of choosing Chile for your next ski holiday:
Summer Skiing: Chile's winter months of June-September take place when most of the world is experiencing summer, so if you need a break from the heat or can't stand to be away from the slopes for another six months, a trip to Chile is a great way to enjoy the ski season not once, but twice a year!
Wine Tours - Many of the top ski resorts host Wine Weeks during their season, as well as serving some of Chile's finest varietals in their bars and restaurants, but one of the benefits of staying at a ski resort near Santiago is that you're also close to Chile's famous wine valleys. Located a few hours drive from the capital, the green-and-brown checkered valleys of Maipo, Colchagua, and Casablanca are home to luscious vineyards that produce sumptuous red and white wines. Many vineyards offer tours and tastings, with lectures about the history and process of winemaking in Chile.
Access to cosmopolitan life and

activities in Santiago

: if you're planning to ski at

Portillo

or

Valle Nevado

, you're right next door to one of South America's most up-and-coming cities: Santiago! Emerging as more than a stopover city en-route to Chile's other attractions, Santiago is distinguishing itself with a burgeoning culinary scene, a stimulating nightlife scene, charming gorgeous classical neighborhoods clustering against sleek skyscrapers (including the highest skyscraper on the continent, the Gran Torre), a flourishing arts and culture scene, and a wealth of outdoor activities just outside the city limits.
See some of South America's most enchanting landscapes in winter-time glory: Chile is home to some pretty spectacular places: the Atacama desert; Torres del Paine National Park; the Lake District; Chilean Patagonia. Each region has its own unique flavor and natural wonders, and visiting them in winter offers a whole new perspective. It also bypasses the crowds of high season during the summer, allowing you to discover Chile's landscapes without the hustle and rush of people. See the Valle de la Luna dusted with snow; hike through a snow-covered and quiet Torres del Paine; marvel at the snow-capped peaks of Argentine Patagonia, and more.
Stay up to date with the latest news and travel inspiration by following our blog.