The jaw-dropping landscape of Chilean Patagonia is the ideal location for all kinds of outdoor pursuits including trekking and hiking. While they are often used interchangeably, the terms 'trekking' and 'hiking' are distinct but it can be hard to pin down exactly what the difference is. To complicate things even further there is also regional variation between American, Australian and British English, whilst if you're from New Zealand you might even go 'tramping' instead! To help you choose the right activity for you, Cascada defines what the terms hiking and trekking mean to them.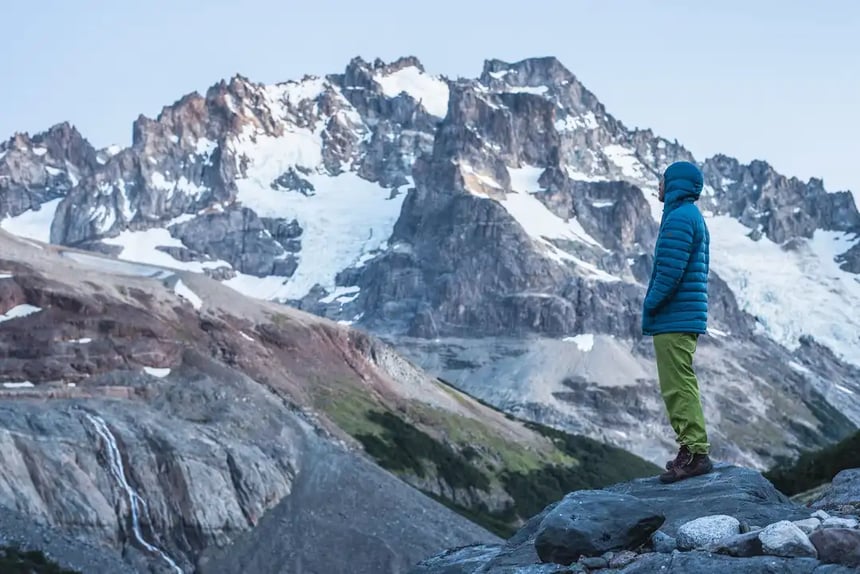 Hiking
What is Hiking?
Hiking is walking in the great outdoors, generally in an area of natural beauty such as the wide Patagonian steppe, and usually following an established trail. The terrain might not necessarily be entirely flat or consistent, but the effort required to follow the trail should leave you with enough energy to look around and enjoy your surroundings. Hiking trips can last for several days but individual hikes last for a day at most, with hikers returning to their home, hotel or fixed campsite to sleep. This allows hikers a great deal of control over their own level of comfort and the distances they want to travel, as they're never more than half a day's walk from where they set out. Hiking is great for active individuals who want to explore everything that Patagonia has to offer and return to a hot shower, sophisticated food and a cosy bed each night.
Equipment
One major plus point of hiking is that you won't need to carry a tent along with you, so you can opt for a smaller day pack than those heading out on longer treks. You'll probably also eat breakfast and dinner back at base, so that means less food, and less weight, to carry around all day. For hiking in Patagonia, you'll need some good, sturdy waterproof walking boots or shoes, but you don't need to worry about highly specialised equipment like climbing shoes or crampons. Most hikes follow a marked trail but it's always good practice to carry a detailed local map along with a compass, although guided hikes are the best choice for those who would rather enjoy the ride than worry about finding the destination.
Accommodation
Typically, hiking doesn't involve camping out in the wilderness and you return to your base at the end of each hike. Those hiking in Chilean Patagonia with Cascada Expediciones spend their nights at EcoCamp Patagonia, which has a great location in the heart of Torres del Paine National Park, so guests enjoy a wide array of day-hikes on their doorstep. EcoCamp offers accommodation in eco-friendly geodesic domes to suit a variety of needs, with Standard Domes, Superior Domes, Suite Domes and two-storey Suite Dome Lofts.

What Hikes Can I Do in Patagonia?
Cascada offers a range of hikes including the Patagonia Wildlife Safari in Chilean Patagonia, as well as hikes in other parts of Chile such as Lake District tours and Atacama Desert tours.
Trekking
What is Trekking?
Trekking is another way of enjoying the natural world but it differs from hiking in that the environment tends to be more challenging, so the journey requires more stamina. A trek may last several days, with trekkers carrying food and tents to camp overnight en-route, or they may stay in lodges where available. Trekking is not as extreme as mountaineering, but often there is no clearly marked trail to follow. As a pay-off for the additional effort, trekking will take you further away than the day-hikers to sights that others rarely see, such as the John Gardner Pass and Laguna Los Perros on the Paine Circuit in Chilean Patagonia, or the British Lookout on the W Trek. Trekking is suited to hardy outdoor enthusiasts who don't want to miss out on anything that Torres del Paine has to offer, no matter how far they have to walk to see it.
Equipment
As for hiking, good boots with proper support are a must and you'll also want to make sure you have clothing suitable for surprising changes in temperature and weather, for which Patagonia is renowned. If you're travelling with Cascada Expediciones camping gear is provided where necessary, but you'll need to bring or rent a sleeping mat and sleeping bag. A compass and detailed map are even more crucial to a trek than a hike, however those who aren't confident of their navigational skills - but still want to tackle something more physically challenging than a hike - can always opt for a guided trek.
Accommodation
Treks tend to be multi-day trips where you don't return to your point of departure at the end of every day so you can either carry your camping equipment with you or stay in a lodge en-route. When hiking in Patagonia with Cascada Expediciones nights are spent between EcoCamp Patagonia, cosy mountain tents and heated lodges, depending on which trekking route you choose.
What Treks Can I Do in Patagonia?
Cascada has a great selection of guided treks in Torres del Paine National Park, including the 7-day W Trek, 5-day W Trek and the Torres del Paine Circuit. As if that weren't enough, you can even add on other treks outside of Patagonia.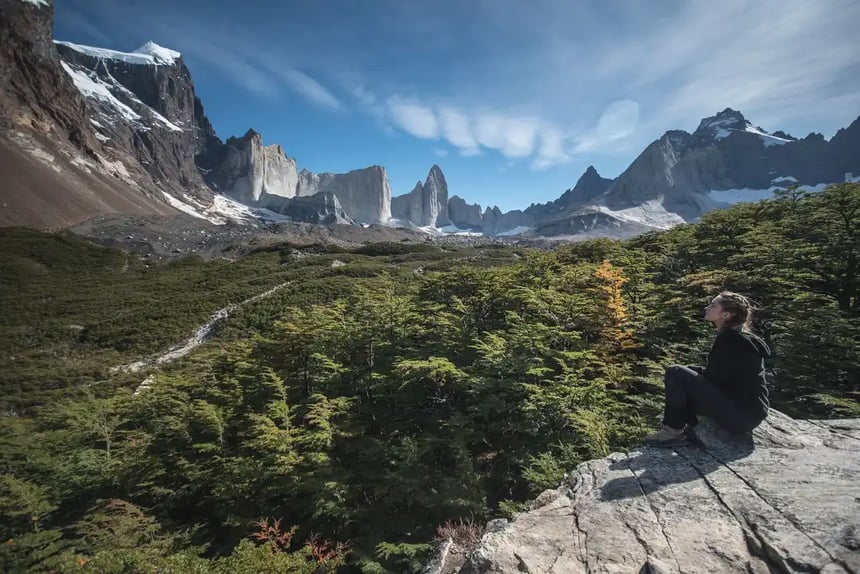 Get in touch with us
to plan your next hiking or trekking trip!