At Cascada Expediciones, we are proud to offer unique, experiential travel programs that go above and beyond in helping people discover parts of the globe they'd never thought they'd see, immersing themselves in nature and culture in ways that will provide life-long memories, and transform who they are as a person and as a traveler.
That's why, we are pleased to announce that, at the PURE Awards at the PURE Life Experiences Show, our adventure travel program, the Dientes Circuit, won in the best "Transformational Travel" experience category!
Thank you to everyone who voted for us; we are honored and humbled to offer and be a part of such an incredible wilderness experience that people have truly connected with, and we look forward to continuing to share this experience with anyone who cares to try this epic trek.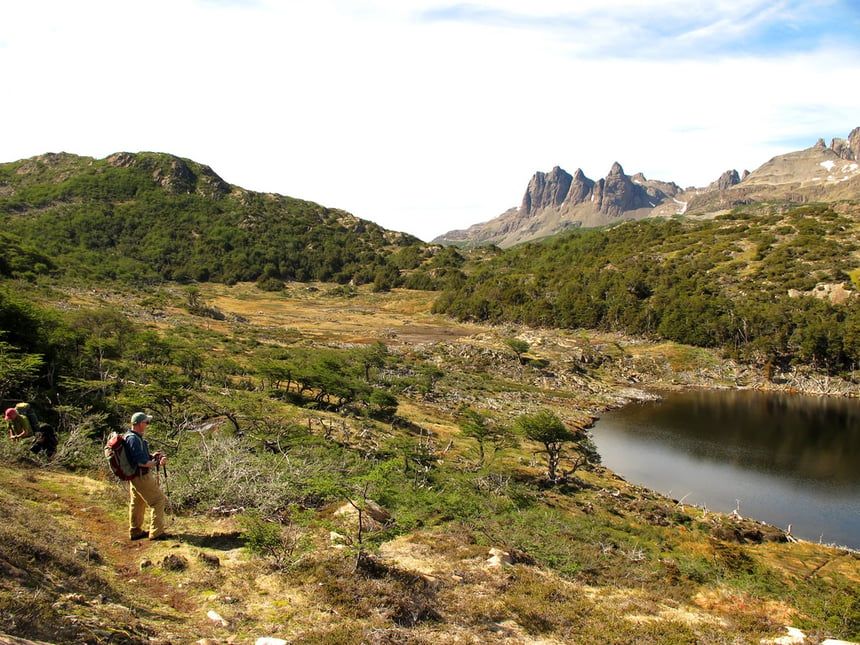 What is the Dientes Circuit?
If you're reading this article and thinking "but what IS the Dientes Trek?" you're probably not alone. The Dientes Trek is virtually unknown, despite being named as the best trek in South America by Lonely Planet, and as such, is undeveloped and offers the perfect wilderness experience. It is the southernmost trek in the world, and yet almost no one knows it exists.
Located on Navarino Island in Chilean Tierra del Fuego, the 33 mile long Dientes de Navarino trek follows a circuitous path that leads through an ever-changing landscape of mountains, valleys, peat bogs, forests, meadows, lakes, and river, culminating in reaching the summit of the Dientes Massif for 360 degree views of the Beagle Channel, the cities of Puerto Williams in Chile and Ushuaia in Argentina, the Wollaston archipelago, and Cape Horn itself. Tierra del Fuego is home to a wealth of pristine landscapes and biodiversity, boasting of some of the highest species concentrations of mosses, lichens, and liverworts anywhere on Earth.
As such, with so much pure wilderness and a lack of civilization, trekkers are free to experience the trail as it has always been: undeveloped, save for trail markers, and secluded. Surrounded by Patagonia's legendary landscapes, the Dientes Trek is a return to classic nature trekking, leaving behind the vestiges of civilization for new horizons and untrammelled paths, seeking communion with the earth and yourself.
Read more about the Dientes Trek and its sights and experiences here and check out our latest video:
What is a Transformational Travel Experience?
On the PURE Life Experiences website, a transformational travel program is defined as:
"An immersive, perspective-shifting itinerary that challenges and inspires the sophisticated traveller on a deeply personal level, creating emotion through the powerful medium of storytelling and transforming their life for the better."
Transformational travel is a deeply personal experience, since everyone is unique and different experiences will move and affect them in different ways. Some may find a culinary tour highlighting the cuisine of a little-known region or village as being transformative; others may find climbing their first mountain or kayaking down a river to be the experience that awakens something in them that they didn't know was there before. On the Dientes Trek, the exposure to raw nature and disconnect from modernity have touched travelers, reminding them of the beauty, power, and fragility of nature and mankind, and how we are connected and depend on each other.
Ultimately, a transformational travel experience is about what moves and transforms you, and that is up to you. The important thing is to go out there and seek it.
How Can I Hike the Dientes Trek?
We offer an all-inclusive 6 day program covering the entire Dientes Circuit, including a bilingual guide, domestic airfare to and from the mainland, camping equipment, food and supplies, and lodging in the town of Puerto Williams at the beginning and ending of the trek.
The trek follows the entire Dientes trail, which is 33 miles (53.3 kilometers) long. Because of the ruggedness of the trail, the isolation, and Patagonia's infamously unpredictable weather, the Dientes Trek is only recommended for experienced outdoors men and trekkers. But with such spectacular views and complete immersion in nature, all the difficulties are well worth it.
Click the link here to find out more about our Dientes program, and then talk to our sales staff here for more information about making your trip a reality! Get in touch at reservations@cascada.travel. Thank you again! Your votes are what made this award possible, so thank your for your support; we couldn't do it without you.