Chile is currently experiencing the worst wildfires in the nation's history, with up to 120 separate blazes throughout the month of January destroying towns, forests, and vineyards near the capital of Santiago, and down through the southern regions of O'Higgins, Bio Bio, La Araucania, and Maule.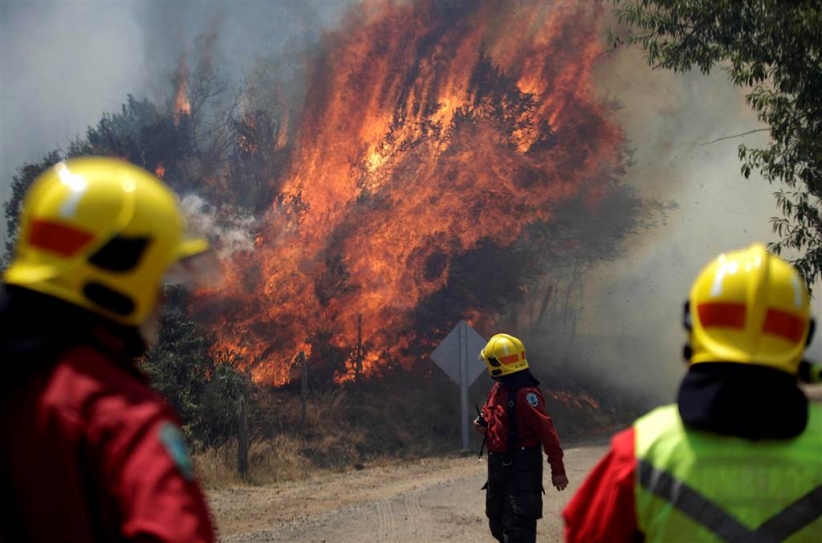 The severity of the fires, which have scorched nearly a million acres, has prompted President Michelle Bachelet to declare a state of emergency. Eleven people have already been killed, mainly firefighters, and more than 6,000 citizens evacuated from their homes.
Although summer blazes are normal in Chile, the tinder-box conditions of a ten-year drought, strong winds, and high temperatures have all exacerbated the situation. Thus far, most of the fires are believed to have been started by human actions, and 43 people have been arrested and are under questioning for suspected arson.
Although small rural towns, like Santa Olga, and outlying neighborhoods have been destroyed, the fires have primarily impacted forests, pastures, fields, and smaller, family-owned vineyards, killing historic 150 year old vines.
Firefighter corps from all over the country have been fighting the blazes nonstop using ground and air support, with help from the national government. Due to the multitude of fires and their ferocity, some locals have had to resort to fighting fires themselves, with firefighters sometimes not being able to respond to a call until hours after a fire has passed.
Local resources overwhelmed, the Chilean government put out a request for foreign aid, which many countries have answered.
A Boeing 747-400 SuperTanker jet, on loan from Global SuperTanker in the United States thanks to a generous donation from a Chilean member of the Walton family, arrived in Chile last Tuesday to help fight the fires. Capable of dumping nearly 20,000 gallons of water or fire retardant in a single run, the massive aircraft, staffed by expert pilots, has been making multiple daily trips since arrival, taking off from the Arturo Merino Benitez International Airport in Santiago and flying low over priority areas to drop water or retardant. The plane has become a viral celebrity on Chilean social media, trending under the hashtag #supertanker with many people posting pictures, videos, and even memes of the plane.
In addition to the SuperTanker, Russia has also provided the Ilyushin aircraft to help with combating the fires, and other countries, such as Uruguay, have also pitched in with firefighters, supplies, and money.
Thanks to the outpouring of support, the number of fires has diminished. Exact numbers are varied, but there's roughly 83 fires still being battled at last estimate on February 1, with 59 fires under control, and nine extinguished.
In solidarity for their countrymen, the Chilean people have also mobilized to help both the firefighters and those affected by the fires, running multiple donation and fundraising projects to collect money and much-needed supplies like water and nonperishable foods, and taking them to the affected areas.
At the moment, the fires have not affected any major tourism areas, although heavy smoke has been hovering over Santiago and the coastal areas of Valparaiso and Vina del Mar.
If you would like to donate to help Chile in fighting and recovering from these fires, Desafio Levantemos Chile has an official donation page available here.