Fly fishing is one of those traditional sports that has been undergoing a bit of a boom in recent years. For some of us it's a way to honor memories with family, for others it helps them to slow down and tune in or enjoy the primal instincts that arise in the stalking, catching and landing of the fish. If you are interested in taking part in our fly fishing extension, here are some of the most common questions we hear and their answers!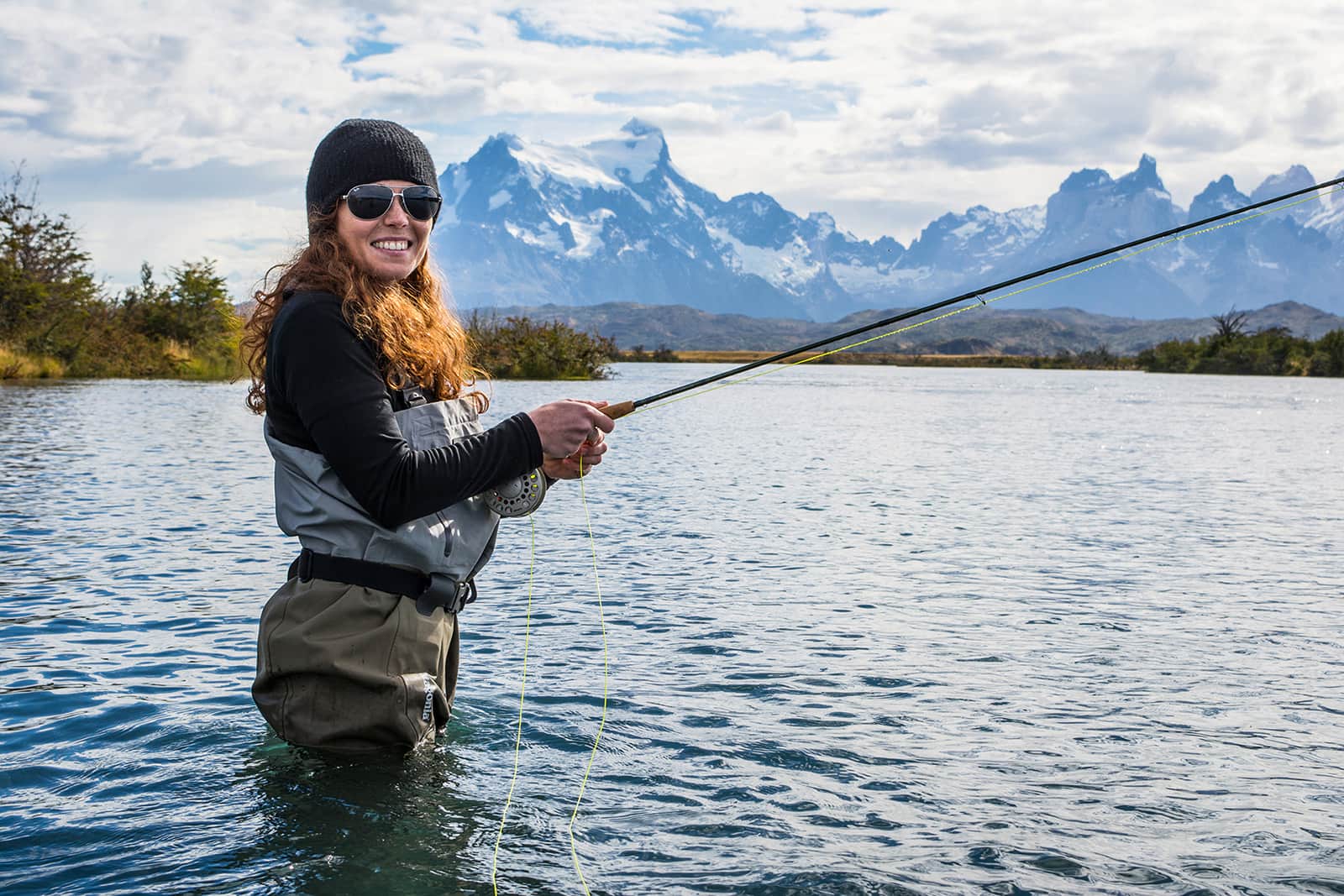 Fly Fishing in Patagonia

1. Where is Patagonia?
Patagonia is an area of land shared between Chile and Argentina. It covers the whole of the bottom end of the Latin American continent, everything including, and to the South of, Neuquén and Río Negro in Argentina and to the South of Valdivia in Chile. It also includes the Tierra del Fuego region that sits at the very southern tip of the continent and is made up of a group of islands. But our fly fishing extension program takes place in Torres del Paine National Patagonia.

2. Why go fly fishing in Patagonia?
Until recently, Patagonia was a wild frontier land that resisted man's attempts to tame it, and even today it retains its wild soul, making it the ideal place to test your skills against the rivers and fish here. The landscape of Patagonia is defined by the immense forces of clashing continental plates that have twisted it into a tapestry of jagged mountains and valleys, bordered with open plains. The backdrop to the fishing here is absolutely unbeatable, and through it all wind countless freshwater rivers fed by the glaciers and snowfall high up in the mountains, and are absolutely teeming with fish. It's often been said that Patagonia resembles what the wild spaces of North America, Europe and Australia would have looked like hundreds of years ago, before man made them his own.



3. Where can I go fly fishing in Patagonia?
There are any number of places to go fly fishing in Patagonia. The province of Chubut in Argentine Patagonia is said to contain one of the highest critically acclaimed groups of rivers in the world for fly fishing, attracting thousands of visitors - both national and international - each year. In Chilean Patagonia, the region of Coyhaique is also especially renowned for its fabulous fishing locations, but there is great fishing to be had throughout the whole region, including the area around the stunning Torres del Paine National Park. In addition, the main island of the Tierra del Fuego archipelago is home to the Rio Grande River, which flows from the Chilean side of the island to the Argentinean side, and is famous for its monster fish.


4. What fish will I catch in Patagonia?
Depending on exactly where you choose to go and when you choose to go there, you'll find Brown Trout, Sea Run Browns, Rainbow Trout, Brook Trout, Steelhead, Coho Salmon, King Salmon and Chinook Salmon. Happy fishing!
5. How big are the fish in Patagonia?
Resident Brown Trout and Rainbow Trout in Patagonia can reach up to 15 pounds, although 4-8 pound trout are more common. The average Sea Run Trout, on the other hand, is around 12 pounds, but there are some monsters that weigh in at up to 30 pounds! Salmon is the largest fish of all in Patagonia's rivers and can reach upwards of 40 pounds.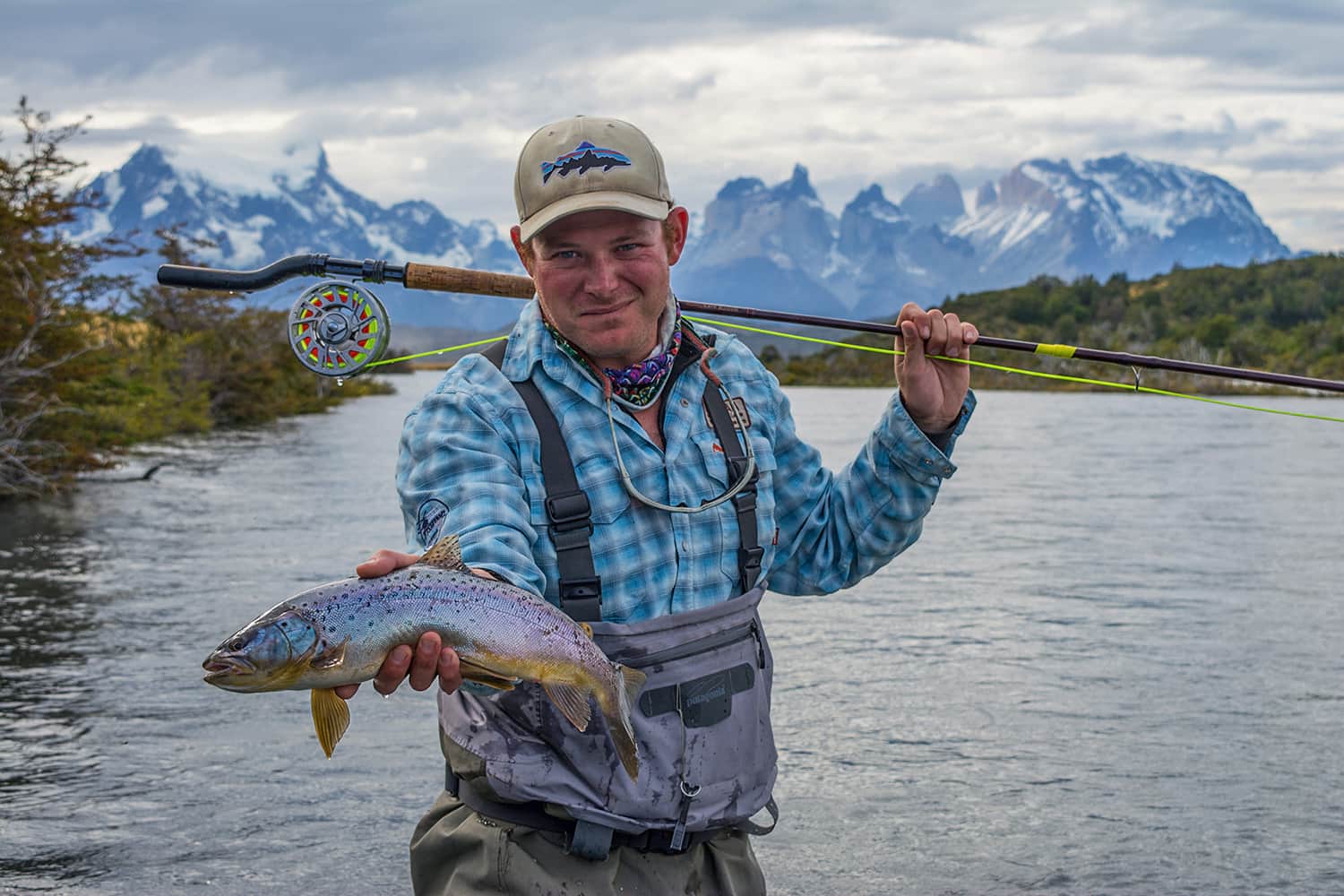 6. Is the fishing better in Chilean Patagonia or Argentine Patagonia?
If you've only got time to visit one side of the border, you want to make sure you're picking the right side. But the truth is that the rivers don't stop for the border and neither do the fish! Rest assured that whichever country you choose you'll be getting the same rich pickings, the same tranquility and the same dramatic scenery.
7. What will the weather be like in Patagonia?
As a result of its location at the end of the Earth, surrounded by oceans and struck through with a towering mountain range, Patagonia is prone to generally cold and unpredictable weather. It is especially well-known for its biting winds, which can bring with them unexpected downpours and snow flurries even in the middle of summer. The climate is cool and fairly dry overall but temperatures are cooler on the West coast that in the East due to warm ocean currents. Due to the many different kinds of landscapes in Patagonia, and the sheer size of the region, it's best to check the weather for your specific destination before you set off.
8. What's the best time of year to go fly fishing in Patagonia?
9. Do I need experience to fly fish in Patagonia?
With such a variety of fish in Patagonia's rivers and so many different kinds of rivers and lakes to choose from, there's something for every kind of fly fisherman in Patagonia. Whether you're looking for wide, slow-moving rivers or smaller, clear-as-crystal streams, you'll find it here. For newcomers to the sport, the fly fishing infrastructure has developed in leaps and bounds over the last few years so you'll be sure to find any kit, instructors or expert guides that you need to get started.


10. My group doesn't like fishing, what else is there for them to do in Patagonia?
If your family and friends are traveling with you but are less than enthusiastic about fly fishing, the good news is that there's no shortage of other outdoor pursuits in Patagonia for them to be getting on with. If they're more keen to spend their time on the river than in the river, Patagonia provides opportunities for kayaking, white water rafting or even sailing along the fjords. Alternatively, choose a location near the Andes Mountains and there'll be endless hikes and treks on offer in the breathtaking surroundings. Or they can head off on horseback and explore the region like a real Patagonian cowboy. What more could they want!
"Fly fishing is one of my favorite things to do because I love how connected I feel to the river. If you're interested in finding out more or in case you have any questions, please send me a message to reservations@cascada.travel. I can't wait to help you experience this for yourself in one of the world's most stunning places!"

-Chloe, Direct Sales Manager