Forget those hanging gardens, lighthouses and pyramids - you don't need to go back in time to the Ancient World to have your breath taken away seven times! We've compiled a list of the wonders of Chile sure to put you in seventh heaven..
1. Torres del Paine National Park
Come to the world's end, and feast your eyes on one of the most dramatic natural landscapes imaginable. Meet the local guanacos, pumas, condors and Patagonian grey foxes in their unspoilt natural environment and trek to the gasp-worthy Base Towers... You can marvel at the famous granite Torres and Cuernos, gaze into mirror-like lakes, and scale icy, blue-tinged glaciers.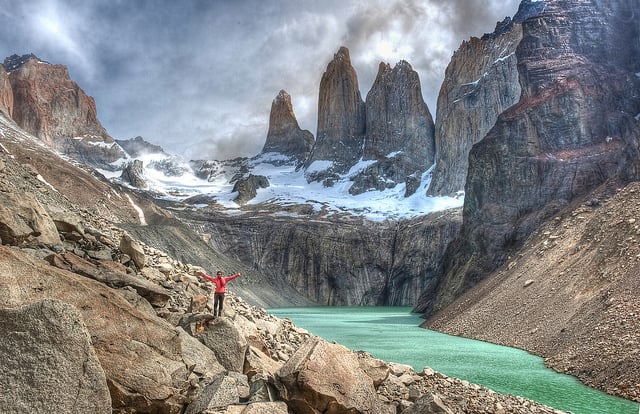 Nature on a immense scale in Torres del Paine.
2. Villarrica Volcano
If for you the idea of climbing an active volcano and peering into a bubbling cauldron of molten rock and lava sounds like something reserved only for the highly-trained and adventurous... think again! Looming regally over the Lake District town of Pucón, climbing Villarrica is the definition of a once-in-a-lifetime experience. You'll need to go with a guide, who will kit you out with an ice axe and crampons, but the sensation of having conquered a volcano should make trekking through all that snow and ice more than worth it.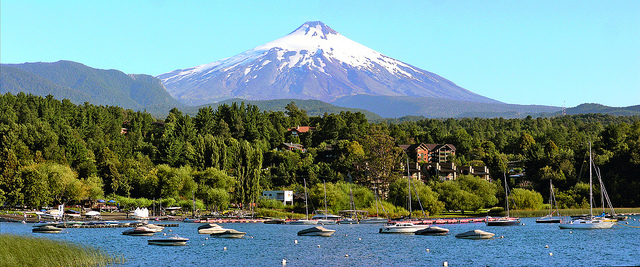 Red-hot lava is bubbling inside that snowy peak.
3. Easter Island
The most iconic image of Easter Island must surely be the imposing Moai heads, standing proud and mysterious upon the grassy slopes of this isolated Pacific island, 2,300 miles from the Chilean coastline... Named after the day of its discovery by Dutch explorer Jacob Roggeveen in 1722, this island and its secrets have long enchanted visitors, all bewitched by the enduring, age-old mystery of how exactly the Rapa Nui islanders manage to carve and move the enormous ancestral statues across the island...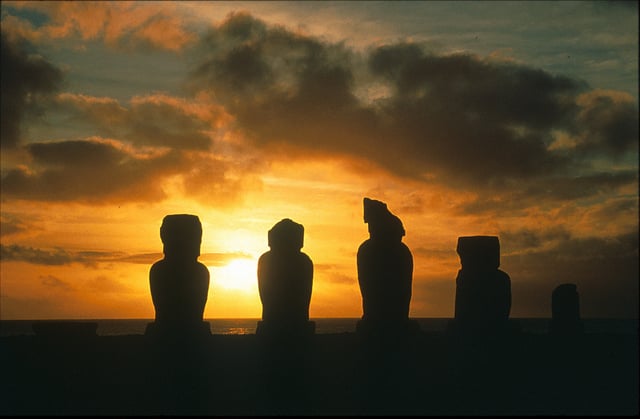 A spectacular sunset behind the Moai statues
4. Chiloé
A rainbow of colourful houses on stilts, UNESCO World Heritage-worthy wooden churches, and a tangled web of fascinating myth and legend, the thirty islands in the Chiloé archipelago are not to be missed. When night falls and smothering mists wrap themselves over the sea waters, watch out for the Calueche, a ghostly ship drifting through the archipelago, and keep an eye out too for the Pincoya, a fertility symbol appearing in the guise of a beautiful young woman, dancing upon the sandy shores, her long hair rippling in the wind...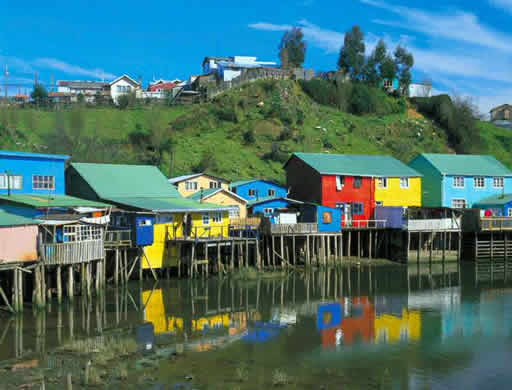 Colourful houses on stilts on Chiloé.
5. Valle de la Luna, Atacama
An otherworldly landscape of stone and sand carved out over the millennia by wind and floods, this moon-like valley is unlike anything you've ever seen before, with glistening salt caverns and mountains all quietly waiting to be explored... When the sun goes down, the whole valley is painted rich vermilion, gold and purple, and the emerging velvety darkness is flecked with clearly visible constellations of stars crowding the night sky.

The lunar landscape of Atacama...
6. Marble Caves
This stunningly beautiful network of caves within Lake General Carrera has to be seen to be believed... Six thousand years of lapping lake water has hewn these caves out of a calcium carbonate peninsula, and the dusky pink hues running through the kaleidoscopic marble swirls are the happy result of mineral impurities. The unmistakable blue hue comes from the reflection of the glacial meltwater of the lake, and varies according to the changing water levels. Nicknamed the marble cathedral and chapel, wending your way through the hallowed marble cloisters in a tiny boat is an experience you will never forget.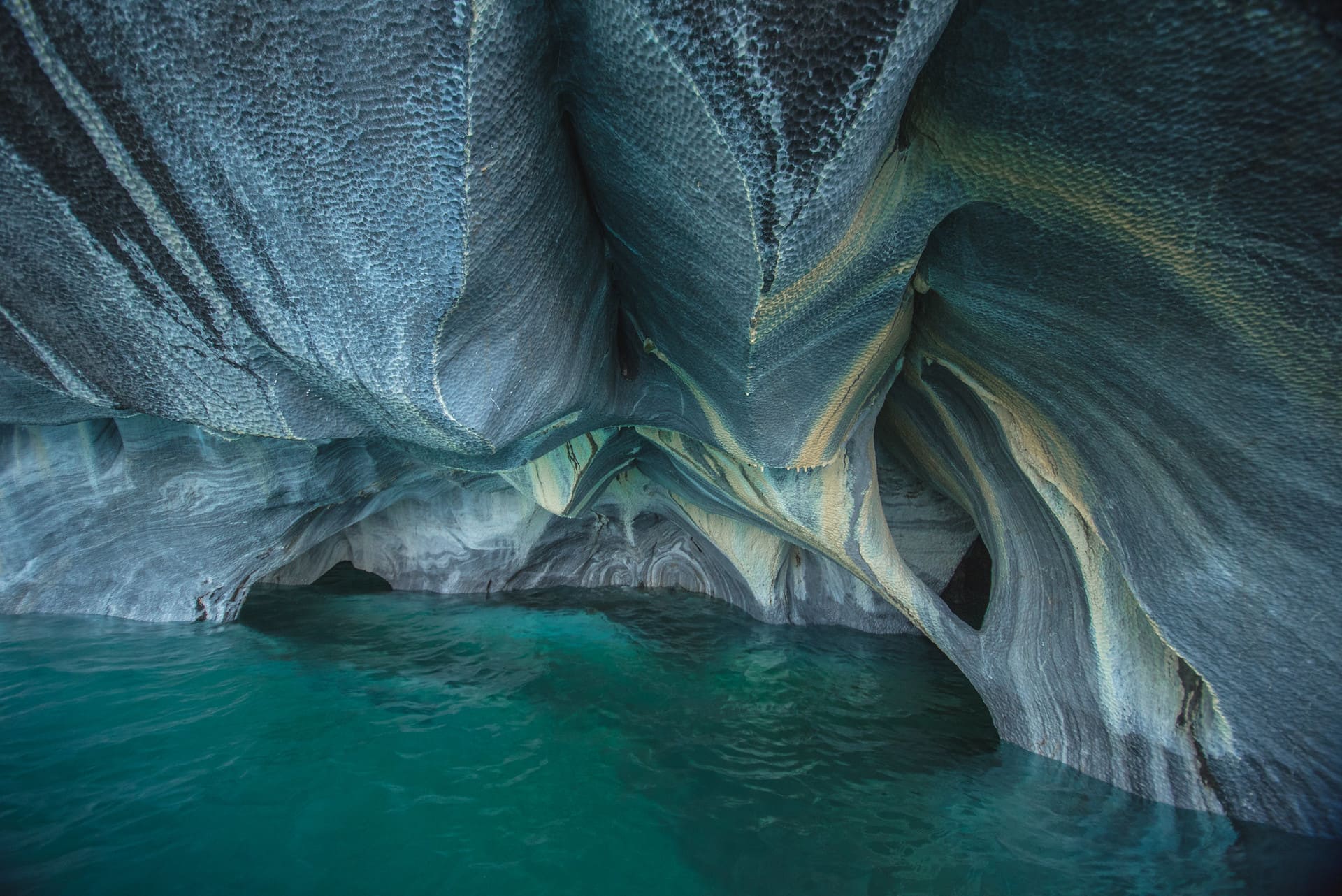 The mesmerising beauty of the marble caves.
7. Robinson Crusoe Island
Visit the island which inspired Daniel Defoe to pen his famous tale of shipwreck and swashbuckling adventure on the high seas. Alexander Selkirk, a young Scottish man, was marooned on the then uninhabited island in 1704, living on nuts and berries for four years until another British ship passed by and rescued him. Unsurprisingly, his tale of survival became famous when he returned to London, giving Defoe a basis for his own castaway tale. The principal island of the Juan Fernández Archipelago, azure Pacific waters wash pristine shores gazed upon by towering mountains and green-carpeted hills.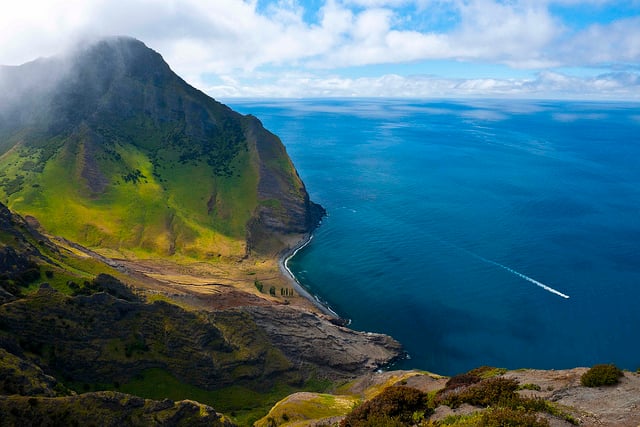 Being stranded here for a few days wouldn't be so bad...
Now it's up to you to come here and decide on the 8th wonder of Chile... let us know where you pick! Get in touch at reservations@cascada.travel and plan your adventure to Chile.