The capricious climate of Patagonia is one of the things that attracts thousands of visitors a year to experience this wild frontier. In the fierce Patagonian winds, rain and sleet clouds scurry across the sky at a pace, unexpectedly blotting out and then revealing the sun, constantly displaying the extraordinary scenery in a new light. That's all well and good, and makes for some unbelievable photos, but how do you pack clothing for a multi-day hike when there's no way of predicting what the weather will be like in an hour's time, never mind two days from now?
The answer is layers. Using multiple layers of clothing is not only one of the best ways of keeping warm in very cold weather, but it also gives you much needed flexibility when it comes to hot weather, rain, wind and everything else in between. Here's Cascada's guide to dressing the part for your Patagonia hike in layers, starting from the bottom up!
Feet
Socks
Your socks work hand in glove (or should that be foot in sock?) with your boots to protect your most important hiking assets; your feet. If you believe the hype, hi-tech walking socks can do everything from absorbing shock and improving your circulation to reducing moisture and preventing blisters. It's probably worth taking some of these claims with a pinch of salt, but the right pair of socks certainly can add to your overall comfort. For a hiking tour in Patagonia, you'll want to look for medium-weight synthetic socks with cushioned soles. Avoid cotton socks as these are slow to dry, provide no additional cushioning and do little to keep your feet warm.
Boots
Boots are one of the most important pieces of clothing for your Patagonia hike. So important in fact, that we put together a whole article dedicated to helping you choose the best boots for your trek.


Legs
Underwear
Building a successful system of layers starts right next to the skin, so don't make the mistake of underrating the importance of your underwear. Again, synthetic fabrics work best by reducing moisture and they are easier to wash and dry. If you're worried that your pack might rest on your waistband and cause discomfort, you might find that seamless underwear is the best option for you. When travelling to Patagonia in the cooler shoulder season (in early spring or late autumn) long thermal underwear is also recommended for added warmth.
Trousers
In reality, you might want to opt for a pair of shorts as well as trousers, since you may find you need both to avoid getting too hot or too cold as the weather fluctuates. Alternatively, you could choose to invest in some convertible trousers, which have a zip-off section on each leg to transform them into shorts. Zipped pockets are also a bonus, allowing you to keep small objects at hand securely. If your trousers get wet, and in Patagonia there's always a good chance of that, you could run into problems with friction and chafing, so it's best to opt for a synthetic fabric that will dry quickly. Look out for trousers boasting 'wicking' technology. These are modern fabrics made of polyester that are designed to draw moisture away from the skin and spread it evenly across the fabric so it dries more rapidly.
Waterproof Trousers
No amount of clever technology can prevent your trousers from getting wet if you're caught out in a downpour. Aside from the cold, wet trousers restrict movement and can make it almost impossible to hike. A lightweight pair of waterproof trousers will slip easily over your everyday hiking trousers and keep you dry when it counts.


Core
Base Layer
The main job of the base layer is to keep you covered and to ensure that perspiration is drawn away from the body. Since it will be in direct contact with your skin at all times, your base layer should be made from synthetic fabric and for unpredictable Patagonia you should consider taking both long and short-sleeved tops to ensure you are prepared for any eventuality.
Insulating Layer
This is the layer you'll add when the temperature starts to drop, so a fleece jacket or medium weight sweater is ideal. Alternatively you might prefer a down-filled, or synthetic-filled jacket. Don't worry about wind or rain proofing, that's the job of the next layer.
Rain and Wind Proof Layer
When it starts to pour in Patagonia, some people advocate just getting wet as the sun is often along soon after to dry you out. However, most people who try that strategy once, don't try it again. Adding a lightweight waterproof jacket to your pack won't weigh you down and you're guaranteed to appreciate it when dark clouds loom overhead. It should also keep the wind from blowing right through your fleece underneath.
Hands
Wool Gloves
A pair of regular wool gloves will keep your hands warm in moderately cold temperatures whilst still allowing you the dexterity to use your hands.
Waterproof Gloves
These tend to be warmer and bulkier than standard wool gloves and come with an inbuilt synthetic shell to protect your hands from the wind and rain.
Head and Neck
Bandana
A scarf or bandana is a really handy item to take with you on your trek due to its sheer flexibility. The bandana is the champion of multitasking and can be used to protect your neck from the sun in hot weather, or as a scarf to keep warm when it's cold as well as doubling as a hand towel, serving as padding for areas that your pack is rubbing or being used to tie your hair out of your eyes, amongst many other uses.
Sunglasses
Choose a pair that is comfortable and you enjoy wearing, but above all make sure that contain proper protection from both UVA and UVB rays. The sun in Patagonia is particularly strong so protect yourself with larger lenses, or better still, wraparound glasses that cover your whole field of vision.
Hat
Ideally you'll need two hats: a summer hat with a wide brim to prevent heat stroke in hot weather, and a woolly hat that covers your ears to keep you cosy in the cold.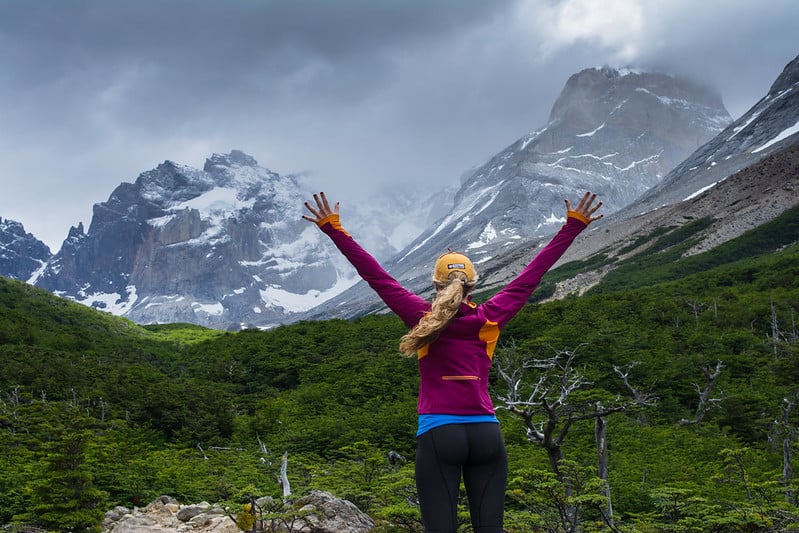 Now you have all you need to know to get packing for your trek in Patagonia. Get more tips by checking out our blog.