There's much more to Chile than what you read in the guide books. We want to share a little bit of the hidden Chile with you, including real tips from real people. So we're taking a peep into the hometowns of the Cascada Expediciones' staff. Our staff come from all over this rich and varied country, from Patagonia in the deep south to the Atacama Desert in the far north, so who better to ask for recommendations when visiting Chile?
In the first article of this new series, the lovely Lorena - one of our
team of expert travel consultants
- tells us everything about her hometown Calama, in her own words:
1. Where is your hometown?
I was born in Calama, a city in the Atacama Desert in the north of Chile, only an hour and a half away from the city of San Pedro de Atacama.
2. Tell us a bit about it!
Calama started out as a small city but it's gradually getting bigger. I'm not sure of the exact history, but it more or less first came about as a kind of inn or waystation since it was at a crossroads of two Inca trails, and then it really developed with the arrival of the Spanish colonists.
Along the years it's kept growing because it's very near to the largest open-pit mine in the world, called Chuquicamata. 2007 was an important year for Calama because the Chuquicamata mining camps closed and all of the workers and their families were moved to Calama city, where a kind of satellite town was built outside of the city (about 10 to 15 minutes away) and houses were given to all contract workers as part of the move. This move was made because the mine was getting bigger and eating up the land where the workers used to live.
3. What's the best thing about living there?
The best thing about the city is definitely the evenings, the way you can see the stars and the moon in the very clear, dark nights. If there's anywhere in the world that I can really relax and completely clear my mind, that's the place... at the end of the day, home is where the heart is.
4. What are the top attractions in your hometown?
The important thing to remember when visiting this part of Chile is that you have to like deserts if you're going to like Calama. The vast majority of Chileans, for example, are used to green cities, and in Calama everything is very dry and it's really more of a working city than a tourist city.
But the area around Calama ...that's something else entirely! For me, you really shouldn't miss out on a tour of the Chuquicamata mine since it's the best way to learn all about the story of copper mining, which is the main pillar of the Chilean economy.
It's probably something you'd only want to do once, but if you're interested in the culture of the country and you want to understand its current circumstances I'd 100% recommend it. Not to mention the fact that it's the biggest open-pit mine in the world.
If you've got time I'd also recommend a visit to an underground mine because it's like visiting another planet... unless you get claustrophobic of course!
The region's best and biggest attraction is undoubtedly San Pedro de Atacama, a town in Chile's high Andean plateau where you can see people who still live a traditional way of life strolling through the streets and you can visit the museum in the centre of the city to see ancient mummies from the region in an extremely well preserved state.
I'd recommend you visit the Valle de la Luna (Valley of the Moon) and if you can be flexible with your dates make sure you arrange it so that you'll be there on a night with a full moon; it's an extraordinary adventure and you'll never forget it.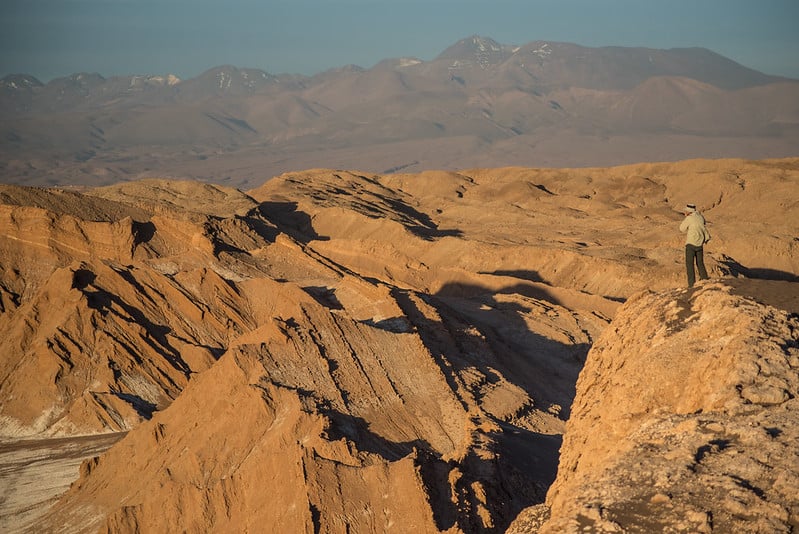 Next to the Valle de la Luna is the Valle de la Muerte (Valley of Death!), which is the perfect place for adventure sports enthusiasts... and even beginners can have a go at sandboarding. It is really tiring but if you manage to stand up and sandboard just once it's worth all the effort.
*Insider tip: Bear in mind that you will end up with sand everywhere! And if you can, take along someone who's more into watching than taking part, that way they can stay at the bottom of the sand dunes taking some great photos of you in action!
The Tatio Geysers, Pucarás (the ruins of earthen fortresses built by the indigenous Andean people), altiplanic lakes...etc are some of the other major attractions that you could visit.
Those of us who live close to the Pozo 3 natural springs go there to enjoy this great attraction in summer (to take a dip and escape the heat) and it's really a perfect place to switch off.
Best of all is the vibe that you get at night, which is both bohemian and rural at the same time. I'd recommend that you go to relax on the beach there and watch the people coming and going, there are lots of young people working there who speak great English and have decided to live there because of the pace of life and their daily contact with tourists. They'd be happy to answer any questions you have about places to visit or any tips you might need.
5. Does your hometown have a special regional dish that you enjoy?
Personally, I absolutely love Calameñan sweetcorn. It's whiter in colour and softer than regular sweetcorn... it's amazing and really moreish!
6. Are there any special carnivals in your hometown?
Well one of the better known carnivals is the Our Lady of Guadalupe of Ayquina Festival, a religious festival which is actually even more well-known that the Carnival in San Pedro de Atacama. The village of Ayquina is around 70 kilometres (44 miles) from Calama and throughout the first days of September you'll see a large number of people (pilgrims) walking towards Ayquina.
The celebration has pre-hispanic roots related to the fertility of the Earth. It's a festival that is mingled with the celebration of the apparition of the Virgen of Guadalupe who, according to tradition, appeared to a boy in the Tiara region.
7. Where's your favourite place to eat in your hometown?
I don't think there's anywhere in Calama itself that serves regional dishes, so what I'd recommend is that you travel to San Francisco de Chiu Chiu around 30 to 40 minutes from Calama. It's a small village with a river running through it and its own vegetable gardens, just imagine eating vegetables harvested from the driest desert in the world! That really is an experience! Near to the main square you'll find restaurants, I think there are about four of them and they're really very good.
What I recommend you try are obviously the traditional regional dishes like patasca (a stew made from corn, potatoes, vegetables and meat), a barbeque of grilled llama meat and river trout (unmissable!).
When you're done eating you can go and visit the church in the town, which is one of the oldest in the whole of Chile.
8. What do people do on the weekend in your hometown?
Since the city is in the middle of the desert we don't have many parks or a beach to go to but there are some options. Normally people go to El Loa Park which is a pretty park in the Calameñan style and it's where most of the main activities take place, such as El Loa Province Festival, El Loa Jazz Festival, Calama's Anniversary Festival and the Chilean Independence Celebrations.
The park also has games for children, a lookout tower inspired by the Pucará (a pre-hispanic culture from the region) and handicraft shops. It's also home to the city's Archaeological and Ethnological Museum.
9. If you could describe your hometown in one word, what would it be?
Warm!
10. What's the weather like in your hometown?
I think it's great! The climate is really dry and the best thing is sitting outside in the middle of the day enjoying the sun, but the nights on the other hand can be really cold so it can be tricky to decide what to wear!
You might go out to work in the morning with your coat, gloves, scarf and everything covered up but by midday you'll see that it can get up to 30°C (86°F) and then at night the temperature drops again and can dip below zero. In September we get a lot of wind that picks up sand from the desert and then in summer we get what's called a "Bolivian Winter" where rain storms come over from Bolivia. My essential top tip no matter what time of year you visit is to use a lip protecting cream or salve as your skin can get very dry.
11. If I visited your hometown for a day, where would we go and what would we do?
Well I'd recommend that we go for a tour of the Chuquicamata mine and then go for a bite to eat in San Francisco de Chiu Chiu before taking a walk in Loa park. Obviously you'll then want to travel on to San Pedro de Atacama.
12. Tell us one thing about your town that most people don't know!
The Calama region and the surrounding areas used to be part of Bolivia!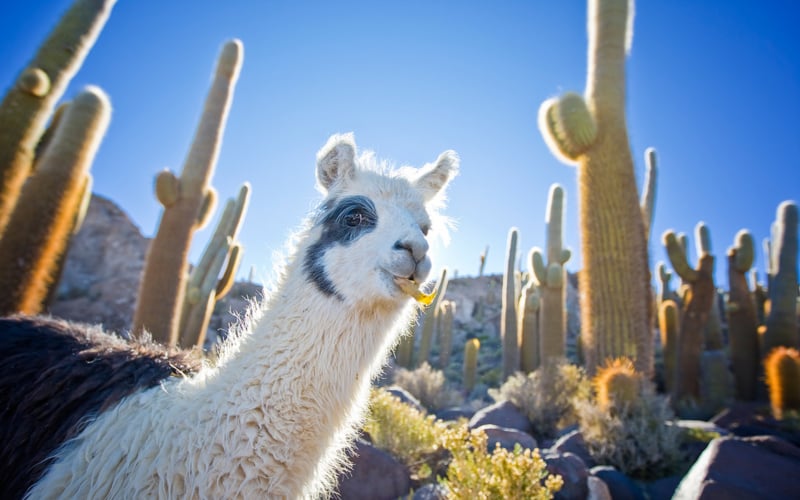 Thanks to Lorena for her spectacularly detailed report of life in Calama! Check out Cascada's tours in the Atacama and Altiplano to experience some of these highlights for yourself. Look out for future articles in this blog series, from our Cascada Expediciones team!