Here at Cascada, we know that having children does not mean your thirst for adventure has been magically quenched! Starting a family is a wonderful adventure in itself and it makes sense to continue it by showing your little travelers the magic of the world you've brought them into! So, are you sitting comfortably? Then we'll begin - let us briefly explain how to travel with tots and adventure with adolescents to EcoCamp Patagonia. First off, here is the EcoCamp policy with regards to young wildlife safari explorers.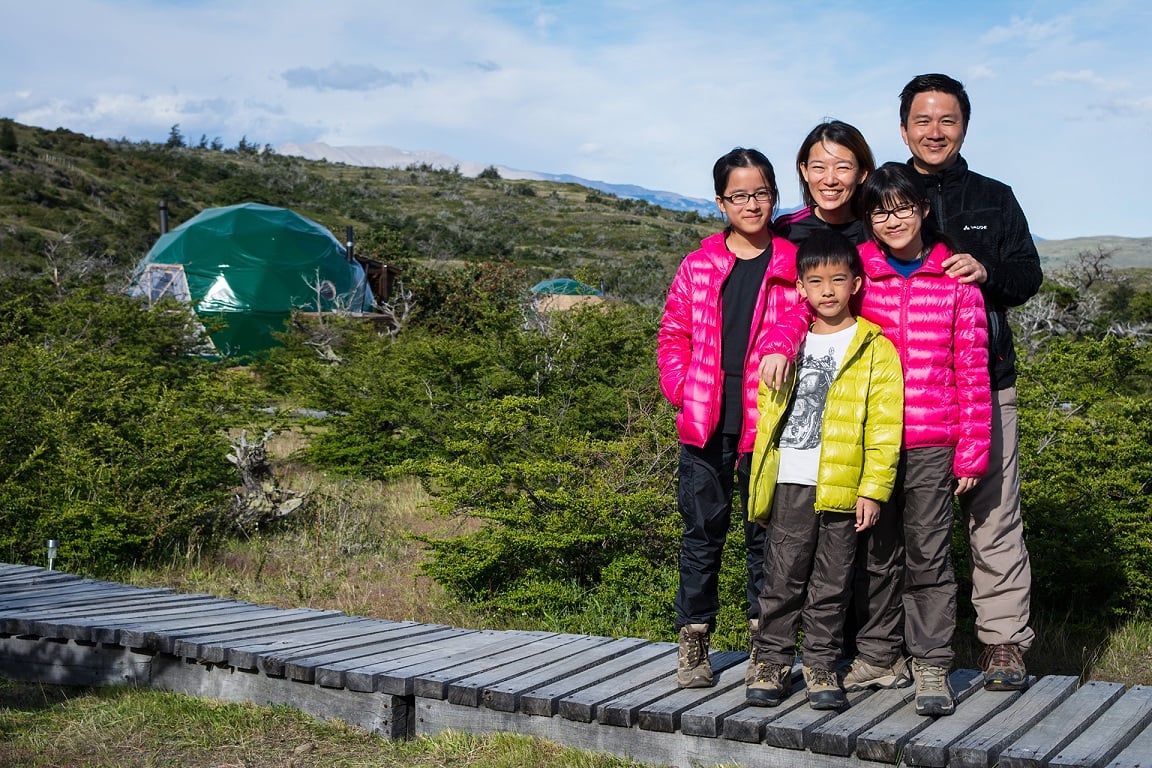 EcoCamp's Children Policy
1.The absolute minimum age for children wanting to stay at the EcoCamp is 6 years old at the time of travel, or within the same month.
2. All those between 6 and 12 years are considered to be children.
3. Children between 6 and 12 years can receive up to a 50% discount in our Patagonia Wildlife Safari Program.
4. All children must be in good health and able to cope with physical, outdoor excursions in variable weather.
5. Children between the ages of 6-9 may take part in all Wildlife Safari nature excursions marked with the difficulty category "Easy" (e.g. the Grey Glacier boat excursion, nature walks, etc.) without the company of a private guide.
6. Children between the ages of 6 -9 will NOT be able to participate in the higher-level difficulty activities of the Wildlife Safari program, the 7 Day W Trek, or the 5 Day Short W Trek (e.g. base of the Towers Trek).
7. Children between the ages of 10 and 12 years may participate in the higher difficulty activities of the aforementioned programs under these conditions:
EcoCamp must receive a written and signed declaration from a guardian stating their responsibility for the child, that the child has previously undertaken trekking activities for a period of over 8 hours, and is in good physical health (EcoCamp will provide this form).
The family must hire a private guide

in case the child cannot perform well during the hikes. This rule has to exist because we must bear in mind the other guests and ensure that they too have a good experience during the excursion!
8. Cascada Expediciones and EcoCamp Patagonia are against the exploitation of human beings in any form, particularly sexual, especially when it can affect children. We take all possible measures, for our staff, suppliers and customers to prevent this. In case of minors traveling with us, we ask the accompanying adults to provide proof that they are parents or close relatives. All our suppliers are required to prevent the exploitation of human beings in any form as well. Regarding our staff, we do not work with minors and comply with existing labor legislation in Chile.
* Keep in mind that you will be detained by customs if you are traveling with children and both parents are not present. Grandparents or legal guardians traveling with children under the age of 18 must present proof of custody or letters from the child's natural parents authorizing the trip.
But what can I do if I have children under 6 years old? We truly regret that children under 6 years cannot stay in our domes at the EcoCamp. But why not contact us to plan a tailor made trip with your kids!

To find out about more information about child discounts and how they work,
Get in touch with our team now
so we can answer your questions.