"She's called Sister -- a female that's seven years old."
It took no more than a simple glance for professional puma tracker Diego Araya to identify the exact mountain lion that I had laid eyes on that afternoon. She was strong, confident and majestic, sitting quietly just a few meters from a popular hiking trail in Torres del Paine National Park.
To me, an elusive puma sighting seemed like a stroke of luck. But for an expert wildlife guide like Araya, spotting Patagonia's big cats and other native fauna is all part of a day's work.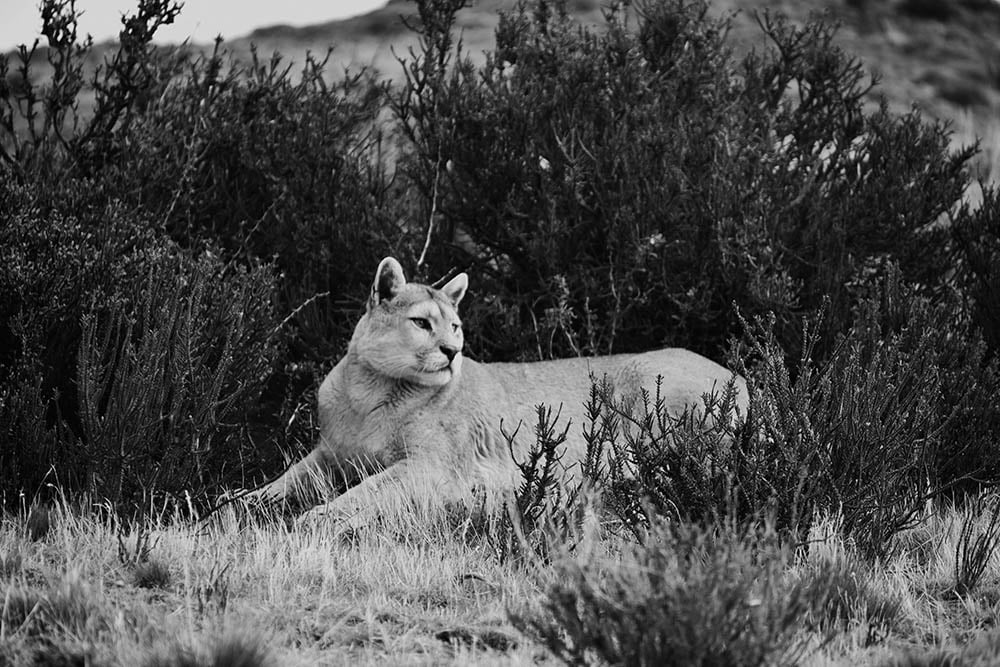 Sister sitting near the trail. // Photo Credit: Jenny Tolep
Turning to the Wild
Araya has always been drawn to nature. A few years after graduating, his passion for animals and the outdoors drew him to the south of Chile in hopes of pursuing wildlife photography in Torres del Paine.
While working on his photography portfolio, Araya began guiding tour groups. He quickly noticed that many travelers were also interested in wildlife photography, but there wasn't a service to teach travelers where and how to find the animals. To fill this gap, Araya began offering puma tracking tours and introduced travelers to an entirely new outdoor experience.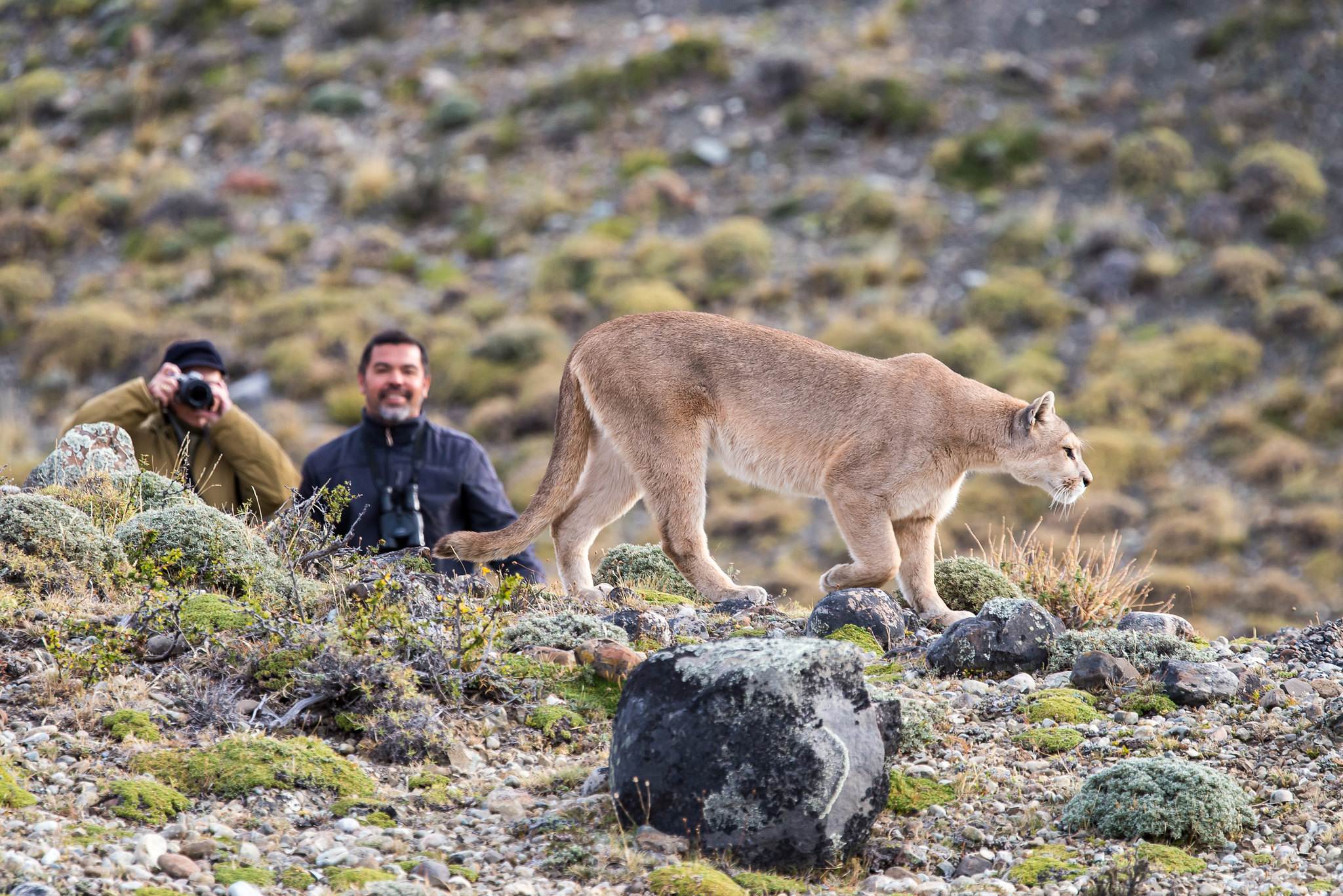 Using just a pair of binoculars, clues from nearby animals, patience and expert knowledge, Araya has been showing travelers the beauty of pumas and other native fauna in Patagonia for more than 15 years.
I asked Araya who typically goes on these tours. "People who spend their free time traveling around the world looking for wildlife," he answered confidently. Araya explained that the programs are designed for people who truly love animals and care about protecting them.
Examining Human Impact
Around the world, we have seen the devastating impact that humans have had on animals and the habitats they live in. Elephants killed for their tusks, sharks for their fins and gorillas for an exotic meal. Meanwhile wild land is destroyed to make way for new shopping malls and houses, as the impacts from climate change make it even more difficult for flora and fauna to survive. According to a 2019 United Nations report, up to one million of the world's 8 million species are now threatened with extinction.
There are many steps we can take to protect animals and natural habitats, one of which is responsible tourism. If done in the right way, wildlife tourism can keep animals safe and allow them to live freely in their environments. The industry helps establish new protected land and regulations, while also deterring people away from harmful human activities. When governments and poachers realize that this type of tourism is profitable, they are more likely to preserve nature and keep animals alive.
Today it is illegal to hunt pumas in Chile. However, a farmer may kill one if the puma attacks his/her livestock on private land. But in many cases, Araya's tracking tours have helped protect pumas that live or wander into these unsafe areas.
The tours are run on both Torres del Paine public land, as well as nearby private land. When accessing private land, the tour group must pay a fee which generates a profit for that farmer or landowner. "They [the puma tours] are now the main income for those owners," said Araya. "It expanded the conservation of the park to lands that were not necessarily safe for pumas."
Establishing a Different Relationship
This shift in behavior has also changed how pumas act around humans. Once skittish and afraid, the Patagonian puma can now mostly roam freely without fear of being killed. "We reestablished a different relationship with pumas [in Torres del Paine] and it could be a lesson on how to rebuild a relationship with pumas somewhere else too," said Araya.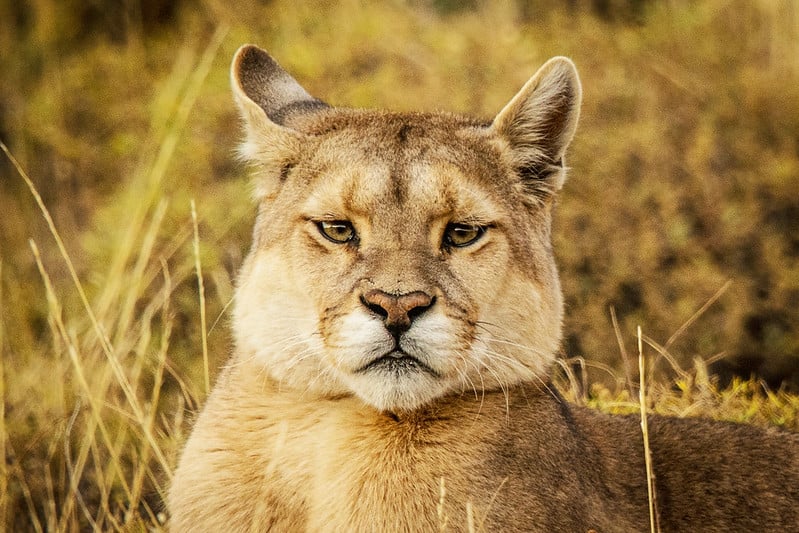 Stigmas are also changing. According to Araya, attacks are extremely rare and have mainly happened with people who are practicing sports [ex: running], in which the puma confuses people with prey. Pumas have been around Patagonia for 13 million years and they evolved without using humans as a food source. The myth that pumas want to attack and eat people is simply not true.
I thought back to my moment with Sister on the hiking trail. My heart was racing from excitement, but I never felt scared. She just sat upon the grass and looked calmly at me and the others in my trekking group. Soon she stretched her legs and wandered off into the distance.
This type of experience is what Araya wants to give to travelers. "We try to give our clients that sort of intimacy, that sort of close encounter or wild moment that is so difficult to get in modern life."
Araya also educates his travelers about tracking and how we should behave around pumas and other fauna. Even if a puma does not consider humans a food source, it is still extremely important to maintain a safe and respectable distance. A traveler should never touch, feed, interfere or get too close to wildlife.
Spotting Sister along the hiking trail is something that I'll never forget. It's these types of firsthand experiences that can truly change how we connect to and understand nature.
For this reason, Araya made puma tracking his life work. His tours offer a unique perspective of our surroundings--- a chance to experience the magic of Torres del Paine and the beautiful animals that live within it.
To learn more about puma tracking with Diego Araya, check out Cascada's 6-day Puma Tracking package. It's a chance to experience Patagonia's wild side and admire the beauty of the park's natural landscapes.