Hiking in Patagonia isn't exactly a fashion parade and you could be forgiven for letting your regular beauty regime slide. The chances are you won't run into too many people on your hike, even if you stick to the less remote hiking trails such as the popular W Trek in Chile's Torres del Paine National Park, and the few people you do come across will be in exactly the same au naturel boat as you.
That said, there's nothing wrong with resisting the urge to let it all hang out, especially if you happen to be hiking with someone who you prefer to see you at your best. And remember, good skin and hair care on the trail can be as much about caring for your health as worrying about scaring off your significant other! With that in mind, we've put together the Top 10 Beauty Essentials to pack for your Patagonia hike.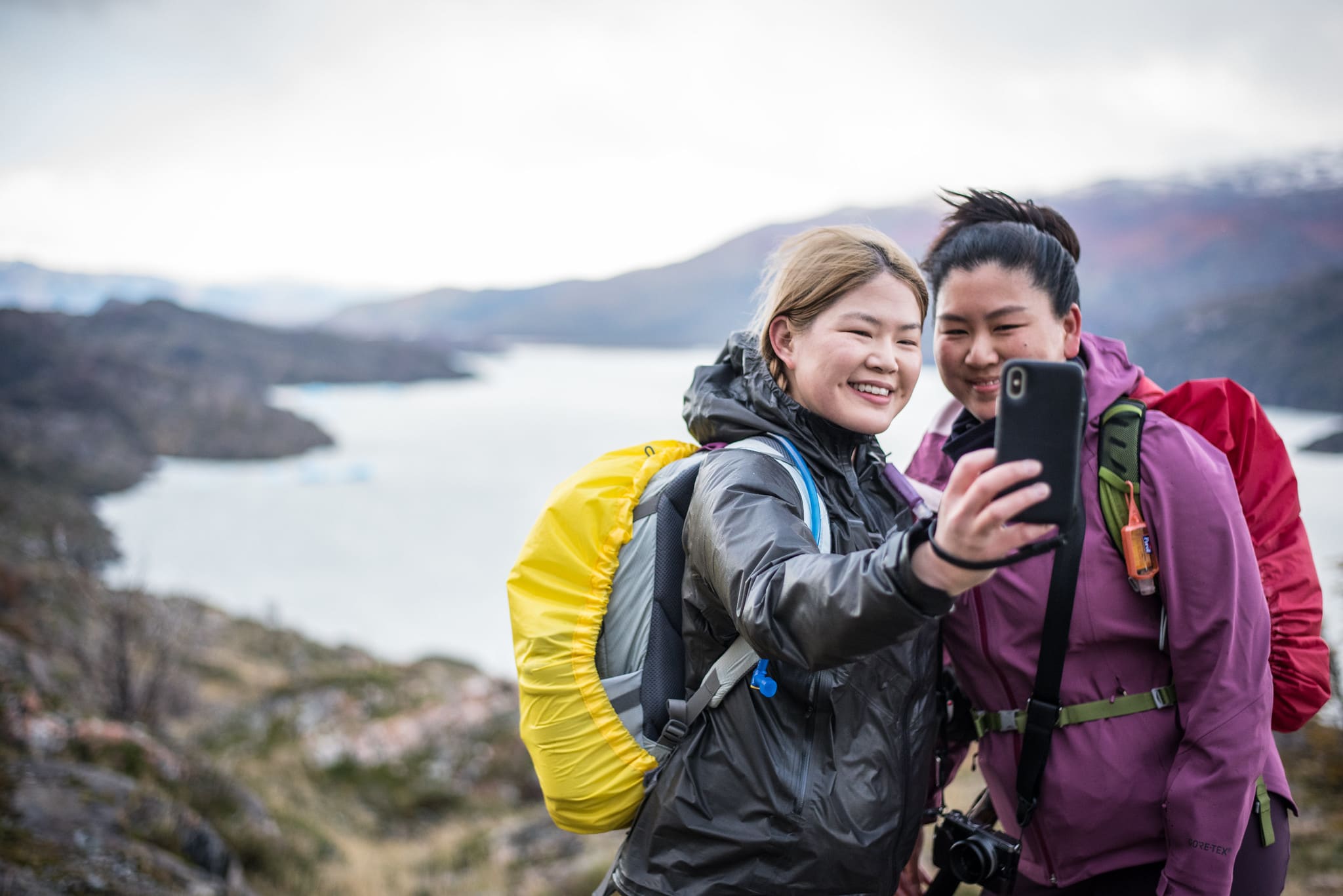 1. Sunscreen Wipes
Sunscreen is an absolute Patagonia must-have, even if you don't actually see much of the sun itself. Down at the bottom of the Earth the sun's rays are much more potent than what most visitors are used to back home. A day's hike could leave your skin feeling dry and cracked at best, and red and sore at worst! But sunscreen doesn't have to involve heavy bottles that are prone to mid-trek explosions in your backpack. You can now buy sunscreen wipes in individual sachets or multi-packs for easy application and much less mess!
2. Dry Shampoo
Patagonia is a hikers paradise and it has a great network of hotels and remote refugios for weary trekkers to enjoy a hot shower and emerge with locks that flow just as freshly and cleanly as the Patagon rivers themselves. However, if you're planning to camp at a site without showers on your hike, all is not lost! Dry shampoo is available in large or travel-sized bottles and works as a simple powder spray that absorbs excess grease to leave hair looking and smelling great.
3. Intensive Moisturiser
Patagonia's notoriously fierce winds leave hikers in no doubt that they've reached an untamed haven at the end of the Earth and are great for clearing away the cobwebs. For your skin, on the other hand, all of that wind, frequent cold rain and even snow is all a bit of a nightmare. But there's no need to sacrifice healthy skin for a once-in-a-lifetime hike. Just use a more intensive face cream and hand cream than you would at home, and pay special attention to problem dry patches before they get out of control.
4. Wet Wipes
Wet wipes are a beauty lifesaver for almost every possible scenario. Even if you're only heading for a picnic in your local park you'd be well advised to throw a small pack of wet wipes into your basket. For your Patagonia hike, wet wipes can be used for hand washing when nature calls in the backwoods, for an all-over quick wash in your tent or even to freshen your face and neck in hot weather. Just remember to carry a small bag to pack out your used wet wipes until you find a bin.
5. Bandana
Your hair hates cool temperatures, strong sunlight and powerful winds, all of which Patagonia has in spades. To save your hair from a three-fold battering, wrap your 'do in a stylish bandana which will stop it whipping around in the wind. A bandana is also especially useful if you have to go a few days without washing your hair; simply cover the whole mess up, tie a cute bow and call it "hiker chic".
6. Eye Mask
It's hard to look your best without a good night's sleep. But if you're camping out for any stretch of your Patagonia hike you'll soon discover that tents don't come with curtains. Some areas of Patagonia receive up to 16 hours of sunlight at the height of the summer hiking season, and if it's light outside your tent, you can be it will be light inside too! A simple eye-mask will block out unwanted light, helping you on your way to a longer night's sleep so you awake ready to hike and looking great too.
7. Tinted Moisturizer with SPF
It's great if you've got the confidence to rock a naked face whilst you're hiking in Patagonia, where the wind and fresh air is really all you need to put the roses in your cheeks. On the other hand, if you're not quite ready to bare all try substituting your heavy foundation for a lightly tinted moisturiser instead. That way you won't find that your face starts to melt as soon as the going gets tough and if you choose a brand with added SPF protection you'll even have an extra line of defense against any potential sun damage.
8. Blister Patches
They do say that the only beauty accessory that you ever really need is a beaming smile and here at Cascada we're inclined to agree. However, if you've ever tried to smile with a blister that feels like it's the size of Mount Fitz Roy on your heel, you'll know that it can be easier said than done. Specialist blister patches differ from regular band-aids since they're padded and act as a second layer of skin to prevent further rubbing in your boots.
9. Sunglasses
Sunglasses are not only perfect for protecting your eyes from the strong rays of the Patagonian sun, they're also the perfect way to hide a multitude of hiking beauty horrors. Large lenses are ideal for providing the greatest level of protection and if they're really big they'll even cover up half of your face whilst they're at it. Under-eye bags and puffy eyes can be instantly disguised behind a big pair of sunnies. Just make sure they have SPF protection built into the lenses too!
10. Lip Balm with SPF
When you're busy protecting your skin, eyes, hair and everything else from the sun, it's all too easy to forget your lips, but they're just as likely to suffer from sun damage as any other area of skin that you leave unprotected. Invest in a good quality moisturising lip-balm with sun protection to keep your pout perky for the whole of your Patagonia hike.