Get chilly in Chile on a trek through the winter heart of Torres del Paine!
When one thinks of Torres del Paine National Park, the classic W Trek instantly comes to mind. The two are synonymous. The W offers the absolute best of Torres del Paine: the Grey Glacier, Los Cuernos, French Valley, the Base of the Towers, and so much more. People hike it and say that it is an unforgettable and life-changing experience, being able to see Patagonian nature up close and personal, in a place where the elements still reign supreme and mankind is only a tiny dot on the vast landscape. Many agree that it's a bucket-list destination.
But what if you could see the captivating sights of the W trek like few have ever seen them before? What if you could be among the rare few to see a different side of this wilderness? What if you dared to challenge yourself and take a chance on something new?
That's what the 7-Day Winter W Trek is all about, and it is now (Winter 2022) available!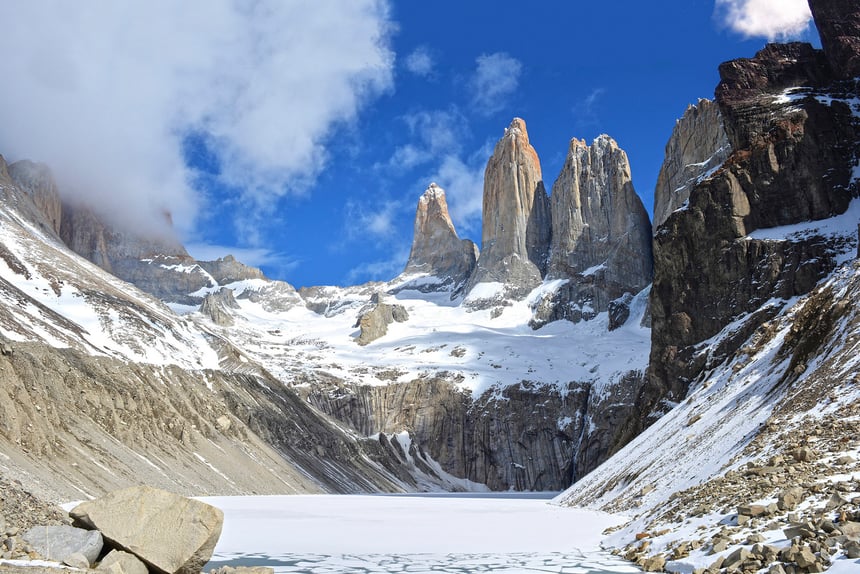 Cascada Expediciones is offering the W trek program during Patagonian winter, giving visitors unparalleled access to the snowy trails of almost completely empty Torres del Paine National Park, and showcasing the landscape in all its isolated, peaceful beauty, covered in the sparkling snow and ice of a truly wild winter wonderland.
Our 7 Day Winter W Trek goes to all the highlights: the base of the Towers, Grey Glacier, French Valley, and the Cuernos Trail. At night, you will either stay at sustainable dome hotel EcoCamp Patagonia or in one of the park's refugios or campsites, complete with delicious meals and the pleasurable company of your tour group and guide. All you need is your winter gear and a sense of adventure.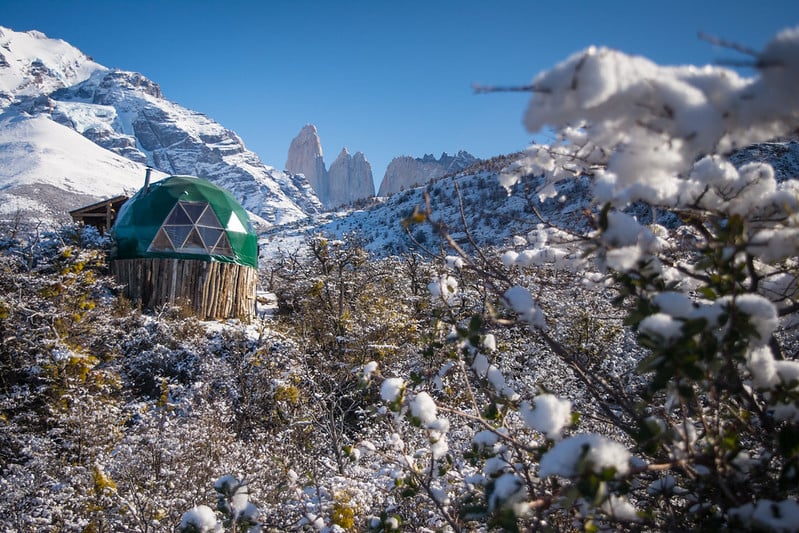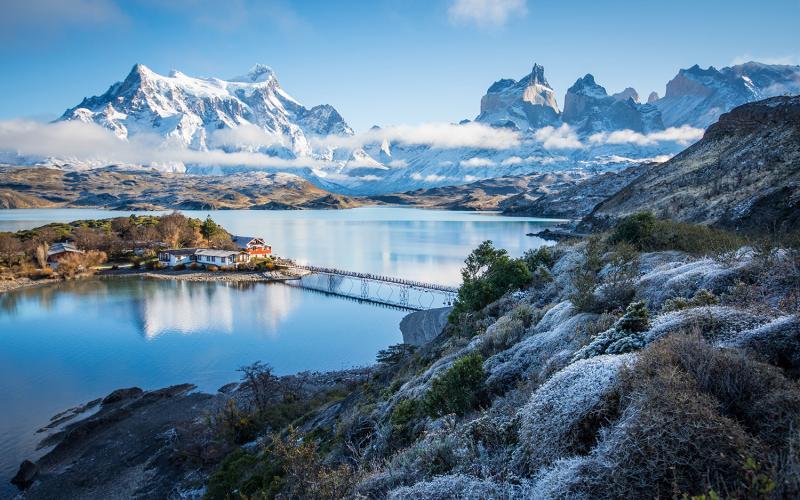 Why should you hike the W trek in winter? Here's just a few reasons:
1) No Crowds! You and your group will be among the few in the park - it's entirely possible that you won't encounter any other human beings during your time there. Torres del Paine essentially shuts down after high and low season, so if pure, wild, untouched nature is your cup of tea, wintery Patagonia has that in spades.
2) Stunning Winter Landscapes. If you thought the jagged peaks, rolling pampas, and sprawling glaciers of Torres del Paine were impressive before, imagine what they will look like covered in a coat of spotless, white snow, untouched save for maybe an animal pawprint. This trip is perfect for photographers and people who love winter landscapes.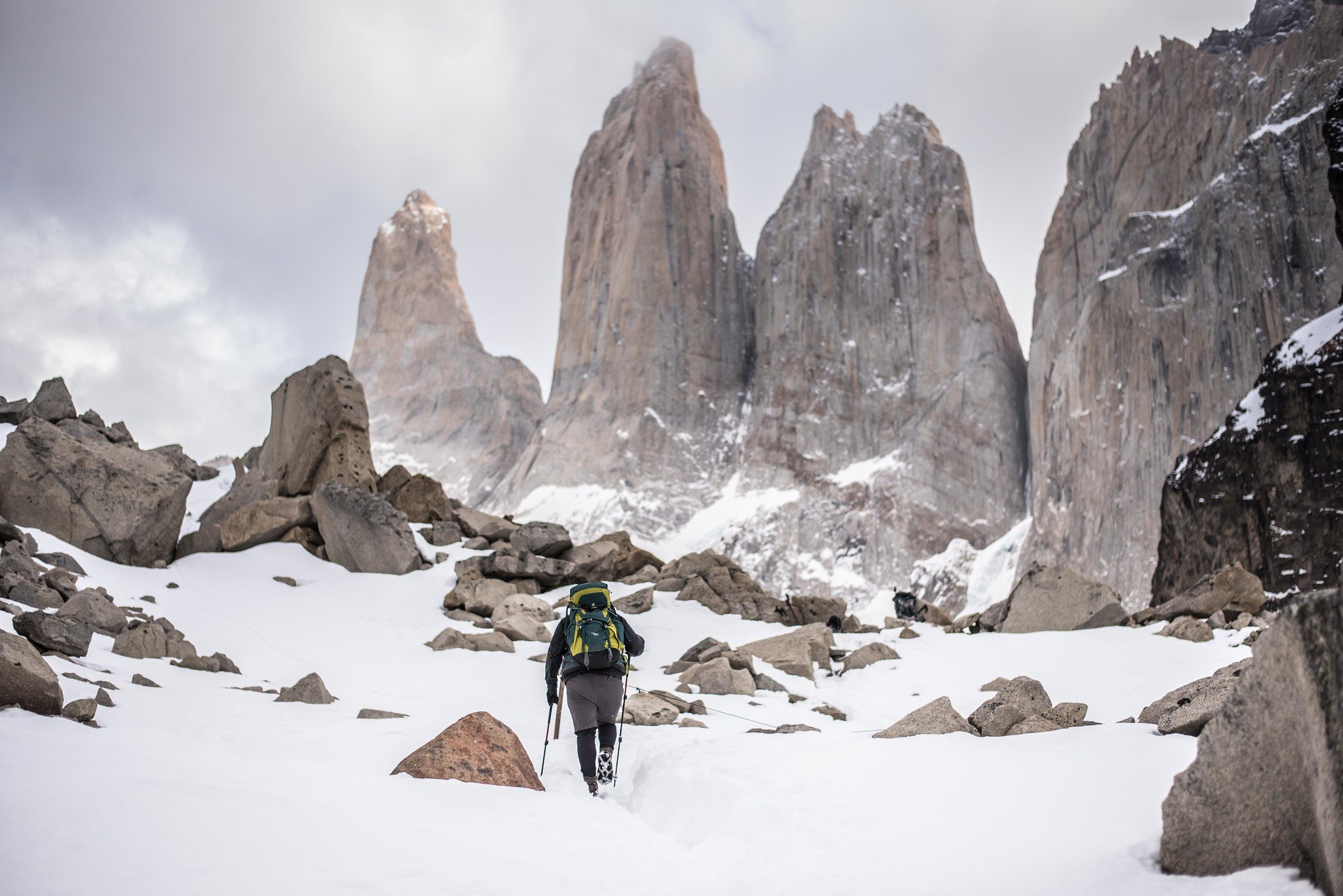 3) A Chance to Challenge Yourself Physically. If you're the kind of person who enjoys pushing yourself and taking on new, physical challenges, this is the trek for you! Faced with the cold and chill of Patagonian winter, each day will invigorate you mentally and physically.
4) Cozy accommodations at night. Worried about staying warm at night so you can be well-rested for another day of trekking and exploring, each night you'll be well-situated at EcoCamp or in the park's refugios or campsites, kept warm with fires and hearty meals.
5) Wildlife. Winter is a great time to keep an eye out for the local wildlife, such as guanacos, and maybe you'll even be lucky enough to catch a glimpse of the elusive puma.
6) Learn to Leave No Trace. Cascada's Winter W Trek has a "leave no trace" element where hikers will learn how to travel in a sustainable way in Torres del Paine (and other wild places).
Find out more here about our upcoming W Winter trek, and prepare yourself for a truly unforgettable adventure into the snowy heart of Torres del Paine.