Deep within Southern Patagonia lies a mysterious place that only a few have set eyes on. It is difficult to reach, secluded by water pathways and blessed with the ancient markings from the Kawésqar indigenous people. It is a mountain fjord and a difficult-to-reach, isolated area within Kawésqar National Park. This spot is beaming with natural beauty, rich history, wildlife and unique vegetation. It is an immense, remote and untouched part of Patagonia.
Kawésqar National Park is now Chile's second-largest national park and part of Tompkins Conservation's Route of Parks, connecting 17 national parks in Southern Chile and consisting of more 1,700 miles of protected land. This park opened just a little over a year ago and is still very unknown to the public. It is located roughly 93 miles from Punta Arenas.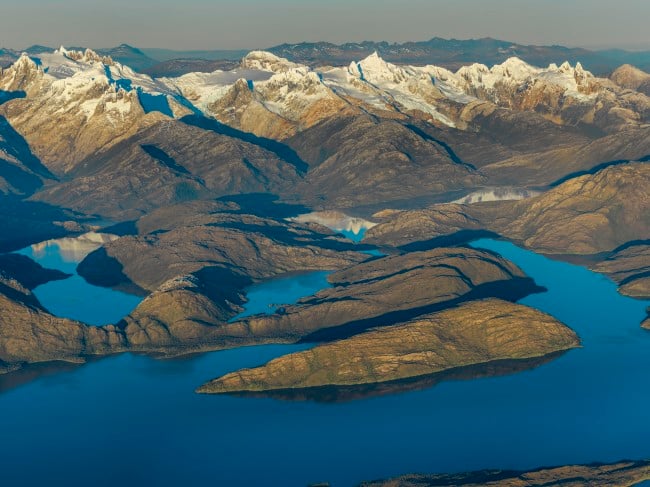 Photo Credit: Antonio Vizcaíno and Tompkins Conservation
Patagonian Fjords, a small, family-run business from Puerto Natales and partner of Cascada Expediciones, runs tours that bring travelers to some of the most unknown spots in Patagonia. Héctor Díaz Muñoz is both the founder and a passionate expedition guide for the company. Díaz and his team began tours to the Kawésqar´s mountain fjord in 2016 and they are the only company permitted by the Chilean National Forestal Corporation (CONAF) to bring people on these trekking expeditions.
Tours are small and intimate, with a maximum of eight travelers and four guides per group. With a group of 12 or less and nobody else insight, you are sure to feel the immensity of the area. "It's raw," said Isabel Menendez, a local from Punta Natales who recently visited the fjord. "This place is super pristine and has not been impacted by man."
For many years, the only human contact with the mountain fjord area came for the Kawésqar indigenous people who inspired the park's name. They were the original inhabitants of western Patagonia, occupying the region for at least 6,000 years. Frequently moving from place to place, the Kawésqar lived as nomadic hunter-gatherers and left nothing more than the minor evidence of their existence. On a tour to the mountain fjord, travelers walk on the very same paths formed long ago by the Kawésqar. It's an opportunity to feel the nomadic energy of these original inhabitants, their ancient presence within Patagonia and their strong connection with the sea.
Evidence of ancient civilization isn't the only reason this place is sacred. The mountain fjord in Kawésqar receives roughly three times more rainfall than the rest of Patagonia. Vegetation is rich, green and made up of some incredibly unique species that grow and survive here because of the high level of humidity. Menendez described it as, "walking on a cloud," wandering alongside beds of rare, lush vegetation.

There is no question that it is absolutely crucial to protect and cherish this sacred area, especially as the park starts to welcome more visitors. Therefore Patagonian Fjords have set forth numerous rules and protocols when running their tours.

According to Díaz, the trails are essentially "untouched." There are no markers and the guides do not cut down any tree branches. "We believe that if the trees could move their branches, for sure they'll let us pass, but they can't, said Díaz. "Yet we can move! So we go around or under without the need to cut anything."

There is no garbage left behind and the camps and floating refuge use dry toilets. Furthermore, the guides communicate with their passengers and share the importance of preserving and protecting the park.
With a strong conservation strategy, we can keep the park more alive than ever! We want the evergreen forests to stay bright, lush and full of vegetation. We want the dolphins and penguins to keep swimming in nearby waters and the hummingbirds, condors and kingfishers to continue flying up above. We want to preserve the sacred land that once served as a home to the native Kawésqar tribe and allow future generations to explore its hidden wonders.
Once you visit the park, you'll better understand what makes it so very special. In the words of Díaz: "When you find yourself in this immense area it makes you feel tiny, away, in connection with earth and its wild weather. The feelings are impossible to describe, it can only be lived."

Inspired to visit the incredible Chilean Patagonia? There are so many beautiful places to visit, including the Kawésqar National Park, Torres del Paine National Park, Tierra del Fuego and more. We can help you organize your trip! Check out our programs and get in touch today by contacting reservations@cascada.travel