It's 6:30 am and the bus is completing its hard slog through the Chilean altiplano. Around me are the dozing faces of tourists from all over the world, their heads gently bobbing to the rhythm of potholes and sharp corners. To the right, the sun is beginning to slowly rise, wispy tendrils of light that pierce the hazy gloom around us.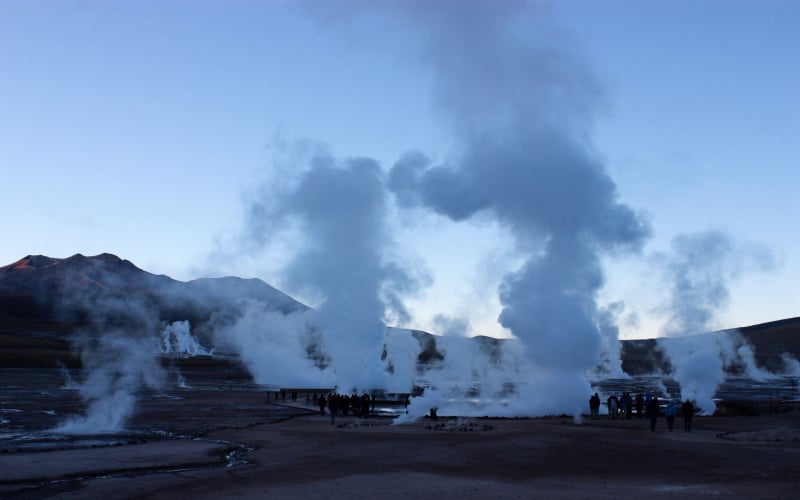 "Time to wake up, everybody, we're hereeeee!" Our guide, Francisca, calls, and each drooping head immediately comes to attention. The view instantly changes: what was vista upon vista of darkened, rolling hills has now flattened out to a valley marked by tall cliff faces with pockets of spiky grass. Funnels of steam drift from the ground like mini-volcanoes in every direction as though the earth is breathing. In the near distance, the mountains shine like newly-cut diamonds.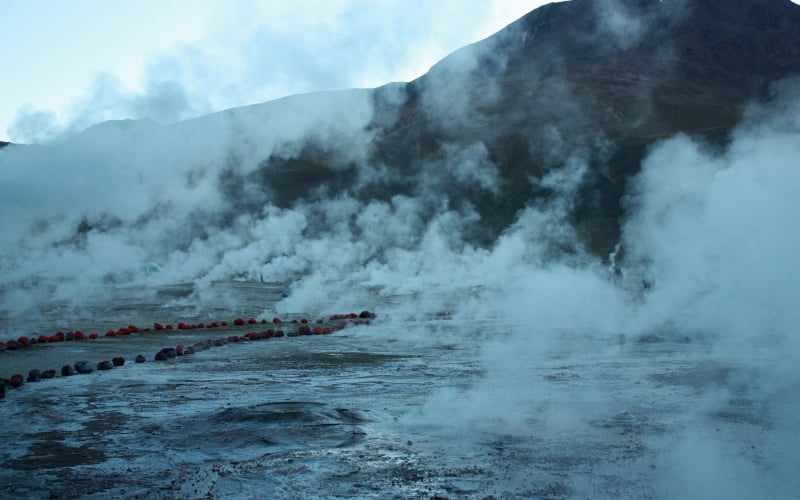 This surreal landscape is the Tatio geyser field, the third largest geothermic area of its kind in the world, that pours from the ground at a staggering height of 4320m (14,170 ft) above sea level. Getting here hasn't been easy -we have climbed 1912m in the last hour and a half since waking at the intrepid hour of 5 am in San Pedro. This moment, as we clamber from the van and wipe the sleep from our eyes, is a striking one and our eyes demand their fill of the 80 odd spouts of rising steam. It is also freezing, a good 8 degrees below zero, and we are all wrapped up warm (some of us have on 2 layers of down jackets).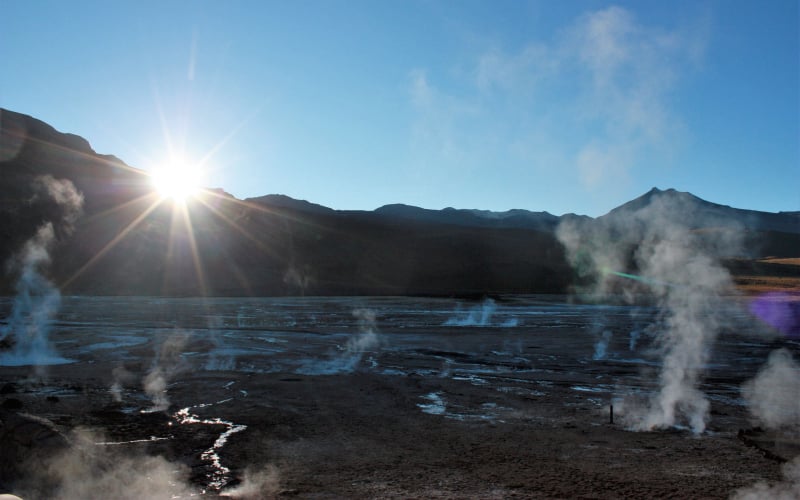 After a brief bathroom break, it is time to begin exploring. We weave our way across makeshift pathways (occasionally stepping away from bubbling mini-geysers beginning to form) and pause at certain spots to take it all in. One of them erupts from the ground every minute or so, a spectacle that engulfs all those nearby in thick, warm steam. This is because geysers are the result of volcanic activity heating up cold rivers deep underground. Everywhere you look in the Atacama you can see evidence of these volcanoes - in fact, the El Tatio area is home to 85 fumaroles/solfataras, 40 geysers, 5 mud volcanoes, 62 hot springs, and various sinter terraces.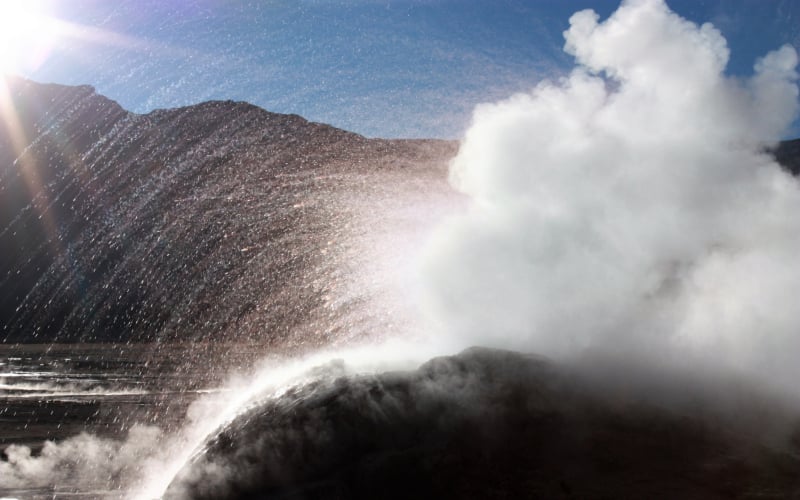 After taking our fill at each one, we move on to the granddaddy of all geysers, El Tatio. El Tatio means the "old man who cries" in kunza, the original language of the Atacameño people, although Francisca dubs him the Killer Geyser. Over the years, El Tatio has actually claimed a few lives due to people seeking overly-ambitious photos, a sobering thought considering we witness more than one person stepping over the boundaries for their selfies as well as the deeply embedded footprints left by the unlucky souls who got too close to El Tatio.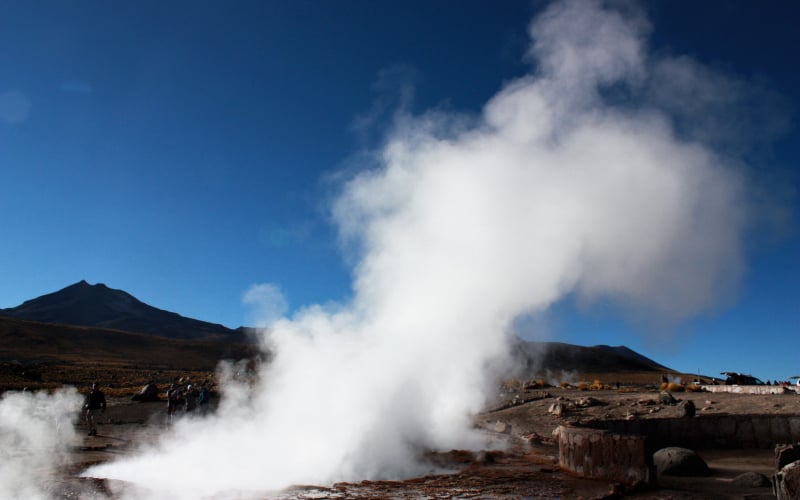 By now the sun has well and truly risen and the temperature has increased comfortably. While Francisca and Ricardo, our driver, set up a heavily-laden table of breakfast goodies for us, we actually make the most of the sunrise by shedding our gear and taking to the natural hot spring opposite El Tatio. The water is incredible and silky smooth, but eventually, the time comes for us to brave the cool air once more (yes, it's almost torture after the heat of the spring).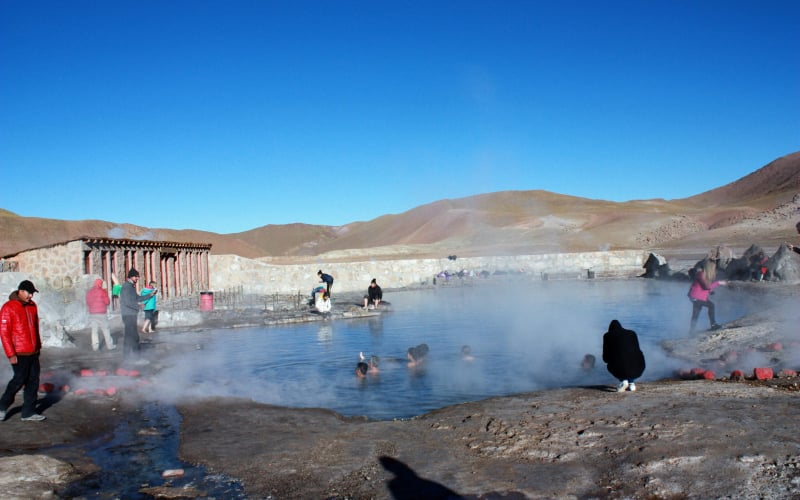 We join Francisca and the rest of our group at the table where layers of hot toast sit next to cheese, jam, manjar (caramel spread), cake, and the ubiquitous tea/coffee/hot chocolate. As we huddle with our mugs and chat with the people in the group before a pool so clear it looks like glass, it feels a world away from home. This is what the Atacama Desert is all about - spectacular moments in a spectacular place that feels more like a new planet rather than good old Earth. This is one to remember.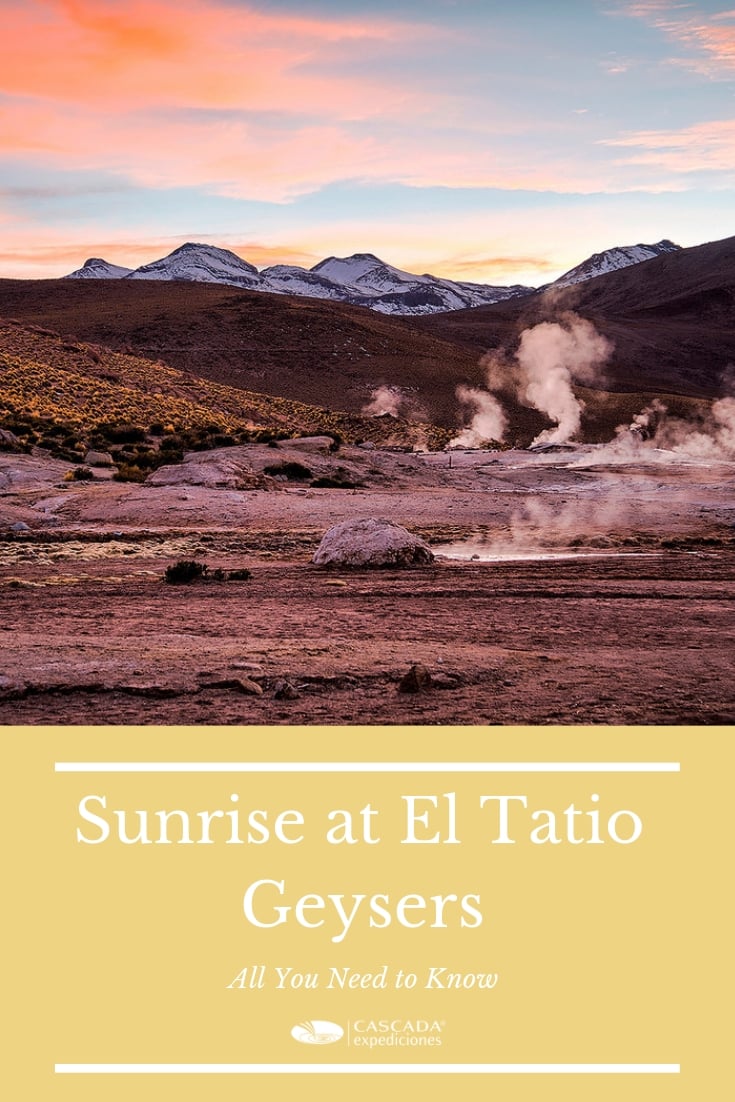 Before You Go
- Eat a light meal the night before - a small plate of pasta is plenty. This will help your body acclimatize
- Drink more water than you'd normally drink at home. You should be aiming for around 3 bottles of water a day in order to replenish the fluids you lose due to the temperature and altitude.
- Locals chew coca leaves, brought from Bolivia, which can help with the altitude and also wake your body up (its a natural stimulant). You can also drink coca leaf tea, available at many San Pedro cafes (we love the Roots Cafe).
- Take plenty of layers! Wearing layers is the best way to deal with the Atacama's changing temperatures. Be warned that in the sun it can reach more than 27 degrees but the temperature drops instantly in the shade due to the lack of humidity. At night, it can go as low as -15 degrees Celsius.
- Wear sun protection! Sunblock is a must because you will likely burn at this altitude and sunglasses will come in handy too as it gets bright.
- It helps if you book the Tatio Geyser tour towards the end of your stay in the Atacama so that your body has had more chance to acclimatize to the altitude.
- The altitude may also make you require more bathroom stops than normal. Be aware that there are two sites to see at El Tatio, and both bathrooms are not always open.
The Atacama Desert feels like nowhere else on Earth! Its colorful landscape is a beautiful contrast to the lush fields and towering mountains of Southern Chile so it would make a beautiful addition to your trip. Check out our travel packages that include the Atacama, such as our multi-destination tours. Or you can add on one of our expertly-designed itineraries to the area's top sights.
Get in touch with our team now