For most people, a Patagonia hiking tour is a one-off, epic adventure that they get to experience only once. Patagonia's remote location at the far southern tip of Latin America and it's unspoiled wilderness mean that it's a far cry from most peoples' nine-to-five. But there is a select group of individuals who love hiking in Patagonia so much that the idea of leaving it all behind for a desk-job in the city just won't do. For those people, landing a spot as a hiking and wildlife guide in Patagonia is a dream job in "one of the best places to work on Earth". Read our interview with EcoCamp Patagonia guide Isidora Cruz to see what life as a guide is all about, with big thanks to the lovely Isi for taking the time out to chat with us.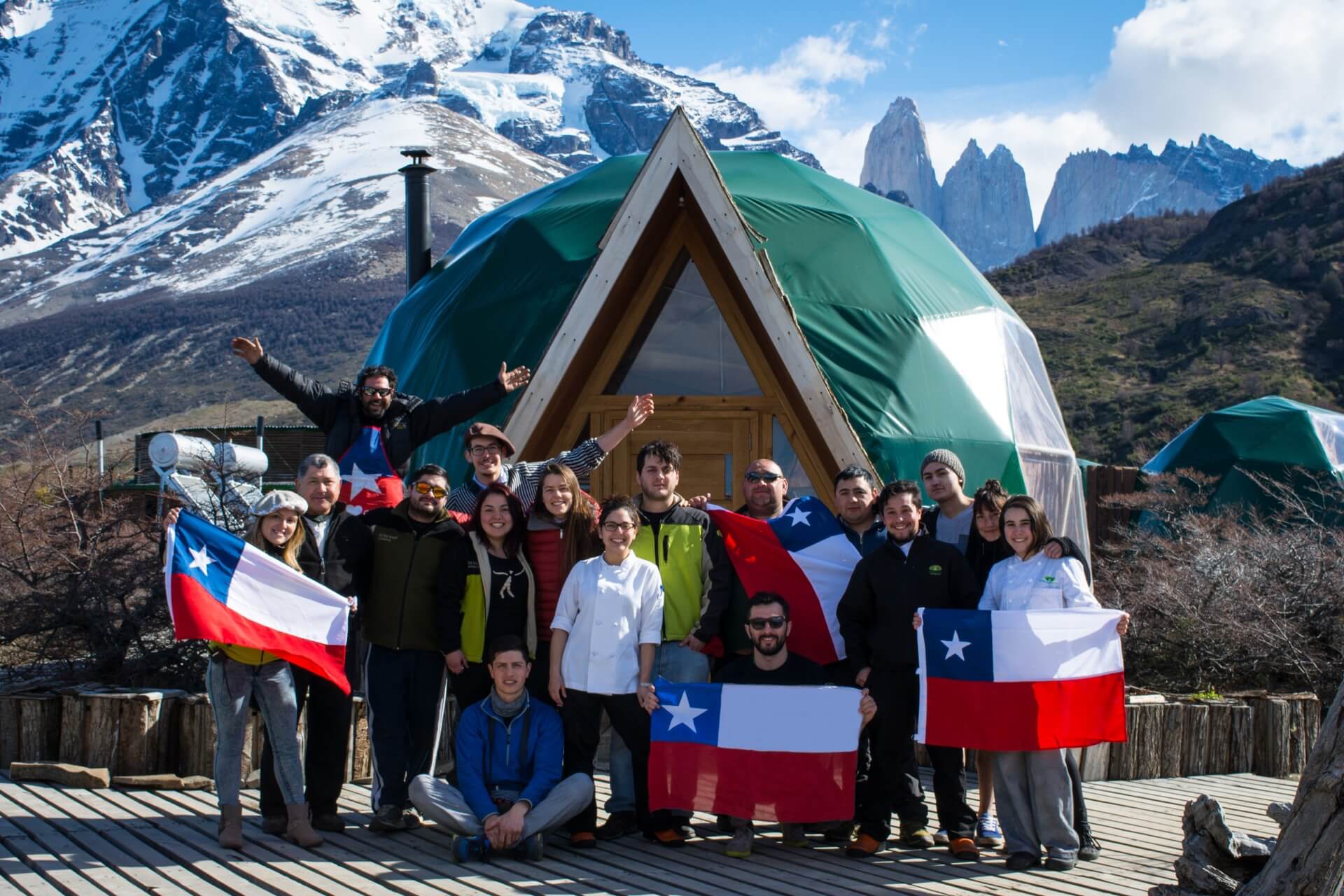 What's the best thing about working at EcoCamp Patagonia in Chilean Patagonia?
When you work at EcoCamp, Torres del Paine National Park is your own backyard. You get to enjoy it throughout the changing seasons of the year, watching the colours turn and experiencing all of the different weather conditions etc.
Is there a feeling of community amongst the staff?
Yeah, of course! We're a family. We're quite a small team and we spend birthdays, Christmases and New Years together. We share our adventures and our misadventures! We're usually a very close team.
Do you have to be really fit to take on daily treks?
Yes, you do. You have to be in good shape so that you can keep up with the fastest clients as well as walking with the slower ones, which are both mentally and physically demanding scenarios in their own ways. Of course at first it's harder to get into the rhythm of training, but by halfway through the season you already feel like you're part of the mountains.
Do you like meeting people from all over the world in your job?
Definitely, yes, one of the best things about working in tourism for me is the cultural interchange that you get to experience. On top of that, I really like showing people from all around the world the beautiful things to see in my country and how to take care of the natural world. That way you get to pass on your message to lots of different people too.
Can you think of a time when you've helped out a particular client?
Hmmmm... nothing specific. But there have been lots of times when you takes someone on the Torres del Paine base trek and you get to the lookout point and know that for them it's been the challenge of a lifetime and they'll always remember that thanks to you they were able to fulfill a dream that they perhaps wouldn't have been able to fulfill alone. They might have been tired and without knowing the route they might have turned back and not achieved their goal.
Is there one group in particular that's stuck in your mind or any great friends you've made?
You almost always end up making more than one good friend during the season. What was really nice for me was when there was a really big earthquake in Chile back in 2010, I received almost 30 emails in one day, all from previous clients asking after me and my family. The best bit is that you end up being invited to homes all around the world.
What's been your favourite moment working as a guide at EcoCamp?
Last year when I was working in EcoCamp I was asked to be a witness for a couple of hiking clients who'd decided to exchange their wedding vows in the middle of the wilderness. I took them to the best secret hideaway that I knew of and it was one of the most special moments that I've ever experienced as a guide. Really lovely.
Is there anything else you think we should know about working at EcoCamp Patagonia?
I personally think that this job should be listed as one of the best places to work on Earth. As well as being a magical place, you become a friend to the clients and they learn to place their trust in you :)