Calum Muskett, born and raised near the Carneddau Mountain Range in Wales, was born with a natural talent for mountaineering. The verdant hills, looming mountain scapes and diverse geographical topography of his native Wales in many ways mirror Patagonia's varied landscape, one of the many affinities between two regions which share a fascinating history dating back as far as the mid-1800s:
Welsh migrants from the U.S. and U.K. who feared losing their national identity in the face of inevitable assimilation, settled in Argentine Patagonia in 1865 and have since created a thriving, agricultural community in the southernmost tip of the Patagonian region.
With this in mind, Calum's climb of the South East face of the South Torre del Paine last year seems totally natural, if not a fated decision. However, when you consider the infamous Patagonian gale force winds, a climb distance of about 1km and the constant threat of a snow blizzard, the endeavour starts to seem more Mission Impossible than Providence. This is obviously the common belief of mountaineers as Calum and his team were the first group in 7 years to attempt the challenging ascent. We had a chat with the daredevil Welshman to learn more about his mountaineering career and his tumultuous experience climbing the South Tower.

When/ how did you start mountain climbing?
I started climbing in the mountains of Snowdonia, Wales when I was 13 years old. My mum took me to a local crag and I climbed my first few routes. I was instantly hooked and was soon climbing every weekend and from then on I haven't looked back.
For you, what can mountaineering offer sports enthusiasts that other "extreme sports" cannot?
Mountaineering has so many different elements that make it a great activity. You can go out for a pleasant walk in the hills and enjoy the views and fresh air, go rock climbing, winter climbing or anything in between. It's an activity that you can do at whatever level you want and is relatively safe compared to extreme sports.
Why did you choose to climb in Patagonia, of all places?
Patagonia is without doubt one of the most impressive mountain areas in the world. The huge granite towers just seem to be crying out to be climbed and the low altitude of the summits mean that you can climb to a high level of difficulty without performance being impaired by lack of oxygen like so many other mountain regions. It's also has a more 'wild' feeling than alpine areas in Europe due to the fact that there are no cable cars and access to the towers themselves is quite arduous.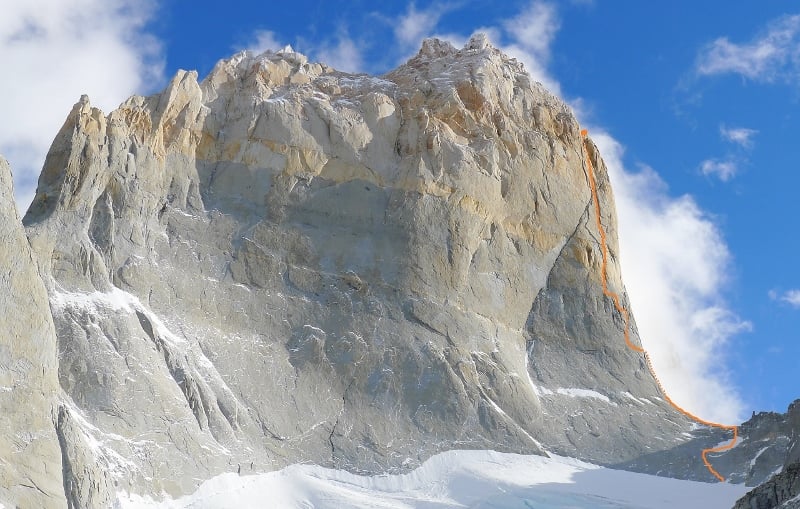 Calum and his team's challenging climb route of the South Tower of the Torres del Paine
In your blog, you made the point that: ' Despite the popularity of this area amongst alpinists there is still so much yet to be done.' Why do you think that is?
Most mountaineers travel to the more convenient and popular Fitz Roy massif when they come to Patagonia and very few make their way down to Torres del Paine which would explain the lack of activity down there. The other thing is that the weather is generally appalling for climbing on these huge granite rock faces and you simply cannot climb in wind speeds exceeding 70kmph – many parties fail to succeed on their objectives due to the adverse weather.
What was your favourite aspect of climbing in Patagonia?
The sunrises can be fantastic in Patagonia and when you have a good day of weather to go onto the mountain the climbing is just exceptional.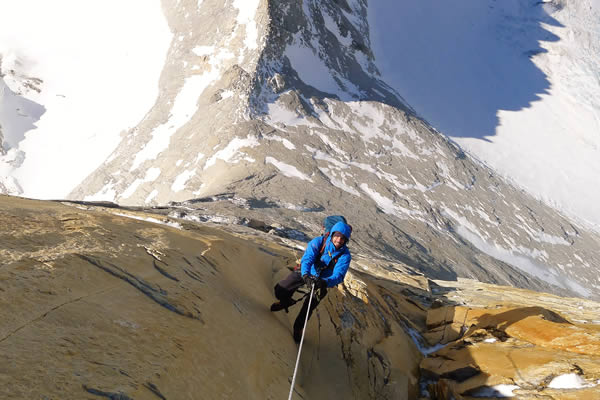 Calum's fellow climber, Raphael climbing the South Tower // Photo Credit: Calum Muskett

What were your proudest and most disappointing moments during your 2 months spent in Patagonia?
The most disappointing moments were without doubt the weather – it's incredibly frustrating to travel all this way and not be able to go out climbing when you want. The best moments were succeeding on a couple of great new routes and also enjoying the great quality steak!
We agree, Calum- the steak in Patagonia is some of the finest around!